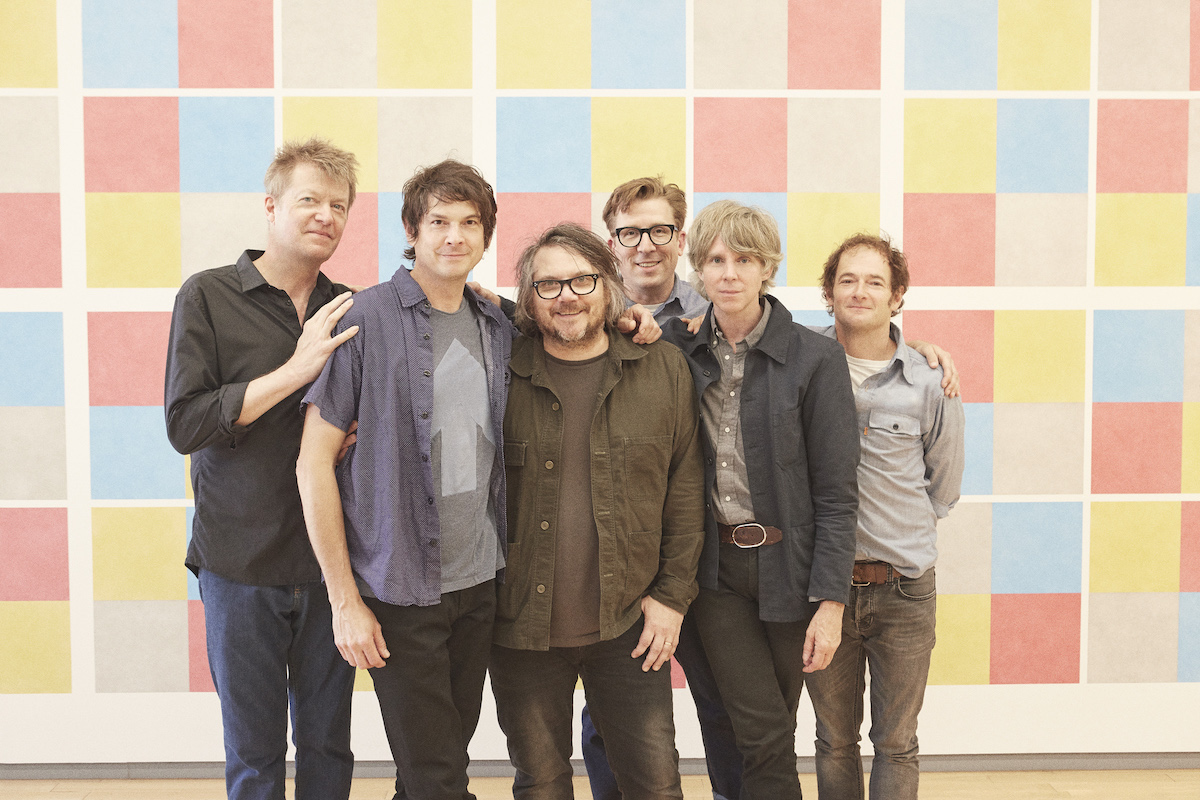 27 October 2023
Photo by Annabel Mehran.
2023 has been a busy year on stages and in the studio for Wilco. The band toured behind 2022 album _Cruel Country_ in the spring and returned from a monthlong European tour in early September. After a two-week break, the Chicago-based sextet began its current run to introduce new songs from 12th album _Cousin_. Roughly a month into the tour, Wilco arrived at Denver's Mission Ballroom road-tested and ready for its two-hour concert on Sunday-night.

The first two-thirds of the show made a strong case for the fresh songs from Cousin and Cruel Country. The albums have been well-received, but songs like "Pittsburgh" (a gentle tune punctuated by startling blasts, recalling Elbow's "Starlings") and the album's Pixies-ish title track became extra-vivid in their stage arrangements, with enhanced dynamics and interplay among the bandmembers. Frontman and songwriter Jeff Tweedy exhibited skill in mixing the observational, abstract, fictional, and personal within his lyrics, weaving relatable images and emotions through songs that may or may not be confessional. The new song "Infinite Surprise" included an apology to a loved one. "I'm sorry I made you cry," sang Tweedy. "You know that isn't me." "Evicted" was another Cousin track that seemed to reveal the consequences of such transgressions. "I'm evicted from your heart," sang Tweedy while Nels Cline and Pat Sansone played cascading arpeggios. "I deserve it."
Cruel Country song "I Am My Mother" was a highlight early in the set, with imagery of migrants seeking better lives. On the same album's title track, Tweedy expressed a childlike love for his homeland without omitting wry reflection on its faults. "All you have to do is sing in the choir, set yourself on fire every once in a while," he sang.
"Bird Without a Tail/Base of My Skull" was built atop a nursery rhyme-styled lyric with nested actions and consequences a la "Old Lady Who Swallowed a Fly." Multi-instrumentalist Sansone took an expressive Laurel Canyon-styled solo on guitar, trading lines with Cline on 12-stringed electric guitar. An extended instrumental arrangement allowed the pair to stretch and intertwine a la the Grateful Dead.
"Meant to Be" rode atop Glenn Kotche's galloping Fleetwood Mac-styled rhythm while Tweedy played a jangly 12-stringed acoustic guitar. Tweedy's itinerant traveler working his way through "Pittsburgh" found himself unsettled but encountered folksy wisdom and beauty in places as unlikely as the TSA line at the airport. "I love the rain, and how the rain can turn shit into a rose," sang Tweedy. The song was underpinned by John Stirratt's soothing bass and Sansone's elegant piano.
The newer fare was interspersed with older favorites including "Handshake Drugs" from A Ghost is Born. Tweedy's gentle acoustic strumming contrasted with a frenetic solo by Cline during which the guitarist seemed determined to break all six of his strings. Keyboardist Mikael Jorgensen played shimmering Procul Harum-styled organ through "Side with the Seeds," and bouncing Paul McCartney-styled piano during "Hummingbird." After 13 albums, the band was not short of memorable songs and fan favorites.
Other highlights that earned fervent response and participation included "I Am Trying to Break Your Heart" from landmark album Yankee Hotel Foxtrot and a sublime version of "Impossible Germany" from Sky Blue Sky." Cline's improvisational jazz chops were again on display as the song built toward a serene harmony figure between Cline's and Tweedy's guitars. Kotche's bombastic drums introduced "Misunderstood" from 1996 album Being There. The song stripped to bare bones and slowly built toward its angry and cathartic crescendo. "I'd like to thank you for nothing!," howled Tweedy, repeating shouts of "Nothing!" along with the crowd.
At one point, Tweedy apologized for having a scratchy throat, but his troubles were mostly invisible to the audience until perhaps the very end of the main set. Tweedy compensated by chugging his Topo Chico bottled water, with a comical warning that he usually didn't drink anything on stage in order to avoid a run to the restroom. Tweedy was an amiable host, making jokes with the crowd and his bandmates. After one wisecrack, Cline told Tweedy that he'd just done the second-best Marc Anthony impression he'd ever seen. "Who here knows who Marc Anthony is?," asked Tweedy. Upon receiving minimal response, Tweedy smirked and added, "Good for you!"
The set reached its apex with a string of surefire crowd-pleasers. Stirratt joined Tweedy in harmony on "Jesus, etc." while Cline played lap steel and Sansone played shimmering electric piano. Tweedy brought the band to a hush so the crowd could sing "Our love is all we have" and "Our love is all God's money." "The Late Greats" and the ode to bygone innocence "Heavy Metal Drummer" were additional features for Kotche's intricate, inventive, and sometimes thundering drumming. The final song was Summerteeth favorite "A Shot in the Arm."
Wilco returned for an encore, beginning with "Via Chicago" and earning cheers from Windy City out-of-towners. Tweedy kept a steady pace with the lilting strummer, even when overpowered by cacophonic blasts from Cline and Kotche. It was Tweedy's way to deliberately "ugly up" a conventionally lovely song. Stonesy rocker "Monday" was next, with a Chuck Berry-styled solo from Tweedy. After additional Being There favorite "Outtasite (Outta Mind)," the band took their bows and waved goodbye.