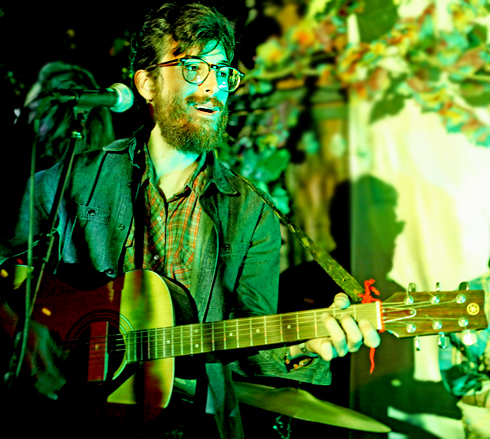 2 August 2011
For those reading from NYC, Fernwood is closest in size to Cake Shop. For those reading in Chicago, Fernwood is about the size of The Hideout or a little smaller than Schubas Tavern's music room (it feels more like the latter of the two, serving great food most of the time when bands aren't playing). The maximum capacity of the room where bands were playing was 100, though fest organizers did a great job setting up a live video fixed on the stage for an adjacent overflow room. Suffice it to say, this event felt incredibly intimate and a rare treat to see so many East coast musicians amongst the West Coast mountains of Big Sur.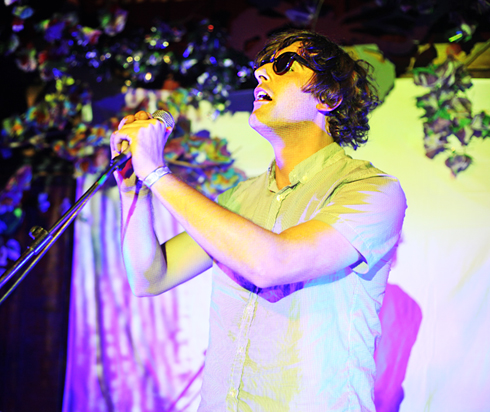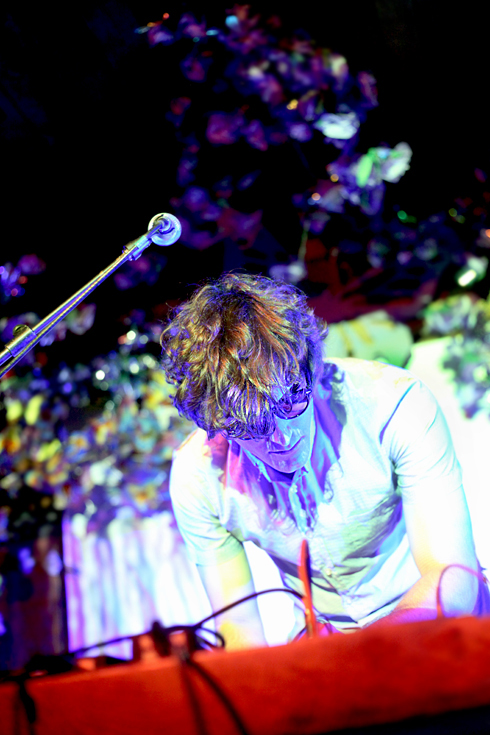 The evening began with Matt Mondanile from Real Estate performing as his side project Ducktails. He resembled a one man wonder first compiling layers of sound that seemed somewhat tropical then adding beats, loops, random vocal samples, guitar, sounds from a small Korg keyboard and his own vocals. He also channeled in looks, though not necessarily sound, a younger Jason Pierce of Spiritualized with his handsome wavy locks, all white attire, and his indoor shades.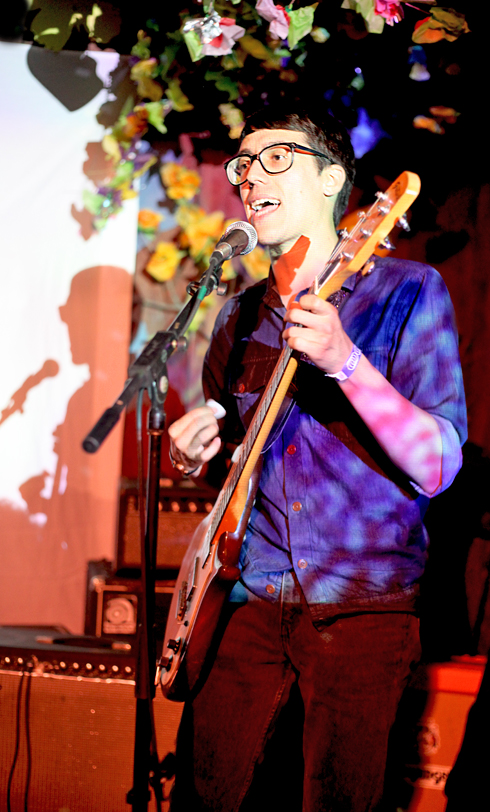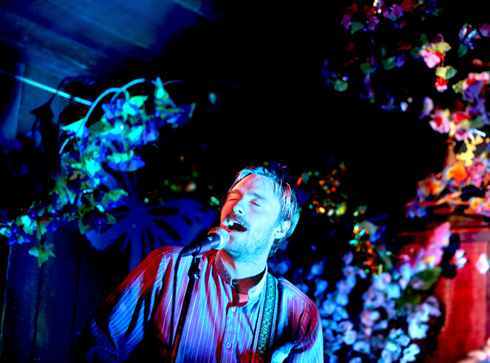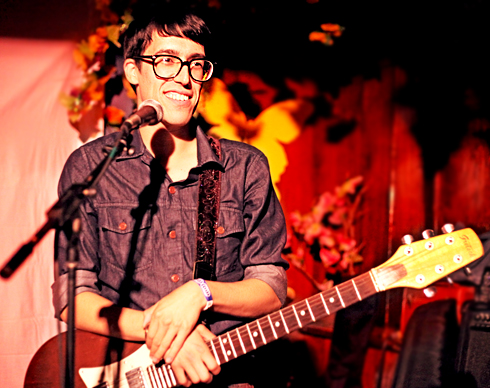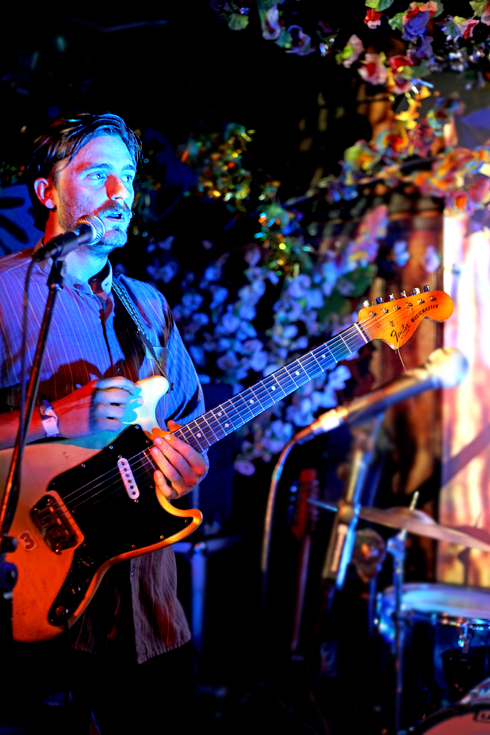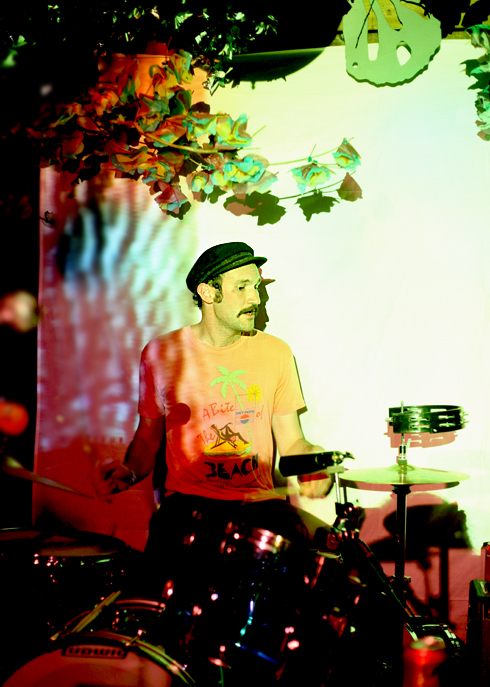 Nodzzz, a trio who dedicated a couple of tracks to fellow NJ attendees, played more straight ahead 60s garage rock without any pedal effects to distort the sound at all. Their songs were jangly in all the right places and there was an infectious jovial spirit surrounding the band's banter and demeanor as the lead singer insisted that Godard and Bergman were underrated film directors (Agreed!) and the drummer continually demonstrated his magnificent drumstick twirls. Most of the songs were played with two guitars (including at times a 12 string guitar) until the end when the lead singer switched to bass for the last couple of songs. In some ways, between the band's light-hearted stage presence and their faster and fun paced songs, the set recalled that one might see from a twee band, if twee bands were to write more songs about stores in NJ that sell really high leather boots. (Perhaps, we are all a little post-twee anyways.)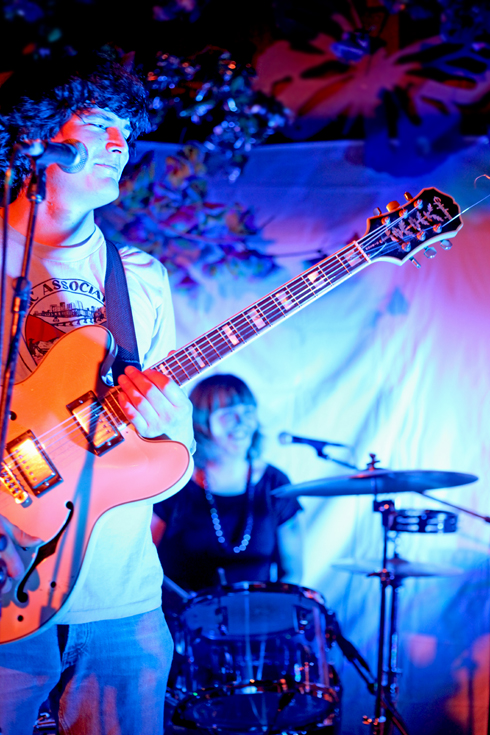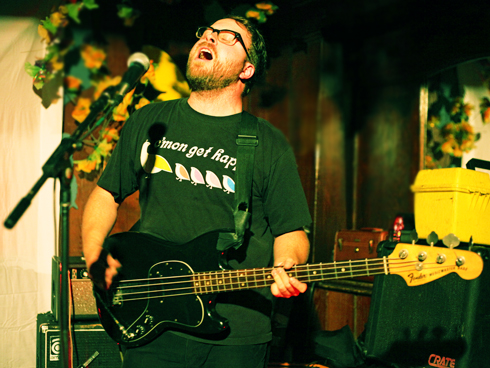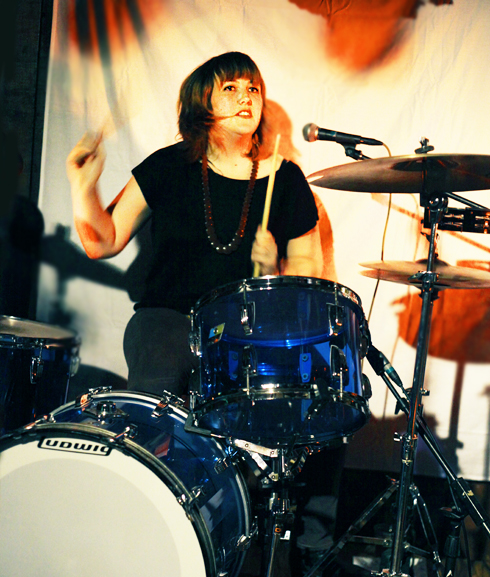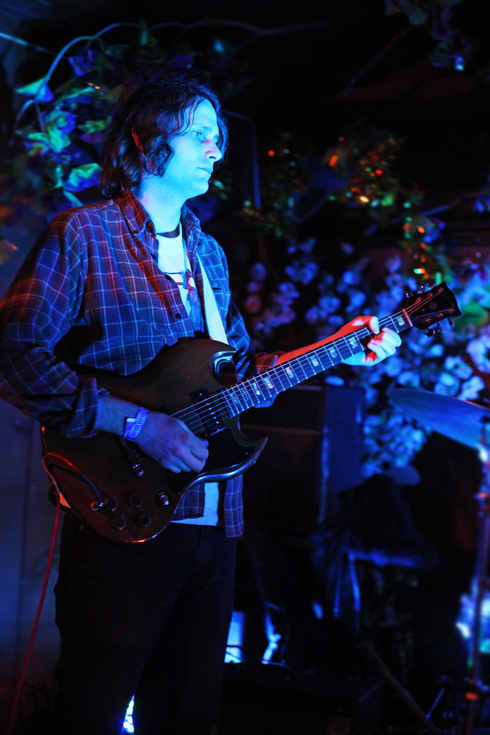 Mantles clearly had a great relationship with the other bands because it was delightful to see the banter between them and Nodzzz as well as the drummer and lead singer of Nodzzz dancing to their songs on the side. The four piece had a slightly fuller sound with a bassist present all of the time and the addition of female backup vocals from the drummer at some points. The band added distortion via a Proco Rat distortion pedal but otherwise played as Nodzzz had, with a cleaner sound relative to the exciting fuzz of Woods.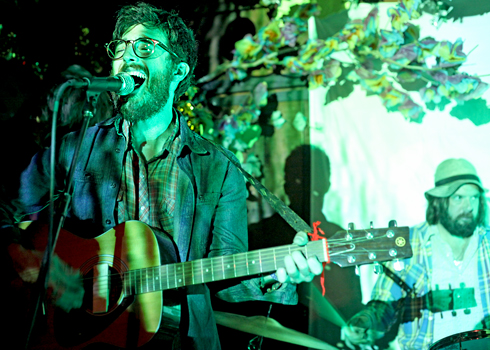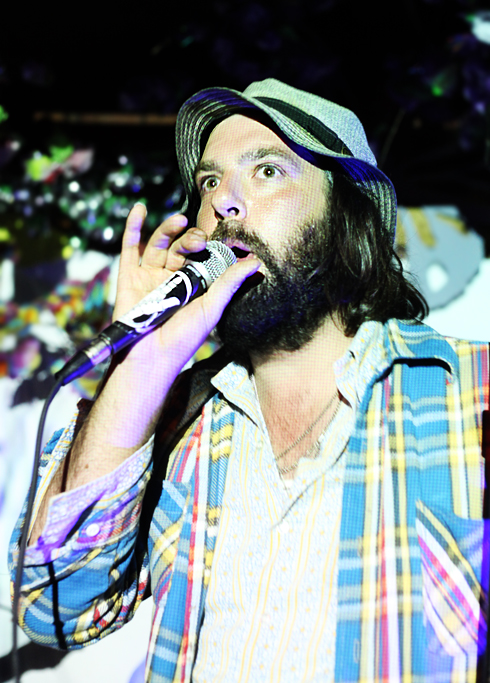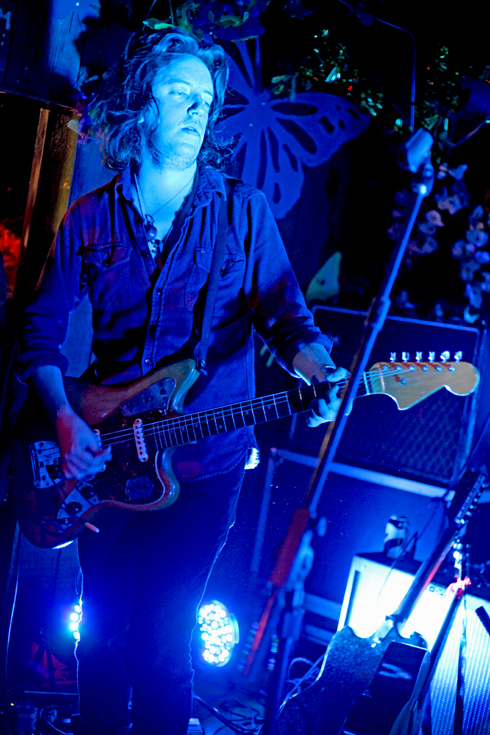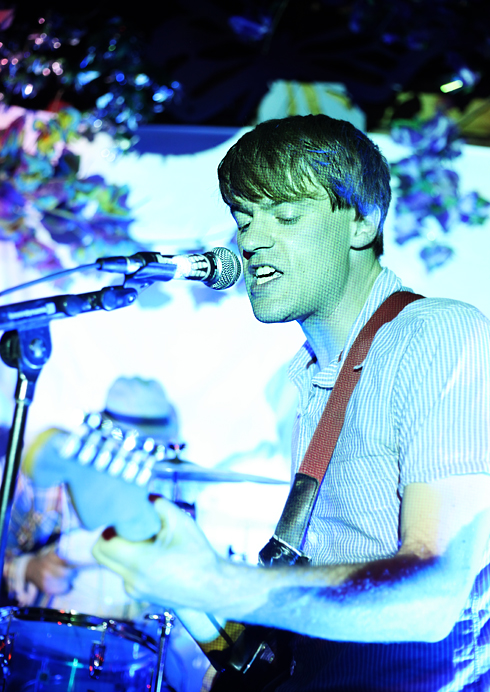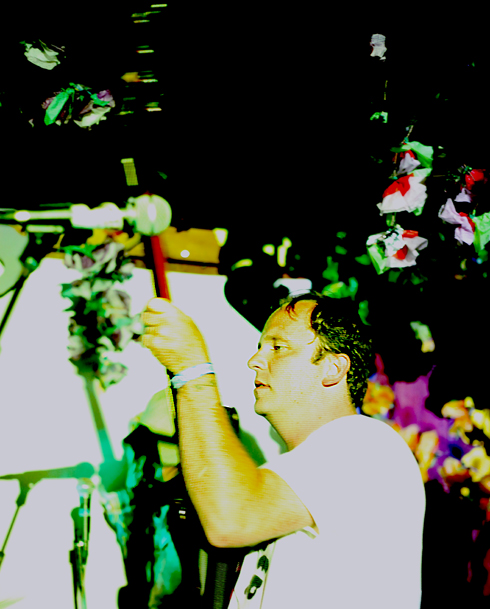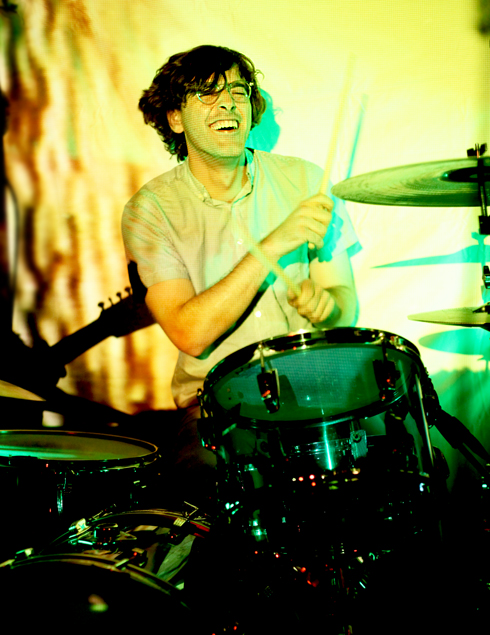 Woods & Onlys":http://www.myspace.com/thefreshonlys supergroup had it's definite charms. At some points, it seemed to resemble a performance of musical chairs on stage (without the chairs). Various configurations led to up to 7 band members from each crowded with the constants being both lead singers from Woods and Fresh & Onlys Jeremy Earl and Tim Cohen respectively, the guitarist from Fresh & Onlys, and the bassist from Fresh & Onlys. Both lead singers also played drums at various points (and did so rather well) and both bands brought up friends and a revolving cast. The amalgamation began with a couple of Woods songs then Fresh & Onlys songs and then covers, including Strange by Galaxie 500 and "Harvest Moon" by Neil Young. There were some sloppy moments where mics weren't quite loud enough for vocals and it seemed some lyrics may have been forgotten but overall it was quite entertaining for fans of both or either of the two major bands.