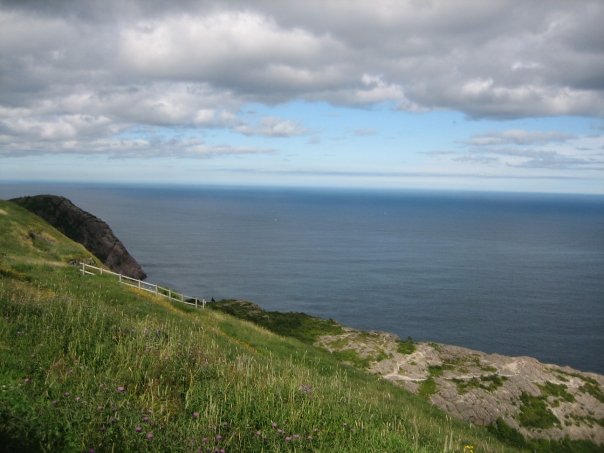 4 September 2009
My wife, Myra, my two-year old daughter, Clara, and I recently spent a week in St. John's, Newfoundland, the most eastern point in North America. While I had read about the city's natural beauty and impressive history (it's the oldest city in the continent and Vikings reportedly arrived a thousand years ago) I hadn't read much about its music. It turns out that Irish influences abound.
On an excursion to the Witless Bay Ecological Reserve with O'Brien's Whale and Bird Tours (recommended by none other than DAVID BOWIE), our fearless captain and tour guide kept the music humming. If the speakers weren't churning out a nice blend of slower and upbeat Irish or Irish-influenced folk music, our captain was belting out ditties with conviction, merriment and no apparent self-consciousness.
With legs spread and feet firmly planted like the Eiffel Tower, our singer-in-chief was in his element, singing with gusto above the motor's hum, the pitter-patter of the crowd's chatter and the sound of water careening off the boat. While a selling point of this tour was that you should see puffins (we did) and may see whales (we did not), the songs played, and especially those sung by our tour guide, proved just as memorable.
In downtown St. John's, we visited Velma's, a restaurant where Irish or Irish influenced music flowed like so many pints on nearby George Street, the main party area. I saw a folk band play at the George Street Festival. And the Newfoundland & Labrador Folk Festival was in town, too, though we missed that.
I stumbled upon an interesting local paper called The Scope that compared THE NOVAKS to early AC/DC and T-REX. I also read a sympathetic interview with THE MUDFLOWERS, another local group, whose young members are just nineteen.
However, what most caught my interest was a review of MOPEY MUMBLE-MOUSE and their recently released I am Happy Being Nothing, described as their most "energetic, brutal and confrontational" record. We gandered down to Fred's on Duckworth Street and picked up this "party bag of hardcore punk, experimental pop noise and melodramatic cabaret."
Near the end of our trip, we had lunch at Get Stuffed, our favorite restaurant in St. John's. The music there sounded contemporary and accessible, bordering on mainstream, but it had enough integrity to hold my attention.
I then noticed Clara raising and dropping her hands in unison as if she were drumming to the song. I listened closer and was selfishly pleased that my daughter was grooving to a song I also liked.
When our waitress returned to the table I asked what we were listening to. She said "Hospital Food" by DAVID GRAY.
Back in Brooklyn, I finally gave Mopey Mumble-Mouse a listen. It was a total mess – or so I thought. After multiple listens, the sonic topography sharpened into something really good. The singer barks, yelps and howls with the urgency of a mouse scurrying from a hungry cat in hot pursuit. And the lyrics, often sharp and scathing, fire away smartly at commercial culture and all its excesses.
I also picked up Life in Slow Motion, the album that has "Hospital Food," and learned that David Gray hails from England, not Canada. But who cares? I played "Hospital Food" to Clara and she still dug it, which just goes to show that you never know where or how you'll find good music.