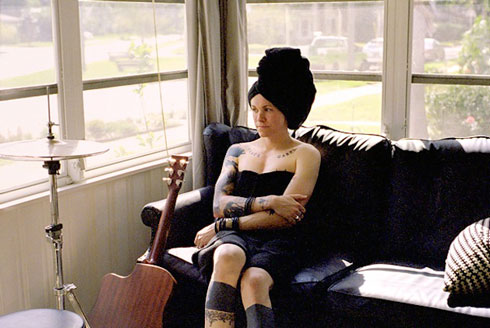 14 May 2012
Despite their ethos of anti-establishmentarianism, punk rock has always had its own brand of hyper-masculinity, which has made the scene a sometimes-dangerous place for women and LGBTQAI individuals. Bands like Black Fag (the absolutely fabulous tribute to Black Flag) and others have created an alternative queer punk scene but none of these groups have really ever broken into the genre's mainstream. These bands were, in the eyes of the rest of the world, queer first and punk second. Not so with Against Me!, who have released songs both on seminal DIY punk label Plan It X as well as Sire Records, an imprint of Warner Bros. Against Me! have found success in both the punk world and the Billboard 200 world.
It is this success that makes the announcement that Tom Gabel was discarding name and masculine identity to become Laura Jane Grace the more meaningful. Musicians coming out as transgender is nothing new; as NPR reported, many artists in New Orleans' bounce scene identify as transgender, and in July 2011, Keith Caputo, founder of the band Agony, changed her name to Mina and announced that she was planning to transition from male to female. The difference between Laura Jane Grace and her fellow trans musicians is the level of fame attained by Gabel and therefore the level of buzz surrounding her decision to publicly discuss her gender dysphoria. Gabel has stated in Rolling Stone that the lack of openly transgender rock stars was part of her motivation to talk to the magazine.
According to Gabel, the scariest part of her coming out was how her wife, Heather, would accept the news. Fortunately the two are staying together. However, being the first major rock star to come out as transgender poses a host of other problems. One of the main ones is that people will begin expecting Gabel to be a symbol for a whole host of other marginalized peoples, similar to how many have lumped gender dysphoria in with gay rights (a recent article compared Gabel's announcement with the passing of North Carolina's same-sex marriage ban). There will also be pressure on Gabel to be an icon, and thus be judgmental and disappointed if Against Me!'s future songs don't always deal with themes of gender identity. And of course let us not forget the potential negative reactions of Against Me! fans and the public at large. However, Against Me! are no strangers to fan controversy, receiving a lot of backlash for their decision to move to Fat Wreck Chords and subsequently Sire Records. And we know Gabel's gender transition will not dissolve her band, as Against Me! are in the middle of recording their sixth album and are scheduled to go on tour this May and June.