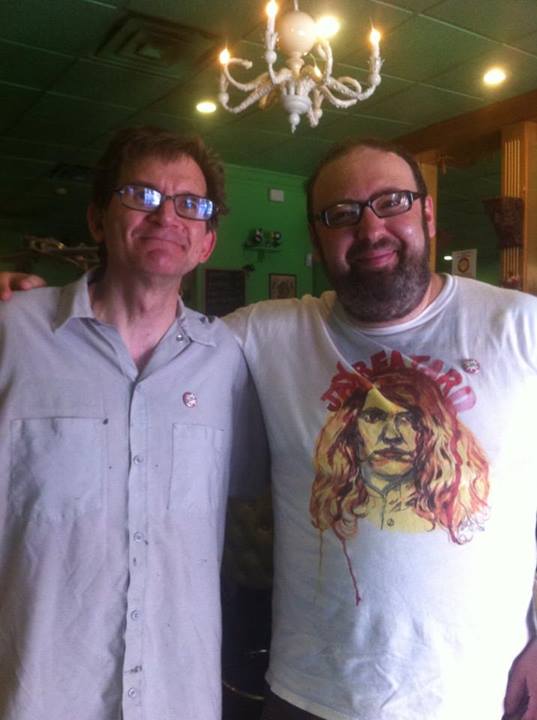 8 May 2016
This one is hard for me. We've mourned Lemmy Kilmister (who died in December), David Bowie, Merle Haggard and most recently Prince over the past few months as this year has been especially hard for our musical heroes. Last night, we lost another one of the greats. His name is John Stabb, or legally John Dukes Schroeder, and unlike any of the above musicians whose music I also love, I had actually gotten to know him personally in the last decade plus of his life. The first time I met him was at a Big Takeover party at Giorgio Gomelsky (who we also lost recently)'s loft in December of 2002. His then band The Factory Incident was playing alongside EDP, Adam Franklin and our own Jack Rabid's band Last Burning Embers, who also did double duty backing Adam Franklin on some Swervedriver numbers as well. The show/party was great and one highlight was getting to meet John that night.
Unfortunately, i didn't get to stay to see his band's set that night because my then girlfriend wanted to go home, but I remember us talking about Dag Nasty and him agreeing with me that Wig Out at Denko's and Field Day are underrated, great records. Previous to our meeting, I was familiar with his incredible 1980-1989 band Government Issue, of course, but not as familiar with their music as I should have been, particularly for someone like me who was and is obsessed with all things related to '80s and early '90s DC hardcore and post-hardcore. I had heard and owned the THD Records repress of the Make An Effort 7" in the early '90s, but that was about it. Finally, the following year I picked up the self-titled fifth album on CD in a used bin and realized I actually knew several of the songs from recording them off WRSU's hardcore/punk radio show Radio Riot back when I was in high school. I just never knew who it was or what the song titles were until I bought the CD.
From there, I gradually acquired most of their catalog with that aforementioned self-titled Lp and 1987's You (their first of two albums with the monster rhythm section of J Robbins and Peter Moffett) being favorites of mine. I still regard You as one of the best albums of the 1980's. In 2008, I also discovered and started posting on Daghouse, the Dag Nasty message board and reconnected with John there. I would see his newest band Sleeper Agent (who were forced to change their name later on to History Repeated) on occasion after that, such as opening for his and my beloved Mission of Burma here in early 2010 or a great 3-way bill in Baltimore later that year with fellow Daghouse bands The Gerunds (now also sadly defunct) and the still-going and wonderful Big Takeover favorites Dot Dash (featuring Terry Banks, another one of our long-time writers/reviewers). In December of that year, I drove down to Washington, DC to see a rare reunion of the final GI lineup and they were amazing.
After that, every time I was in DC (usually for another reunion/benefit for the Salad Days documentary and those shows included the great Marginal Man, Dag Nasty, Scream, another GI reunion with a different lineup, Black Market Baby, Swiz and Soulside, amongst others), we would hang out having dinner and drinks before shows, often with (amongst others) our mutual friend (and former Sleeper Agent bassist) Sean Koepenick and Kevin Young a close friend of John's who helped set up his GoFundMe page when he was diagnosed with stomach cancer in Februrary. I also remember John attending the Big Takeover 30th anniversary festival in the summer of 2010 and hanging out with him that weekend as well. No matter the obstacles or distance, he let nothing stop him from going out and seeing bands and he was always supportive not just of younger musicians and punks in the scene, but of fans and journalists such as myself because he knew we genuinely love his music.
The last time I saw him was in the summer of 2013. He and his partner Mina Devadas came up here from DC to see the sights and do some shopping and I joined them at Tattooed Mom's (one of my favorite bars here in Philadelphia) and we later went to Long in the Tooth, my favorite record store here in town. While combing the record bins, he spouted out arcane facts about even more arcane DC bands. He was a treasure trove of knowledge about music, particularly DC lore, and whenever I'd hang out with him down there it was like hanging out with the mayor. EVERYONE knew him and he was well-loved and respected for his individuality and enthusiasm, but mostly for his sense of decency and openness to those around him. He loved animals as well, particularly cats, as underneath the super high-energy intensity of GI and his dozen other groups lay a soft, kind heart. I can't believe that I'll never see him at a show (or anywhere else) again, at least on this planet. I hope his soul is at peace. My heart goes out to his widow Mina. There will never be another one like him. Here's to another one gone from us way too soon, this time at the tender age of 54. RIP John Stabb.