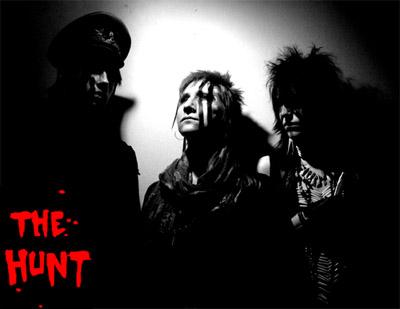 20 October 2006
After seeing local New York City band THE HUNT twice in one week, I was shocked to find that it had only been their second and third time playing live together. First off, their sound is sick, invoking the SOUTHERN DEATH CULT/DEATH CULT/THE CULT triptych. Hints of early U2 and a dirty 'n' damaged HEARTBREAKERS swagger also come to mind, but it all hangs together too tightly to dismiss as total retro rehash. And then there's the live show.
Done up in glistening war paint, tricked out with teeth and feathers and bones and laced into luscious black leather and denim, The Hunt not only look the part, but play it all too well. Singer J. VIGIL roams the stage, brandishing a beer bottle while he stomps out a twisted rain dance, coattails flying, leg up on the monitor, leaning impetuously into the crowd. Drummer DANGEROUS IAN keeps the nasty beats tribal and heavy, and guitarist CHRISTIAN COUNT conjures up the trashy rawness of JOHNNY THUNDERS and KEITH RICHARDS. And still that's not even the best part about this band.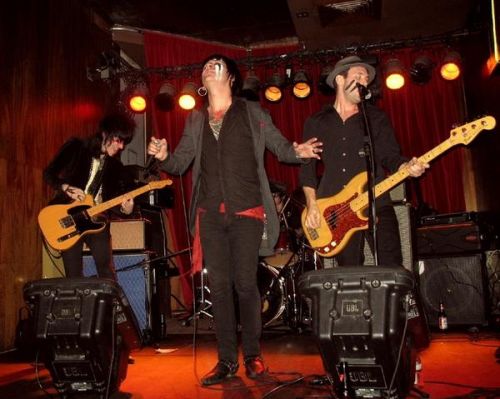 The Hunt's songs, despite so-so recording quality, are as good as the guys look. While there isn't an official release out yet, just a listen to the four tracks up on MySpace is enough to entice you. "Set the Rising Sun" and "Black and White" are heavy on the pounding drama, with plenty of rattling rhythms and Christian's eerie and angular reverb-heavy riffs offsetting J. Vigil's compelling vocal lines that mix it up with big shouted refrains now and then. The standout track, however, has to be "One Thousand Nights" – the secret weapon The Hunt kills with at the tail end of a set, consummating a sweat-drenched audience/band union. It balances the melancholy and the hopeful with a huge impassioned chorus that begs you to jump around, fists in the air, thoroughly enrapt with their dark and dynamic piratical post-punk.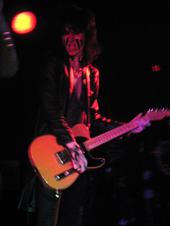 But what of IAN ASTBURY's sage advice to The Hunt last March, to "grow a beard and climb a mountain," which he announced cynically to the audience after checking out their CD tossed onstage during The Cult show? Well, to be honest, I think Ian's just jealous, because the reedy gentlemen of The Hunt can still fit into those tiny black pants he used to wear and are pretty and poised to pillage the city's seediest stages.
Check The Hunt out live at CMJ with another equally excellent band, Blacklist, at Magnetic Fields in Brooklyn, on (how fitting!) Halloween night.