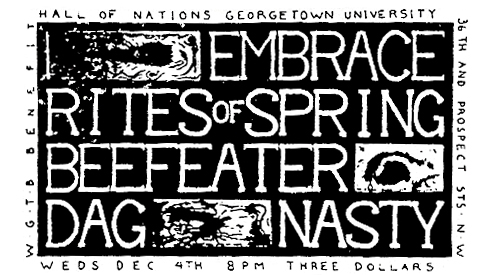 26 April 2013
I remember seeing this flyer for the first time.
It was done in an intricate art nouveau style, a school of graphic design that came to America by way of Belgium and France in the late nineteenth century. The style was a mixture of handwriting and complex line work, made popular by guys like Koloman Moser and Alfred Roller. Strangely enough, the Glasgow school and art nouveau movements of Europe were inspired by American artist and architect Frank Lloyd Wright. Like Minor Threat, Wright worked long hours inside a sweaty basement, honing his craft away from prying eyes and pesky daylight. The goofy punk kids and lanky outcasts who would come along some thirty years after Wright's death saw more than just graphical inspiration in his work. Undoubtedly they saw something much greater.
This is one of my all time favorite flyers and I can't tell you why. It just is. The flyer wasn't stapled to some old telephone pole or handed to me. Sadly it was five or six years after the show ended, by that time each of the bands had dissolved. I'm pretty sure I saw it in "Banned In DC", the excellent photo essay book by Cynthia Connolly, Leslie Clague and Sharon Cheslow. Together, they documented their time in the Washington DC scene in the 80's with a passion that is pretty much unrivaled in DIY music. In terms of record keeping alone their book is awe-inspiring. They assembled this book as an attempt to chronicle everything that they saw and heard from roughly 1980 to early 1986. For some reason we have two copies of the book in our house. I still pull it off the shelf from time-to-time, often getting sucked into a lazy afternoon where I flip through it, my mind half intrigued and half jealous that I missed the entire era.
The flyer begged so many questions. I wanted to go to this show so bad and couldn't. A copy of this flyer hung on my wall for nearly a decade, taunting me. Since I can't go back in time (yet) there were limited options. It took me over ten years, but I found most of the audio from the show and assembled it myself, stitching all of it together in this YouTube video. The show took place on December 4th, 1985 and was recorded by persons unknown.
Everything about this flyer is great – the graphic design, the font, and of course, the bands. Embrace, Rites Of Spring, Dag Nasty and Beefeater. The people in these four bands were all significant leaders in DC's revolution summer, which was simply an effort to redouble DIY efforts in the wake of a dying punk and hardcore scene in the mid-eighties. Generally speaking, history is kind to early 80's hardcore (read: they acknowledge it) but for some reason, there still seems to be some confusion associated with everything that came afterwards.
This show was special for several reasons; first off, it was a benefit show for WGTB Radio. It wasn't the first benefit show in punk, but perhaps it was one of those rare times where punks successfully rallied around a cause that was greater than their total sum. WGTB was founded by Rev. Francis Hayden in 1946, and initially featured news and public affairs programs. According to the radio station bio:
"By the 1970s, the station had shifted course to music-oriented programming. WGTB became well known throughout the Washington, DC metro area as a voice for new music, and more notably as a voice for the political left, broadcasting anti-war programming across a 60-mile radius. Maintaining a political voice for dissidents of the day established the station as a mainstay among the left-wing community. This stance was the source of considerable friction between the station and the university administration, resulting in several shutdowns, and eventually the end of WGTB. In 1979, to mark the creation of the University of the District of Columbia (UDC), Georgetown donated WGTB's 6700 watt signal at 90.1 FM to UDC. UDC later sold this signal in 1997 to C-SPAN for $25 million."
The station is up and running again, at least in name.
The connection between public radio and DIY music (especially punk and hardcore) is undeniable. Many scenes had college radio stations or public broadcast stations that allowed DIY bands to come in and set up, often letting them play on the air uninterrupted. In California, Fear played live on KPFK. In Oregon, Poison Idea played live on KBOO. In the UK, John Peel engineered and released tons of radio broadcasts, often inviting new bands to come in and record for free. In New York City, WNYU supported DIY bands for almost a solid decade. In the early 80's, programs like Noise The Show introduced tons of people to what was happening in punk and hardcore. Incredibly, they had the foresight to be inclusive instead of exclusive, often playing songs from overseas bands that they had never met or never corresponded with. Some of you may already know that Big Takeover's own Jack Rabid often appeared on this show with DJ Tim Sommer. Sommer, of course, is known by most people as the super loud, energetic guy who appears in between songs on the Beastie Boys "Some Old Bullshit" record. But I digress.
So, getting back to 1985. With revolution summer in full swing, the bands decided that the best way they could support the machinery of their scene was to show up. They booked this benefit show with Dag Nasty, Embrace, Beefeater and Rites Of Spring for WTGB in Washington DC at Georgetown University in The Hall of Nations. There are at least three flyers for this show, each has a different design, some appear in the "Banned in DC" book.
One of those flyers has this handwritten note on the side, which I've copied below as best I could. It's handwritten and kinda smudgy; so keep that in mind as you read it.
True Feedback Story:
"To you. And that certain season doesn't just end & has seeing how this one is going to keep on shaking anyway it may be wise to ally yourself to it. Not talking about changing the scene, just all we know. Be wise. Now here we go and who knows what the sooncome (?) hold as take this now & not grow old. Leave your purse at home and don't let your little world drag you down. You. I know we got something big coming down. Understand that we can only make it if you take it & how if you shake your world we'll change ours. And understand that this is something real and only if you please use this now and drop all else can we reach the bottom of what we all feel. That's you you know who."
The other reason why this show was so special is because it's a strange period in DC. It takes place after hardcore had ended and before Fugazi started, sort of a Twilight Zone in the history of Dischord Records that was filled with lots of experimentation and lots of great releases. Embrace would break up mere months after this show, along with Rites of Spring. Beefeater recorded their 2nd LP after this show before calling it quits. This was one of Dag Nasty's first shows, making them the newcomers. They had only been rehearsing since that fall. Colin Sears told me years ago that they had only played a handful of shows before this one, including one outdoor show at a party in some kid's backyard in Maryland.
Each of these audio sets comes from a different source, or one person who happened to tape the whole thing in multiple parts. The Dag Nasty set is cut short, only includes the last two songs they played that day. I'm almost positive that the Beefeater set comes from this show, but I can't be sure. Beefeater played at Hall of Nations twice in December 85, so it's hard to tell. It's as close to accurate as we can get for now. I've only seen a handful of photos from this show, one of them shows Dag Nasty on stage. It appears in the book "Dance of Days" by Mark Anderson & Mark Jenkins, taken by Bert Queiroz. In the photo Brian Baker's hair is dyed jet black and the band looks alarmingly confident on the huge stage.
All four of these sets come from audience recordings. Whoever taped this show (or later distributed it) did some editing of their own – there was a large amount of banter between songs during the Embrace set from singer Ian Mackaye. Most of the dialog was chopped up and unintelligible, on my copy there was clearly some serious editing that had taken place at some point.
Since Ian is such a respected figurehead, people hold his words in high esteem. Most of the time, this works fine. However there are times when it hasn't worked out too good. MacKaye's seemingly innocuous comments can be misinterpreted or can be twisted around by those who read too much into them. Off-the-cuff remarks are aptly named, they aren't planned. When you're up on stage and you find yourself completely surrounded by strangers in the heat of some moment, words and rants can slip out of your mouth. I've seen it happen. Hell, it's happened to me. I think that holding someone accountable for an innocent jib or an inside joke years (or decades) later is just silly. So in the interest of not dredging up any old beef, I cut most of it out and instead focused on the music.
If you like the video, let me know and I will work on putting together more of these. If you don't like it I also want to hear from you. If you have any additional info about the show, or you were there – be sure to comment below.
WGTB Benefit Show
Dag Nasty
01. One To Two (partial 0:00 – 0:45)
02. Can I Say (0:46 – 2:55)
Embrace
01. Money (2:56 – 5:30)
02. Past (5:31 – 7:29)
03. Building (7:30 – 9:25)
04. Said Gun (9:26 – 11:53)
05. Spoke (11:54 – 13:56)
06. Can't Forgive (13:57 – 16:34)
07. Dance of Days (16:35 – 19:13)
08. No More Pain (19:14 – 22:02
09. Do Not Consider Yourself Free (22:03 – 24:30)
10. Give Me Back (24:31 – 27:15)
Beefeater
01. Better Than Me (27:16 – 31:20)
02. Need A Job (31:21 – 35:15)
03. Mr. Silverbird (35:16 – 41:23)
04. Laurel Grove (41:24 – 45:05)
05. Song For Lucky (45:06 – 48:58)
06. Live The Life (48:59 – 55:30)
Rites of Spring
01. All There Is (55:31 – 56:20)
02. All Through a Life (58:21 – 1:01:05)
03. Hain's Point (1:01:06 – 1:03:14)
04. Patience (1:03:15 – 1:05:12)
05. Deeper Than Inside (1:05:13 – 1:07:41)
06. Hidden Wheel (1:07:42 – 1:10:00)
07. In Silence / Words Away (1:10:01 – 1:12:58)