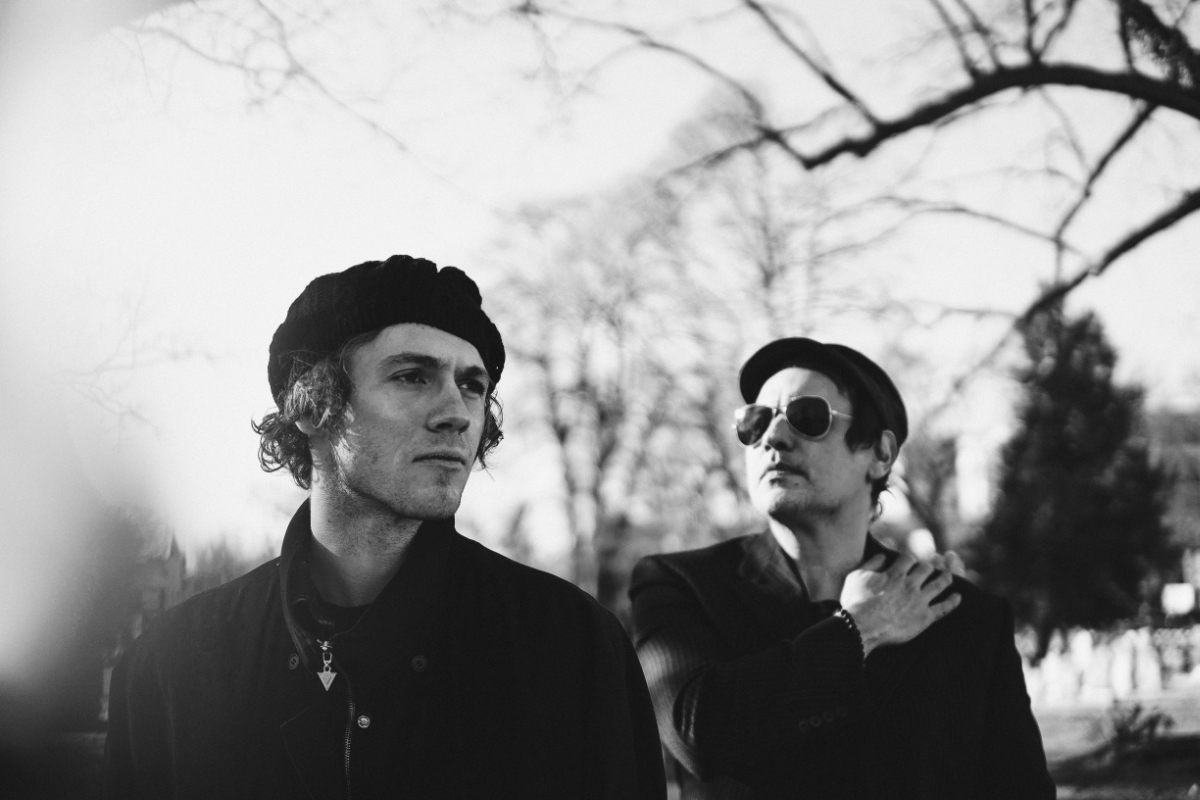 3 April 2021
Photo by Rachel Adshead
Lancaster PA band Vicious Blossom is Nate Zerbe (vocals/guitar/lyrics) and a revolving collection of musicians that varies from release to release. The band combines dream pop and shoegaze with a side order of psych for good measure. This incarnation of the group includes Ben Roth (drums/guitar/bass, EJ Hagen from Highspire/Morning After Girls (guitar/bass), and both Jon Boy and Joe Fuscia on drums. Their recent EP You Breathe Inside of Me was a breath of fresh air this winter during continued lock down. It is cathartic music like this that keeps me sane, and I thank the band for their artistry. Thank you to Jason L for setting this up, and Nate for putting up with my questions.
EK: How did you get started in music?
NZ: I I loved music from day one. I was born to a "Stone Temple Pilots" music video that played on MTV in the hospital. As a child, I always wanted to get a CD at Kmart as opposed to an action figure.I would draw imaginary album art while listening to music in my bedroom. I also made my own little tapes. I would sing and bang on pots and pans and record them with a Fisher Price karaoke tape machine.
EK: How did the group form?
NZ: I was getting off narcotics and needed something to give me drive. In July of 2015, my best friend who was like a brother to me died from an overdose and I was the one who found him and had to make that harrowing phone call. That event really fucked me up and also was a major hit from reality. I needed to make a change in my life or I would continue to slowly destroy myself.
I purchased some music equipment in Autumn 2015 and began to start making music and it really helped give me something new to focus on and get me to stop using heroin.
I played some tracks to some friends of mine and we began to bring those songs into fruition on the debut EP I'm Disappointed In You.
EK: How have the various personnel shifts changed the band's sound?
NZ: Well, during the recording of the first EP, I was still recovering from narcotics, and all of the members on that EP, including myself, were new to this. In turn, this led to the release taking a while to be completely finished to our liking!
I also had not perfected my voice during that time and was shy about singing so on most of that album I used a vocoder. Not only to add an effect but to also hide behind it as I was still having difficulty presenting myself to everyone.
Since then, I have gained confidence and became comfortable singing after performing live and practicing on my vocals. It also takes much less time to put a release out since I no longer abuse hard substances.
EK: How have you all been coping during COVID? Have you been writing a lot of music?
NZ: COVID gave me a lot of motivation to work. I finally had time to dive into it and it was a great way for me to stay occupied.
EK: Who writes the music vs writing the lyrics?
NZ: The lineup is never consistent. I write all the lyrics (with the exception of "Solace") and most of the guitar.
Everyone who has performed though has written their parts themselves.
On "You Breathe Inside Of Me", EJ Hagen had wrote nearly all the music and I wrote the guitar for "May" with the help of Ben Roth, Joe Fuscia, and Jon Boy.
EK: What informs your lyrics?
NZ: My lyrics are based on my life experiences, and most of them are about love, sex, loss, drug use, and mental anguish. It has been troubling for me to open up to people lately. I struggle with it for a multitude of reasons. Music has been my open diary. This is my outlet for expressing what I go through. I don't write music to make the "big time". It helps me release these pent-up thoughts and emotions and free of the weight.
EK: Are you self-produced?
NZ: My friends at "The Kaleidoscope" have always helped produce, but I also have a say in the matter. It's nice, because they help me get the sound I want while presenting new ideas as well that I would have never thought of bringing in.
EK: What would you say are the group's greatest musical influences?
NZ: Slowdive, Medicine, Failure, Drab Majesty, R.E.M., Black Moth Super Rainbow, Seefeel, My Bloody Valentine, Malory, and Jesu, to name just a few.
EK: How about art, literature, and film?
NZ: I have always been a fan of animation and horror. I love Polaroid film for the lo-fi imagery, which I believe correlates to my sound. The new album is actually two Polaroid photos I took and I placed them on top of one another. As for reading, I just read non-fiction on music and mysteries.
EK: Did the band have a chance to tour at all before the pandemic, and what was your favorite concert if you toured?
NZ: We only played a few shows out of the States. My favorite shows were with LSD And The Search For God and The Stargazer Lilies, which were in PA! I also love our first show. My buddy, Ryan Davis, had a lot of love and faith in the project. He spent a lot of time setting up and promoting our first show. He bought flowers, candles, lights, and other props for the gig and even got three nude models to stand with us on stage holding flowers and wearing BDSM masks and at the and of the final song, the models all walked up and poured fake blood onto each other. I'll never forget that because I was like "How the FUCK is this happening at our first gig?"
EK: Are you currently working on new material?
NZ: I am not sure how long it will be until the next album. I don't like rushing into writing. I like to do it when I feel it is time.
EK: When you're not performing music, what consumes your daylight hours?
NZ: Working, fucking, listening to music, thrift shopping, and being outdoors.
Pick up the band's music over on Bandcamp and catch up with them on Facebook.