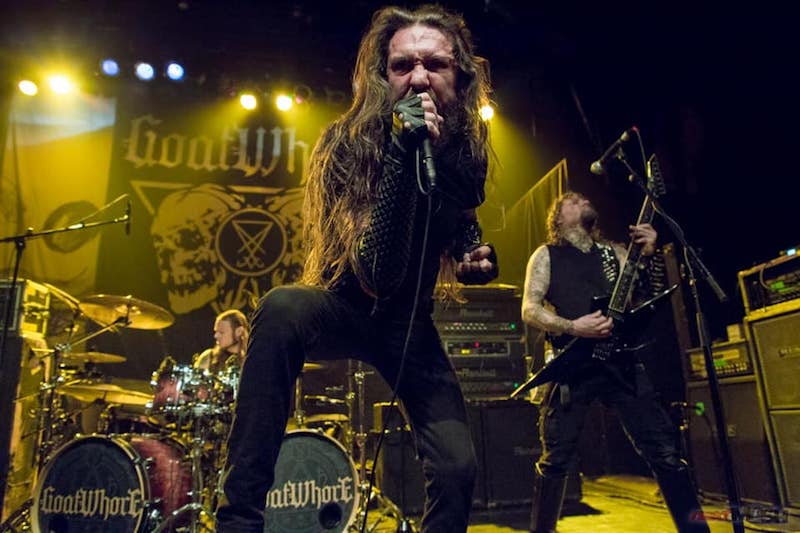 20 May 2019
Photo by Goatwhore
Music festivals are a dime a dozen in the U.S. these days, but for fans of quality heavy tunes, one stands tall and mighty above the rest: Psycho Las Vegas. Now in its fourth year in Sin City, the festival huddles together representatives of every metal genre, indie-rock icons, post-rock phenoms, punk-rock legends and even some electronic artists for the unholiest of annual bacchanals.
This year, Opeth, Cold Cave, Carcass, Beach House, Godspeed You! Black Emperor, Electric Wizard and 70 other bands will descend upon the Mandalay Bay Resort and Casino from August 16 to 18 — with an all-day pool-party kickoff happening August 15.
Among the lineup's most lethal acts is New Orleans' Goatwhore, set to play on the festival's proper opening day. Surprisingly, it will be the blackened death-metal outfit's first appearance at Psycho. For the initial installment in an ongoing series of interviews with festival participants, Goatwhore's longtime drummer, Zack Simmons, geeked out over the artists he's most excited to see, what his own band has in store — and what drew him to the festival as a fan two years ago.
Why are you particularly excited to play Psycho? What makes the festival special — both from a performance perspective and as a personal experience?
ZACK SIMMONS: Vegas is always a good time. It'll be especially great having a ton of killer bands and degenerates from all over the world in one place for a crazy few days. We are very excited to bring our brand of heavy metal to this diverse festival. 
If you've played the festival before, what memories do you have of it? If you haven't played it before, what are your expectations?
SIMMONS: This will be our first time playing this festival, actually. I attended a couple years ago to see King Diamond and everything seemed to run smoothly. There's really something for every type of metal fan to enjoy.
Do you have any surprises planned for your Psycho set, whether they be songs you wouldn't normally play, added stage elements, etc.?
SIMMONS: If I told you, then it wouldn't be a surprise, would it? We'd definitely like to do something interesting with the set, whether it be some rarely played older material or possibly a special guest on a song. Other than that, it'll be business as usual. We're going to fuck up your day.
Do you prefer playing in the heat or in the cold? Indoors or outdoors? What are the advantages and disadvantages of playing at the time and on the stage where you're scheduled to perform?
SIMMONS: I definitely prefer the heat and the energy it brings, but rain or shine, indoor or outdoor, the objective is still the same. I'm not sure what stage or time slot we will be playing as of yet. It'll be a great time either way.
Tell me something that happened to you in Vegas that was supposed to stay in Vegas.
SIMMONS: Nothing too crazy, I guess. Then again, I'm not sure what "crazy" is anymore. Just the usual stumbling out of a bar at 7 a.m. kind of thing.
What other bands are you most excited to see perform at Psycho?
SIMMONS: Triumph of Death is absolutely on the top of the list for me. The Obsessed, High on Fire, 1349 and Vio-lence are other must-sees.
What friends of yours are also playing at the festival? Who are you planning or hoping to hang with in your downtime?
SIMMONS: That's probably the coolest thing about these festivals is seeing friends from all over the world. We go way back with the High on Fire guys, 1349 and Tom Warrior. Between the bands, crew and fans, I'm sure there will be many familiar faces.
What can fans and newcomers expect from your performance(s) at the festival?
SIMMONS: A throbbing set of hard and evil heavy metal! See you in Vegas!