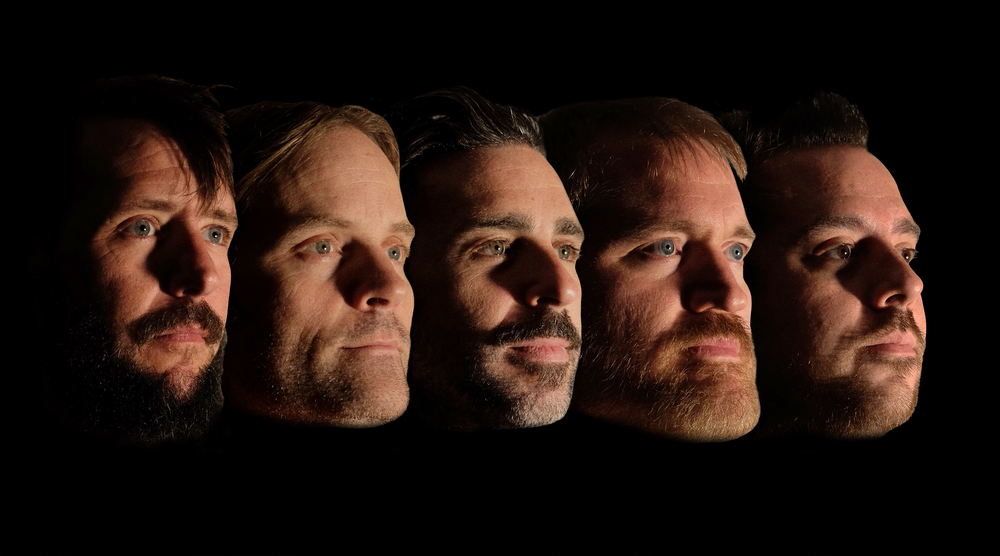 28 February 2022
Photo by Stevie and Sarah Gee
Ben Bridwell is as open and honest as they get, sometimes to a fault. The Band of Horses founder has lived the life and is still around to talk about it – the highs and the lows, the goods and the bads. From moving to Seattle in the '90s and experiencing SubPop's glory to returning to Charleston, South Carolina to get back to his roots, Bridwell's an observer, taking in his surroundings to craft songs that often straddle the line between light and dark. Through the music he writes, Bridwell constructs narratives that weave in and out between fact and fiction though he admits that for the band's sixth album, Things Are Great, there's more fact than ever before.
While Things Are Great was finished just before COVID shut the world down, the album's release has been pushed back numerous times before finally settling on March 4. As Bridwell and I talk via Zoom, it's apparent that the delay is weighing heavily on the singer as he expected to release the album and hit the road in 2020. The sitting around has not been great for anyone's mental health, and Bridwell admits that even quick trips to TJ Maxx are anxiety inducing, so as vaccines became available in 2021 and bands began to understand the touring landscape, Band of Horses embarked on a pretty lengthy run of shows to close out the year.
Perhaps it's the realness in the lyrics of Things Are Great, perhaps it's the infusion of new band members and producers to provide new outlooks and ways of doing things. Whatever it is, Band of Horses have released their strongest album to date and if early buzz is any indication (one of the singles already topped the Adult Alternative charts), this might provide the healing Bridwell has been searching for the last few years.
Bridwell was extremely generous with his time during a recent conversation. What was scheduled to be a 20-minute interview turned into a 75-minute conversation ending with Bridwell inviting me to reach out whenever I wanted to talk about music or life.
The album title is Things Are Great. Is it safe to assume that that's tongue in cheek?
BEN: Oh, really? How dare you. (laughs) It is tongue in cheek for sure. That's been a Band Of Horses thing. We're trying to be funny; ain't that funny? With this one, it's pulled from a lyric of one of the songs so I was like, "That's fine."
How much of what you write lyrically is made up and how much is real?
BEN: I mean, shit, this is six albums in now. I never even meant to be doing this job, I got lucky to fall into it with some good hard work and dedication. I've never been that comfortable with it in this respect, having to write the words. At times, for better or worse, with this record I tried to make a concerted effort to speak my truth and to speak the way I really speak, including cuss words. I intended to speak the way I really speak and say the thoughts I really thought without having to mask them with cheeky turns of phrase. I hope I got it out correctly.
I didn't recognize the name at first, but when I read why you titled a song on the new album "Coalinga," it instantly brought back a memory of driving in California and hitting the town of Coalinga where, for the next 20 or so miles, we were hit with the terrible smell of cow poop due to the cattle farms the city is known for.
BEN: It's like when you're a kid, trying to see who can hold their breath underwater in the pool for the longest. That stretch is tough, isn't it? I feel bad that I'm calling out a certain place but it's more a memory that I'm trying to be faithful to than talking shit. But it is talking literal shit.
If I remember correctly, as you're driving north bound, on the right-hand side is where you see all the cows. It's cows after cows after cows.
BEN: At risk of being a bit controversial, back in the day we called it Cow-schwitz.
Is there a lyric or a couple that you're really hoping people catch on to and/or that, when you go play them live, you're looking forward to having people sing those words back to you?
BEN: I don't listen to our music because I like good stuff, but, sorry, I'm being cheeky again. I can tell you this, yesterday I went to a doctor's appointment and I made a nurse cry. Not by being mean or nothing, but just my situation made her cry. There's a line in the first song of the album, "Warning Signs," where it talks about "small talk with a registered nurse, not to cry in front of people at work." I found it poignant when I wrote it because I'd gotten into a pretty shitty situation in Sydney, Australia where I was crying and I couldn't sign on stage. It hurt so bad to even think about. The fact that it came back so full circle yesterday, it was not lost on me. So, I would recognize that one. I wanted to speak my truth on this record and not be so coy so I stand behind all of it. I think I told a good current truth of where the hell I'm at.
I saw that "Crutch" is on the top of the Adult Alternative chart. That's got to be pretty special and rewarding for you.
BEN: I think it's funny that almost 20 years on, that that's when this happens. Numbers ain't shit. Awards ain't shit to me. I look at it more as a little pat on the back for all the people that make that stuff happen that aren't me. These people that helped so much, it takes good counsel, it takes good hard work that people put into it, not just the managers and the radio people, who are obviously kicking total fucking ass, but our crew dudes, they get us ready to go to these radio stations. You need to put your face in front of them and perform at their radio station and play that song no matter what state the band is in that day. I think it's a testament to all those people that make that shit work. I pass all the glory to them, none to me.
You've been in bands for 30 years. Do you ever take a step back and consider that you've been in bands 20 years longer than a band like The Beatles was together?
BEN: And nowhere near that kind of output. I'm having to start to think about it because of questions like this, which I appreciate. It's kind of bananas to be, honestly, to see how this all happened. I did not mean to be a musician. I did not mean to be a singer or a lyric writer or a song writer. I meant to be a person who makes mix tapes for people. I was a mix tape guy. That's what led me into starting a hobby label in Seattle, saving all my tips after flipping eggs all day. All of a sudden I've got a damn hobby label that's going too bananas and I have to start shifting artists to SubPop. Then, all of a sudden, SubPop wants to sign a band that I started because I was lonely. I don't understand this. I still don't get it.
Was there a whole other Band of Horses record that you wrote before Things Are Great?
BEN: I felt like the band has earned enough miles logged that we should be able to choose our own path. No slight on anyone, producers, things like that, I've felt like sometimes we're getting led by the nose into an area where the record's not exactly ours anymore. I really didn't want to do that anymore. I didn't want to take that risk anymore. Why allow yourself be subjected to so much ridicule if the album, at the end, had become sort of co-opted? I decided to scrap what the initial project was and refocus. I took it to a more homegrown approach, to say the least. I switched the narrative back towards us which became what we have now as the finished product. I'm much more proud of that because it is more us. Again, no slight on the people that worked on it.
How long has this version of the record been done?
BEN: It got done right before COVID hit. David Sardy mixed it in Los Angeles with me and my buddy here in Charleston. All of a sudden, it was like, "Damn, you can't travel no more. Even if you want to go to mastering, you ain't going."
Dave Sardy was in the band Barkmarket. And Jason Lytle, you worked with him in the past. And, you had another producer …
BEN: Dave Fridmann
He's worked with Mercury Rev, The Flaming Lips …
BEN: Spoon, MGMT, you name it. These people are brilliant. All three of these people are brilliant. I'd like to add a fourth, Wolfgang Zimmerman, my friend here. After out last record Why Are You Ok got finished, I was like, "I want to go hang out with these young pups down here in Charleston who are working out of a storage shed, a literal storage shed, recording these albums that I thought sounded really cool." That's where the seed was planted and then I returned to that with him.
What does your life look like when you're not out touring?
BEN: It's a fucking disaster. I've had a really tough time. I'm just trying to keep my head above water. There's financial desperation with all the stuff that's gone on. There's personal hardships. I am definitely a homebody. I did get a puppy, I didn't mean to. Someone needed a dog to go somewhere so I'm doing that. I'm raising four daughters, when I can and rolling with the punches. I don't go out, I stay away. I kind of took the responsibility to avoid crowds, avoid things, during this whole stupid shit we've been dealing with for two years. I'm trying to avoid stuff but I'm also financially desperate so I have done the odd show here and there and the streaming thing here and there. But I don't go out, I avoid people. I went to TJ Maxx today and about had a god damn heart attack.
My step-mom lived in Charleston for about eight or nine years and we'd visit every summer. I never made it to the Windjammer [Charleston music venue] so watching your live streams from there, I was like, "I finally get to see what the inside of the Windjammer looks like." Did they approach you or did you approach them?
BEN: The first time I saw human tits was at the Windjammer, as a child. I went there as a kid with my dad and it was a wet t-shirt contest. I remember being there drinking Coronas and there was an outdoor volleyball area and I was like, "This is insane." I was probably really little. [In terms of the livestream Band of Horses did from the Windjammer] It was just easy, it was comfortable. "Let's go to the Windjammer, I'm right down the damn road." I had never played there before, I had seen shows there a little bit here and there. It's an institution around here and this area of Charleston has not historically been the most kind for musicians unless you're an acoustic grunge act doing an open mike. It's been rough for musicians here. Seeing those kids like SUSTO and Wolfie making those records, I could name 10 if you want me to, I'm so proud of the way this place has evolved. It's nice to see that these young kids are really making a name for themselves. I mean, I feel like an old-timer myself so I get to watch it from the outside and get to say, "These kids are absolutely screwing."
I was looking at Setlist.fm, do you know that site?
BEN: I follow it like a Bible, sir.
You played more shows in 2021 than you have since 2017.
BEN: Is that right? I didn't know that. I only look at it for setlist information to make sure we're not playing the same stuff.
Was it difficult to go on the road in 2021 with a new album in the can that you couldn't really play much from because nobody had heard it?
BEN: Good question. Honestly, we're afforded some luxuries at this point in our career where the catalog is where we butter our bread. So, to throw in a new song here or there, even when we had the last record out in 2015, you throw in two or three and it's like, that's enough. You don't want to bore people. The pressure of the new record hasn't really gotten to me on the road. We can put on a really good show, I think, and really put our feelings into those songs that we have, thank goodness for them, and sprinkle some covers and new things to keep it fresh from night to night and make it so that people might want to come to two shows.
I was impressed when looking at Setlist.fm that you switch up the setlist nearly nightly.
BEN: I don't mean to pat ourselves on the fucking back, because it's not that different sometimes. It might be a different order of the ones you gotta play or that need to be played. I don't know that we're that ambitious, we could be more ambitious with it or more brave, more courageous. I want to make sure that people feel like they're getting an original experience with us and getting a real emotional experience with us. It ain't phoned in. I would die a million deaths to think of us phoning in a performance.
Get an emotional experience this summer as Band of Horses hits the road with The Black Keys
07/09 – Las Vegas, NV – MGM Grand Garden Arena
07/11 – Salt Lake City, UT – USANA Amphitheatre
07/13 – Denver, CO – Red Rocks Amphitheatre
07/15 – St. Louis, MO – Hollywood Casino Amphitheatre St. Louis
07/16 – Indianapolis, IN – Ruoff Music Center
07/17 – Chicago, IL – Hollywood Casino Amphitheatre Tinley Park
07/20 – Saratoga Springs, NY – Saratoga Performing Arts Center
07/22 – Jones Beach, NY – Northwell Health at Jones Beach Theater
07/23 – Holmdel, NJ – PNC Bank Arts Center
07/25 – Columbia, MD – Merriweather Post Pavilion
07/27 – Charlotte, NC – PNC Music Pavilion
07/29 – Boston, MA – Xfinity Center
07/30 – Philadelphia, PA – Waterfront Music Pavilion
08/24 – West Palm Beach, FL – iTHINK Financial Amphitheatre
08/25 – Tampa, FL – MIDFLORIDA Credit Union Amphitheatre
08/27 – Atlanta, GA – Ameris Bank Amphitheatre
08/28 – Huntsville, AL – Orion Amphitheatre
08/30 – Charleston, SC – Credit One Stadium
09/01 – Raleigh, NC – Coastal Credit Union Music Park at Walnut Creek
09/03 – Cincinnati, OH – Riverbend Music Center
09/06 – Toronto, ON – Budweiser Stage
09/07 – Detroit, MI – Pine Knob Music Theatre
09/09 – Cleveland, OH – Blossom Music Center
10/02 – Seattle, WA – Climate Pledge Arena
01/03 – Vancouver, BC – Rogers Arena
10/05 – Mountain View, CA – Shoreline Amphitheatre
10/08 – Los Angeles, CA – The Forum
10/10 – Phoenix, AZ – Ak-Chin Pavilion
10/13 – Rogers, AR – Walmart AMP
10/15 – Houston, TX – Cynthia Woods Mitchell Pavilion
10/17 – Austin, TX – Moody Center ATX
10/18 – Dallas, TX – Dos Equis Pavilion