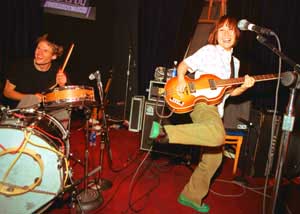 27 March 2022
Another year in Boise, another Treefort.
This, the festival's 10th edition, has brought more than 500 bands to Idaho's capital — and arguably the most exciting five days in the history of the music event.
Sunday sees indie-rock legends Kim Gordon of Sonic Youth, Portland duo Quasi and Scotland's We Were Promised Jetpacks descend on the Main Stage, El Korah Shrine and the Linen Building, respectively. They will bring to a close a festival that stormed out of the gates on Wednesday and Thursday with sterling lineups, and continued Friday and Saturday with formidable menus.
For the final installment in its Treefort preview series, The Big Takeover had the pleasure of touching base with maybe the most-anticipated band of the entire festival: Deerhoof, a group that is as exceptional as it is influential. Founded by drummer Greg Saunier in 1994, the San Francisco heroes will support their latest record, 2021's Actually, You Can. We talked with Saunier about what the band has in store for their Treefort set, his joke-telling skills and his lack of affection for President Joe Biden.
So, how was your pandemic? Have you and your family stayed healthy?

GREG SAUNIER: During the pandemic Deerhoof has gone deep into recording mode. We've put out a lot. Less a shining example of Protestant work ethic and more a coping mechanism for anxiety. To be honest I think this pandemic is only just getting started.
It appears that this will be Deerhoof's first show in 26 months, the longest dry spell of live performances in the band's history. Are you feeling nervous, scared, excited and/or confident? How would you best describe your state of mind going into Treefort?
SAUNIER: So excited to play but also pulling my hair out with frustration. … The policy wing of the corporate sector, also known as the U.S. government, has formulated a new COVID strategy vis-à-vis members of the population with high-risk factors. And that strategy is … fuck 'em. We've spent the last several months planning tours around the world, but I'm not sure we'll be able to do any of them due to Biden's bullshit.
When did you start rehearsing again as a band, and how many rehearsals will you have conducted before Treefort? Do you anticipate that the band will still be scraping off some rust with this initial batch of shows, or did you feel in the rehearsal studio that Deerhoof quickly picked up where they left off?
SAUNIER: We live in four different cities and didn't even see each other for almost two years. It was horrible and sad! This past November was our big reunion. We learned a bunch of songs from our recent, remotely recorded albums — stuff we'd never actually played together in person before. It was so fun! 
We aren't really the same band. Who could be? We became closer during the pandemic. … Less reserved about communicating our love for each other, since — in a period of mass death — you never know if this phone chat might be your last.
Judging by you current tour schedule, it looks like you'll play some shows in the Northwest, take off the month of April, stage four more U.S. gigs — and then shove off overseas in late August. Is that your set game plan for this year, or do you anticipate adding more shows?
SAUNIER: We would love to. Touring was our life for like 20 years. Like Keith Richards says, the stage is the only place where you can get any peace and quiet! But let's survive this first tour first. We're not gonna do it if our shows pose a major risk to the health of our fans and ourselves.
Was/is it hard to assemble setlists for these shows?
SAUNIER: It was nothing but pure pleasure! We've added a bunch of old songs that we rarely if ever did before because we thought they were too hard, but now we don't care! 
Are you close with the Deafheaven dudes, who are also playing this festival? (I saw Deerhoof and Deafheaven play at the Indigo Music Festival in January 2015.) Any other pals you're excited to catch up with, especially because many of you guys haven't seen each other in years?
SAUNIER: Yeah, we've played festivals with them twice now, they are very nice. I do remember at Indigo Festival watching Deafheaven play and asking their manager how long she thought the singer George Clarke would be able to keep screaming like that. The artist I look forward to the most at Treefort is Chris Cohen, former member of Deerhoof and one of our best friends.
Looks like you and Deerhoof have swung through Boise at least three times so far. Have you had the chance to explore the city much? If so, what are your favorite aspects of Boise? Any colorful anecdotes to share about your times playing in Boise or elsewhere in Idaho?
SAUNIER: We always go to eat at Taj Mahal downtown!
Have you played Chile yet? If so, what was it like, and did you connect with any relatives of yours? If you haven't played there yet, do you intend to sometime in the near future?
SAUNIER: I was born in Chile but have no relatives there. My parents lived there because they were in the Peace Corps. They left when I was so little, just before General Pinochet and Henry Kissinger swooped in and destroyed the country. I assume I have no memory of Chile, but I would love someday to return and find out.
Rolling Stone named you one of the "trailblazing avant-rock percussionists" in 2016. But are you concerned that, years down the line, you will be appreciated more for your joke-telling skills than drumming prowess?
SAUNIER: Are you kidding, Kurt? I don't know any jokes!
What can Treefort attendees expect from Deerhoof's Main Stage performance at Treefort? Do you feel like your sound carries well at outdoor shows?
SAUNIER: Our sound carries so well outside! Because we just play louder! We love to play outside and can't wait to be there and perform for you all!
For more coverage of Treefort Music Fest 2022, check out these participant profiles:
Deafheaven
Guided by Voices
Magic Sword
Osees
Yob