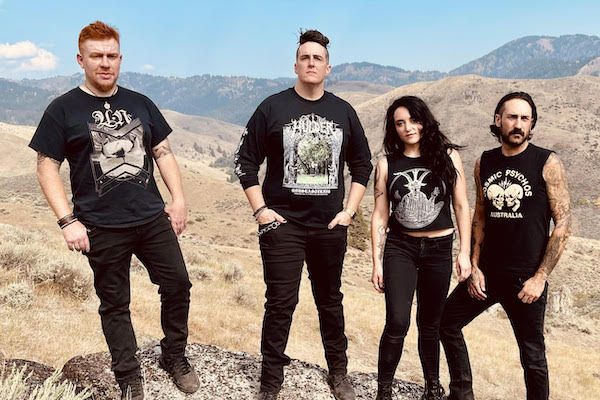 25 September 2021
Photo by Chad Remains
Well, how's your pandemic going? Probably not as productively as Ealdor Bealu's.
Like so many of us music lovers, COVID has led to isolation, stagnancy and sitting on our thumbs until concert opportunities go from rare to frequent. Meanwhile, Ealdor Bealu — Boise's most ambitious and promising rock band — spent the past year and a half recording an album (Psychic Forms) set to hit stores in the spring, releasing its first single ("Way of the Sudden Storm"), signing a deal with a Los Angeles-based record label and building up a hefty tour schedule that will finally get Ealdor Bealu on the road come Wednesday. To boot, the quartet put out a CD version of their second record, Spirit of the Lonely Places, yesterday. (In July 2019, they self-released it on vinyl and online.)
The quartet deserve a break not only because of hard work and dedication to their craft, but because they've been hard at it since the independent release of their debut, Dark Water at the Foot of the Mountain, in 2017. With a new drummer onboard, Michael Mulcock, Ealdor Bealu — rounded out by guitarist/vocalist Carson Russell, bassist/vocalist Rylie Collingwood and guitarist/vocalist Travis Abbott — are about to properly introduce themselves to the world (outside Boise, at least).
Ealdor Bealu play a pivotal gig tonight at the Shredder, as part of Boise's Treefort Music Fest. They'll take the stage at the prime time of 7:20 p.m. and will certainly draw a bigger crowd than they squeezed into the Hideout stage at Woodland Empire Brewery at dinnertime yesterday.
All four giddy members of the band recently sat down with The Big Takeover to talk about their ambitious plans for the rest of this year and 2020, stumbling into hip-hop sensation Lizzo and how fans of metal don't necessarily have to be metalhead.
How do you guys describe Ealdor Bealu's sound to people who aren't familiar with your music?
CARSON RUSSELL: I call it heavy-psych/progressive stoner rock, but if I'm talking to someone over the age of 50, I say, "It's Black Sabbath mixed with Pink Floyd."
TRAVIS ABBOTT: Yeah, I either say, "It's rock and roll," or, "It's like Pink Floyd combined with Sabbath." Because everyone knows those bands.
RILEY COLLINGWOOD: An older hippie dude told me at one of our shows that we reminded him of Quicksilver [Messenger Service]. They were more of a psych-rock band, and I had never listened to them before, but … I guess I can see that. [She laughs.]
MICHAEL MULCOCK: When I played some of our music for my dad, he was like, "Oh, this kind of sounds like Fleetwood Mac, but heavy." I'll take it.
Do you anticipate reaching a broad audience with your upcoming album, Psychic Forms?
RUSSELL: I would love to see this album reach a massive audience. Our eyes are on having this album be the big one that really pushes us to the next level. We were able to actually share our true self with this record. This album really exemplifies exactly who are — or at least, who we were at the moment we recorded it. It's an album that pushed us more into metal than any of the other ones did, mostly because of the tempo and tenacity of Michael's drumming. Those elements have made us much more of a crossover band than we have been before. Heavy psychedelic, progressive stoner rock is pretty hot right now — bands like Elder and All Them Witches or King Buffalo. They're able to find ways to be really intense but also so groovy about it. 
ABBOTT: I think that's right. Now that we're bringing in different musical elements, I think that'll draw a wider base into our music.
RUSSELL: The new album is really palatable to a wide variety of people who usually don't listen to heavy music. They hear it and they go, "Oh, I can actually nod my head to metal."
MULCOCK: That's how my family feels like. One family member told me, "Yeah, this band is a lot better than the other bands you were in."
You're also not a conventional heavy rock band, thanks in part to Riley's vocals.
RUSSELL: It's a wonderful weapon to have in this band, Riley's soaring, beautiful female vocals. Sometimes we will play shows and a photographer or a reviewer will become so enamored with Riley … people see her perform and are just blown away.
COLLINGWOOD: I try to give the band enough contrast to the point where our music is approachable. It's like, "Here's a little whipped cream on top, if you like."
Ealdor Bealu has played Treefort numerous times. The festival's stated goal is to connect Boise musicians with music lovers across the country. Do you feel like you've achieved that?
RUSSELL: Yes. One of the coolest parts about Treefort is the Artist Lounge. We've met TV on the Radio, Emily Wells. It's pretty cool to see some big-time musicians just walking around in the lounge.
COLLINGWOOD: We ran into Lizzo walking around downtown by herself, just a few weeks before she blew up into an international star.  Pretty damn surreal.
The answer to this question may be obvious, but how do you think this year's Treefort will be different than previous installments?
RUSSELL: Most of the bands have not played for 18 to 24 months. It's been a rough stretch for us and many other musicians. It's nice to be able to play some music and start moving forward again.
It must be more frustrating as musicians to not be able to tour at all as opposed to playing too many shows. A lot of bands get burned out on the road, but a lot of you guys must be climbing up the walls.
RUSSELL: I'm really grateful that we had the ability to practice a lot before recording the album. I really feel bad for career musicians. Touring is how they pay their bills. All of a sudden, that meal was gone. But we all want to go back to playing music in venues.
Did you have to postpone or cancel many shows due to the pandemic?
RUSSELL: We had two tours canceled: a spring tour for this year and a full tour for 2020. On some of our upcoming dates [which run from September 30 to October 9 on the West Coast], we'll play the same venues where we were originally booked.
COLLINGWOOD: Support your venues!
RUSSELL: Be grateful for the ones that are still open. Because every single city I've looked into has lost at least a couple.
ABBOTT: All you can do is push forward, get vaccinated and go to fucking venues.