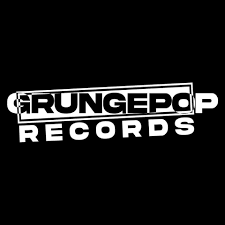 25 July 2022
Grunge Pop Records launched one year ago in July 2021. Their mission? A complete overhaul of the landscape of popular rock music. Grunge Pop Records is creating a new wave of the genre that originated with the likes of Nirvana, Pearl Jam, Soundgarden, The Melvins, and Alice in Chains. The label is run by an anonymous staff, allowing its roster of incredibly talented bands to speak for itself. Grunge Pop Records started by signing three bands capable of carrying the legacy of the Seattle sound: Minatore (England), Barb Wire Dolls (Greece), and Prince Of Lilies (Greece). Their list of artists soon grew to include Stereotyped (England), Sun Puddle (Seattle, USA), Alien Feelings (Wales), Triptych (Scotland), Rockford (Netherlands), Cages For Preachers (England), and Royal Distortion (Los Angeles, USA).
Grunge Pop Records counts Bruce Pavitt —the man who originally signed Nirvana and Soundgarden to Sub Pop Records in the early 90s—among their ranks as an A&R consultant and label advisor. Already the label has garnered fans in high places including the likes of Krist Novoselic (Nirvana, Giants in the Trees), Matt Pinfield (radio host, KLOS), and Amy Taylor (Amyl and the Sniffers).
Tell me how Grunge Pop Records started. What was the original idea for the grunge revival?
GRUNGE POP: The deal was to find bands in Seattle, but we couldn't find one band that blew our mind. There's a lot of good bands, but we wanted them to be grunge pop. We wanted the pop. We wanted the melody. We wanted songs that would last forever.
The very first band we heard was Minatore and I was like, "Mother fucker. "Boys Tell Lies" is mind blowing." [Minatore frontman, Tommy Keeling,] said, "There's an underground scene all over the UK and there are so many bands that are inspired by Nirvana, and Soundgarden, and Pearl Jam." We started discovering these bands and they just kept coming from other countries. Now, we've discovered some bands [from Seattle] that are pretty cool, but they have to be as good as Nirvana and Soundgarden were in the beginning. As soon as we discovered Sun Puddle, that was it. They kind of like gave us an anchor, like, Yeah! We found a band from Seattle.
What factors would you say are contributing to the need for a new grunge era?
GRUNGE POP: There are a lot of fake people out there that put fake filters on their faces on Instagram, but the people that don't—that are real—those are the people that need the grunge revival because it's the only real thing happening in rock and roll.
The metal scene, the rap scene, the rock-metal mainstream scene, the punk scene, they're all done and finished with. The people that want to be real are going to find rock and roll. The youth doesn't get the chance to see rock concerts very often, and when they go to a festival they might be going, "Woah, this is actually pretty cool," but you need the pop aspect to capture them quickly. That's why pop music is important, and that's why Grunge Pop has melded the two together. All of our artists—their singles—they really know how to put the melody into the grunge.
Looking at the street every day, bell bottoms are coming back and choker necklaces are coming back, but it's so much more hopeful to hear that music [from the 1990s] is coming back, because that in my eyes is more important than the look.
GRUNGE POP: It's starting with fashion and Nirvana. And slowly, slowly kids are listening on Spotify. It's kind of amazing. We don't do any advertising, we don't pay for any press. When I started with Bruce, I was like, "I want this to grow organically." And I told all the bands: "If you can stick it out and play some shows, you're gonna have a future." The goal is for [a major label] to take you on like Nirvana. We're just curious to see who's going to be the first one. I have a feeling it's going to be Sun Puddle because they're having a big showcase in L.A. and a lot of big people are coming to see if they're worth buying out of our label which would be fine with me. I tell them at the beginning: my goal is to get you careers that you can actually have a life playing music, not for us to get rich. It's for the love of their art.
Do you think reviving grunge now will encourage the youth of today to listen to some of those older bands again?
GRUNGE POP: One hundred percent. The youth—the young youth—are starting to. They first find Nirvana and then eventually they're open to saying, "Well, I want to be part of something," and suddenly they discover these bands. Our New Grunge Noise playlist is the most powerful, influential, new grunge playlist out there today. More people listen to it than any other playlist, and it's so small. That's how small this seed is right now, but it's planted in solid ground and it's being nourished, so just give it some time and it's gonna break everything up.
Do you have a sense of the timeline? Do you think it'll be a year from now? Five years from now?
GRUNGE POP: I think that four years from now—five years from the first release—we will be the most respected label like Sub Pop was in 1990-91 and a lot of our artists will actually go and become major players in the rock world.
Grunge was originally focused very much on Seattle, but this new era of grunge doesn't have a location attached to it. How do you think that affects the label's reputation?
GRUNGE POP: Grunge was happening all over the USA at the same time Sub Pop was putting out those bands, it just wasn't labeled grunge yet. There were many cities in America that had bands that would have been immediately signed to Sub Pop and might have stopped other bands from getting signed because they were so good, but what happened was that Bruce and Jonathan [Poneman] just had a genius with marketing. By the time the word grunge and the "Sub Pop Sound" caught on, the rest of the bands across America didn't know how to market themselves. They never said, "We're gunge," because it was only Seattle bands. There's not a band on our label that wasn't influenced by Nirvana, Soundgarden, Pearl Jam, or Alice in Chains. It's just the bible—the foundation.
If you were to describe the sound of grunge in musical terms, has it changed in the last 30 years?
GRUNGE POP: I think it hasn't changed at all. I think that when someone uses a super [fuzz] big muff pedal, it connects the sound kind of like smells remind you of memories. Our bands can't all record on analog, which is what everything was recorded on back then, and not everyone can have Steve Albini or Jack Endino [as a producer]. If you can't have Jack Endino or Albini or Conrad Uno, who was another great guy from the area, you might not sound exactly like it, but Prince of Lillies recorded with Albini, Barb Wire Dolls recorded with Albini. It's heavy shit and it sounds timeless.
Even if it's not analog tape you can definitely not over-produce. You can hold back the fixes, production, and Pro Tools.
GRUNGE POP: None of our bands use back[ing] tracks. None of them hire musicians. None of them hire outside writers. They all write their own songs as a band, in the garage. They all record them themselves. They use a producer or recording engineer, or not, and they all decide the sound they want. If a band gives me a song and it's not mixed at the level I want I'll say, "Why don't we try this mixer, he's really good." In the end, everybody wants to be successful, to have an actual career where they can go into the studio every other year and tour and have fans to play to. Nobody wants to be an artist and not share their art. There's nothing more fun than sharing your art. Art cannot grow if it's not shared.
In terms of the songwriting, do you think the subject matter or lyrical content has remained the same over thirty years?
GRUNGE POP: No, that might be the only thing that's different from the original grunge scene. The early grunge scene frowned upon writing about love or emotional stuff, and they weren't political really. Today, you have a band like Stereotyped who were sixteen years old when they wrote their songs. They write about emo stuff; the melodies are about breakups and suicide. And then you get Cages for Preachers who also wrote their songs when they were sixteen. They write about nihilistic, dark subject matter: hypocrisy, world oppression, and personal oppression. So, there's no uniform lyrical content to any of the new grunge revival. And that includes other bands in the grunge scene not just ours.
You have Bruce Pavitt, but otherwise you haven't relied on there being a Fat Mike [Fat Wreck Chords], or a Brett Gurewitz [Epitaph Records] as that label head/tastemaker figure. Instead, you take yourself out of the picture and let the bands speak for themselves.
GRUNGE POP: I don't think people realize how DIY we are and how small we are. They seem to think we're just raking the money and they don't realize how much they could help us out. Six months from now we'll be laughing when Dave Grohl writes about Sun Puddle saying, "Okay, I heard this song and I really thought I was on it, it was so good from my Nirvana days. And yeah, they sound like Nirvana, but damn, this song is so fucking badass they're going on tour with us."