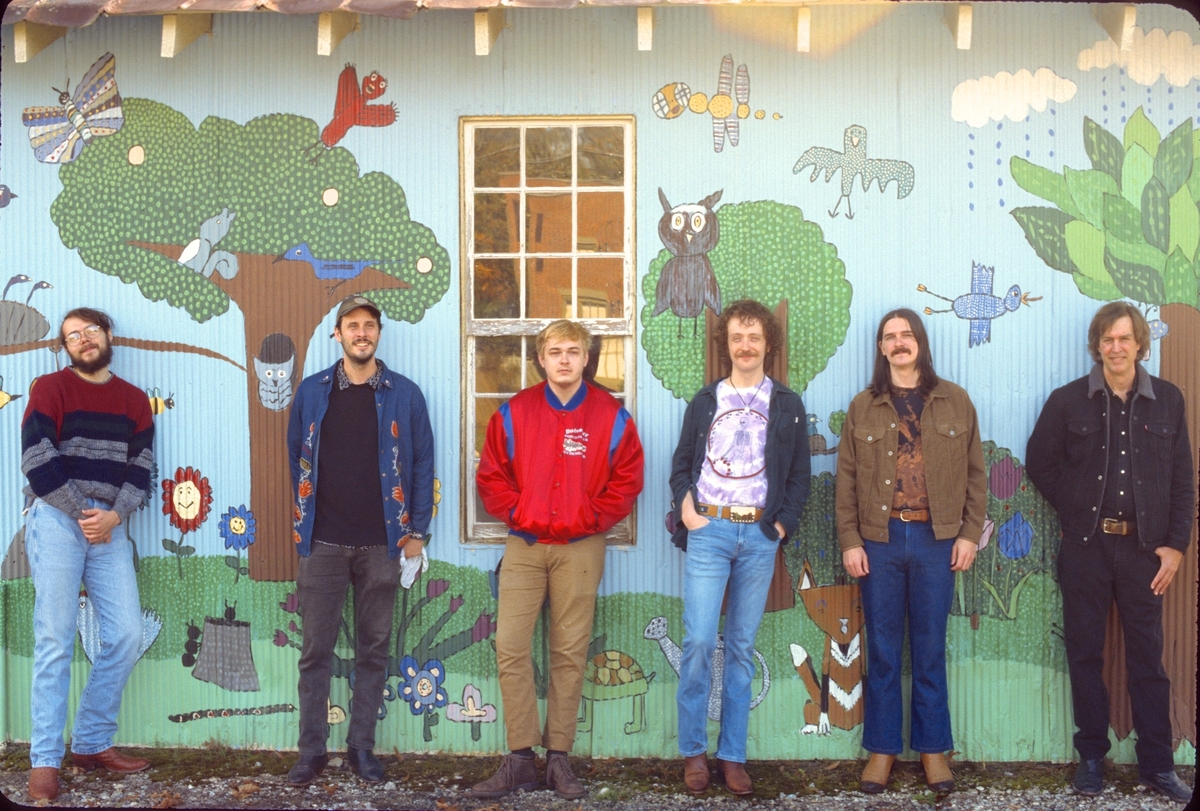 20 July 2021
By the looks – and the sounds – of The Pink Stones, it would be fair to assume these guys have been kicking around the southern Americana circuit in various bands for the better part of the last two or three decades but, in reality, most of the band members are just a few years removed from college. In April, the Athens, Georgia-based band released their Normaltown Records debut, Introducing… The Pink Stones, which, like so many other records released this year, was actually recorded and finished before Covid shut the world down.
Singer/guitarist Hunter Pinkston spent his teens and early 20s in punk rock bands before discovering Gram Parsons and other early alt-country artists and setting him on a different course. The Pink Stones started off a solo project for Pinkston but he began filling out the lineup with like-minded musicians. As the band matured, a few lineup changes were made including adding Drive-By Truckers founding member John Neff on pedal steel guitar. For a seasoned vet like Neff, The Pink Stones offered a fresh take on the music he had been performing for years and he was anxious to help out the young band.
While on a short 5-day tour, Pinkston joined me via Zoom from a gas station parking lot in Louisiana.
I watched a video of The Pink Stones playing at what looked like a college radio station. That was just a couple of years ago but you all looked really young.
HUNTER: Definitely and we sound very different. We're all in our mid-20s, except for one guy in the band who's a little bit older than the rest of us. We got together when we were all in college, most of us had been playing music for a while in different capacities. We started playing together 3 years ago and started figuring it out kind of quick.
Not only do you look different, but it looks like you have different band members in the band now.
HUNTER: There are some different members in that video. My childhood best friend, Mason, he used to play bass. He's no longer in the band, he's doing some other stuff. And now Adam plays bass. Our real close friend, Annie, was playing violin at that point and we didn't have our pedal steel player. Now, she's off doing her own thing, making cool music and we now have John Neff playing pedal steel.
Did you adapt your look once you signed to Normaltown and started playing shows outside of your hometown or is it something you grew into?
HUNTER: I don't think we did it on purpose, we were just getting into more different stuff as we got older and we started playing different kinds of music and hanging with different people. We just all grew up a little bit over the last few years.
You started out playing in punk bands. Were you using the name The Pink Stones?
HUNTER: Only for this project. When I first started calling it The Pink Stones, I was doing some more folky, acoustic guitar stuff with a lot less instrumentation. I was recording all the instruments myself there for a while and then I wanted to start gigging with a band so I formed the country ensemble band. It's changed a little bit, we've found out footing in how we sound.
The album title isn't exactly original but it's a classic, a great way to, well, introduce yourself as a new band to the record-buying public.
HUNTER: We were just going to call the album The Pink Stones, obviously, like a lot of people do. I was hanging out with a buddy of mine and he was like, "You guys have been a band for a while now but this is your first real going-out-there-and-giving-it-to-the-world thing so why don't you call it Introducing… The Pink Stones?" And that's what we did.
What's in like to go from a local college band to a band that has a label deal, a debut record, and is making tour plans?
HUNTER: I'm excited. We're on the road now, I'm calling you from Baton Rouge, Louisiana. I'm at a gas station/truck stop that has a casino inside of it and a diner. I played music since I was a teenager, doing the hardcore and punk rock thing, we used to tour a lot with those bands, like when I was in high school and early college. The Pink Stones has toured a little bit, not super far, we've been up to New York and stuff like that. You can always go out and do the DIY thing and go play but it's exciting to do the opposite and go play and hope that people might actually be there. I always liked booking my own shows but having people who can do that for you and guarantee that you'll have a nice time, that's a different kind of thing which I like.
And showing up to a club and seeing posters on the wall that you didn't have to send yourself.
HUNTER: Exactly. And you show up at the venue and they know what gear you have and what you sound like and what beer you like.
You have 70 years worth of music in the palm of your hand. You can go out and explore whatever you want whereas your parents took a chance every time they bought a record because, if they were lucky, they had maybe heard a single on the radio. Do you feel like you were able to mature quicker, from your punk days to doing what you do now, because of how available music is for you to learn and discover new things?
HUNTER: Definitely. Even when I was doing the more punk rock stuff, I listened to a lot of different kinds of music. Punk was just my main playing focus. I grew up trying to be a punker, a skateboarder kid, living in south Georgia in the middle of nowhere. There's not a lot of that there so I wanted to be that way because of that. My parents liked music a lot, and still do, and my dad played music. My dad was really into '70s rock and soul but he wasn't super into country ever. He liked things that we think of as country now, but, to him, it's like rock and roll. My mom, and her parents, were super country people. We listened to Elvis and George Jones a lot with my grandparents. I was away from that as a teenager but when I got to be in college and moved out on my own, having YouTube and Spotify and Wikipedia, the ability to look up whatever you might want to find out and then go down the rabbit hole and hear all sorts of shit, that's been huge for our band. All the guys in our band are music nerds, we all just love to listen and read.
Did you take any shit from any of your punk friends when you started playing country-type music?
HUNTER: My friends are very supportive. It is funny, there's always people that branch out and there's always people that stay forever. That was kind of weird because I had been doing it for so long and was very into the scene. I still am. I still like to go to hardcore shows and I'll still play with bands when I can but Pink Stones has taken the front seat. All my friends from the hardcore and punk rock scene, all over America, have shown tons of love to The Pink Stones, which is super cool. I wondered if people would think it was weird or fake. We'll go play places, even last night we played in New Orleans and these two random guys came up to me and said, "Hey, did you used to play in 'insert hardcore band'? You know our friends." I was like, "Whoa, that's crazy." The last time we played in New York, right before Covid, a bunch of my New York hardcore friends came to the show. Hardcore, for the most part, is pretty accepting. They like to see people thrive in whatever way we can.
Did you recently play a show with T Hardy Morris?
HUNTER: Yeah, in April. Time is just flying. We did an album release show with Hardy. When I first moved to Athens and I didn't know a lot of people, Hardy was one of the first guys I'd go see play a lot. He was always super nice to me and now we're label mates and buddies. It's cool how that works out.
With the debut album done before Covid, have you starting thinking about album two?
HUNTER: Album two is pretty much written and demoed out. We've been fleshing out the songs on this tour that we're on. I guess we'll probably cut that some time soon.
Did you start working on the next album since you had down time?
HUNTER: The thing about our record that's weird is we had made it so long ago. The first time we made it was in the summer of 2019 and then the files got deleted in the studio and we had to remake it a few months later. We had it pretty much finished for a long time and even, at that point in time, we were playing new songs. We'd been working on the songs on the first album for a really long time before we recorded them. Right before Covid, when we were playing out a lot, we were trying out a bunch of new songs. It's funny on this tour playing and wanting to do songs on the album because it's our first time being in front of crowds that have heard our album and they want to hear it. We're like, "No, no, we want to play these new songs because we think you'll like them more." It's finding a mixture of playing that album and trying to get ready to do some new stuff too.
I'm sure you've heard the saying that it take your entire life to record your first album and then after that it becomes fast paced and the second album, and each one after, is a slice in time after the debut
HUNTER: It's funny because there is the sophomore slump where you take a long time to make your first one and then you take a short time to make the second one and that one is just not as good. I love our first record a whole lot, it means a lot to me, but I think we were finding out footing and figuring out how we wanted to sound. I think the next one is a little step in The Pink Stones' direction. It's different sounding but it still sounds the same. We're trying to stay the same but progress.
Can you tell me about the tour you're on now?
HUNTER: It's 5 days, we're on our 3rd day now. We're on the way to Houston and then we have Austin and San Antonio after that. We did Baton Rouge and New Orleans before that. We're doing it with Sam Doores and Riley Downing and we're playing as Riley's backing band which has been really nice getting to play our set and then get to play with him as well.
Since tours started getting announced, I've bought a bunch of tickets. Have you bought any concert tickets yet for shows in Athens?
HUNTER: There's some shows coming up and I'm super excited to see like Faye Webster, some of my friends play on her new record. She's great and I love her music a lot. Nikki Lane and Brent Cobb are doing a tour together that's coming through Athens, I love Nikki's stuff and Brent is from a town over from the town I grew up in in south Georgia. The first hardcore show that I went to since Covid that I wasn't playing as things eased up was my friend's band, Living in Fear, which is a Cro-Mags/very New York hardcore kind of thing. I'm excited to see punk rock and hardcore shows exist again because I was a little worried about that. It's one thing to do Americana and play outside and everybody can sit down but when you're doing a hardcore show, it's not so easy when people have to stand away from each other.
Now that I'm vaccinated, I'm not as nervous to go to a show.
HUNTER: I was very Covid safe and the person I was living with, we were super locked down. All I did for the whole pandemic was work. I work in a small factory. The Pink Stones didn't get together more than 4 times when it was bad. I was really fucking nervous to go out in public again, it took me a little bit. When we were in lockdown, I didn't really care for a while. I was like, "This is kind of nice." I was going to the bar too much anyways, now I don't have to go to the bar. I have an excuse to not hang out with people if I want to just not hang out with them. That was nice. But, I finally got to my point – I thought I was going to be the person who never went back out again – and then I hit that wall where I was like, "Got to get back to life."
Are you a vinyl buyer?
HUNTER: I am. I work at a pressing plant. I press records.
When you walk into a record store, what's the first section you head to?
HUNTER: It's usually the cheaper country section where all the old country records that maybe didn't do as well or, maybe did well at the time but people now just don't care as much. And, the same kind of thing with soul records. We don't play that stuff as much but I really like all that Southern America soul music and all that stuff that was happening in the late '60s and early '70s where country and rock and soul and gospel sort of exploded. I also like Southern Gospel records. That's something I ignored for a lot of my life but then I started picking those out of Goodwill and thrift stores, just random shit I had never heard of. A lot of it is just okay but then a lot of it, that Gospel stuff is sort of the best music ever so it's nice to find a dollar record that you can listen to a million times in a row.
Before we go, I was wondering, is it called Big Takeover because of the Bad Brains?
It is!
HUNTER: I assumed so.