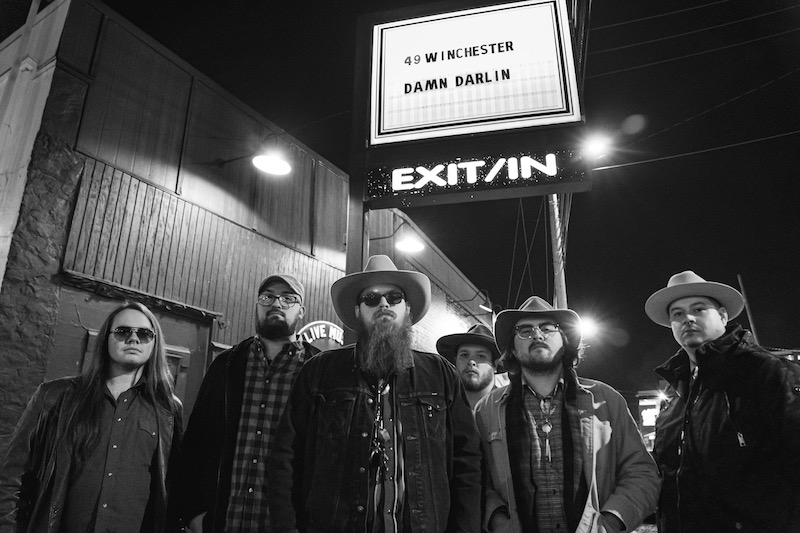 13 May 2022
Photo by Thomas Crabtree
Though it sounds like a firearm from the Wild West days, 49 Winchester's name comes from the street in the small mountain town of Castlewood, Virginia where the band first started playing music. When I spoke with singer/guitarist Isaac Gibson, he confirmed that Castlewood is indeed a one-stoplight town and all the small town cliches apply to his upbringing.
While it's easy to pigeonhole 49 Winchester as a country band, Gibson says there's a lot more that makes up the band's sound on its New West Record debut, Fortune Favors the Bold. Gibson can trace a line between punk rock and country music and is a metalhead at heart, so those two genres are embedded in 49 Winchester's DNA even if the listener can't easily pick the influences out in the songs.
It felt fitting to kick off this conversation with a question about musical gifts considering it took place on Gibson's 28th birthday.
Did you ever receive something relating to music – an album, an instrument – for your birthday?
ISAAC: As a kid, a lot. I think my first instrument was a gift from my Aunt Patsy. She passed away recently. She lived away from here. She lived in D.C. for many years but she was also super, super supportive of me playing music. She was the first person that ever purchased an instrument for me. She bought me a bass guitar. I wanted to be a punk rock bass player.
The philosophy of punk rock rings throughout all sorts of genres, even the type of country music you make. Country is just as punk as punk is punk.
ISAAC: It really is. It's about that spirit, that attitude behind the music. In good country music, that's worth it's salt, I think there's a little bit of that rebellious nature that you get with punk rock. I heard Chris Shiflett of the Foo Fighters once say that country music is where all the old punk rockers went to die. I thought, that may sound a little bit harsh but I get what you're saying. The two scenes are kind of interwoven. I've always been aware of that. There's no reason you should feel at home in cowboy boots and a cowboy hat in a punk club, but you always do. I think it attracts a lot of the same kind of people.
And I remember seeing Chris in the '90s when he was in a pop-punk band. What he's doing now, as a solo artist, is definitely country leaning.
ISAAC: He's got that great signature model Telecaster. You can just see it on stage at a punk show but it's a great country guitar too. I've always loved bands that toe that line. One of my favorite bands of all time, and I think a bit part of the reason we have kind of leaned into a rock sound, is The Whiskey Gentry. They now go by the name Lauren Morrow. They always had this high energy, cow punk kind of things. I was always attracted to that. I've loved that sound since I was a kid.
You're doing some dates with Whiskey Myers this summer and trading off with Goodbye June. Both of your sounds seem to fit on that bill and yet you sound nothing like Goodbye June.
ISAAC: I'm looking forward to those dates. I think being on tour with Whiskey Myers makes a lot of sense. I think their fanbase really appreciates what we do and the fact that it kind of lays somewhere in the middle of rock and roll and country, I think Whiskey does that too so it's a great opportunity for us.
And you're playing at the Firewater Festival later this summer which is curated by Whiskey Myers and there are a bunch of like-minded bands that blend country and rock on the lineup.
ISAAC: Looking super forward to getting off stage. That's one of those festivals where it's like, "When the set's over, what are we going to go watch?" I love getting to a place and feeling that.
You've been influenced by the likes of Johnny Cash, Merle Haggard, Waylon Jennings, George Jones. If you turn on an alternative radio station now, you won't hear bands that were influenced by The Beatles, Little Richard, Elvis Presley, Buddy Holly. What is it about the country singers and songwriters that has carried over in a way that pop music hasn't?
ISAAC: It's about total and complete dedication to telling the truth in a song. That's a big part of what country music is, very much a no-bullshit thing. You hate to throw cliches around, but people say "three chords and the truth" and that's really what it is. Country music has always been a type of music that, even without the music and it's great sounds and steel guitar and whatever else, it just stands freely on it's own, almost like poetry. It's so truthful, so honest, so raw and so relatable to people. That's what I love about country music, it's relatable. There's something in those country songs whether it's good, bad, sad, ugly, anything in between, somebody's going to latch on to. I think that being genuine to yourself as a songwriter is what causes that. That's what country music was built on – telling the truth through a song.
It seems like country artists, in particular, are just telling their life stories.
ISAAC: That's all we ever wanted to do. We never said we wanted to be a country band or a rock band or an Americana band or a blues band or a soul band or whatever the hell we are. We had a very unique start in that not of us had any idea what we were doing because we were so young and we were so green. The only thing that we've ever done is play what we hear in our heads and feel in our hearts. That's the way that it's translated and come out. There is definitely a lot of trend chasing in certain sectors of country music but that's not something that we've ever concerned ourselves with. I love rock sounds, I love soul music, I love country, I love all that. Being true to that and not trying to fit a mold is what's kept our sound fresh for 8 years. We've been doing this since we were high school kids. It's kept us evolving. It's kept our sound fresh and powerful and it always seems to continue to grow. We're playing 49 songs, that's how we handle business.
Do you ever straddle that line of writing lyrics that fill a certain country stereotype, whether it be songs about women, trucks, whiskey knowing that's what country music fans might be expecting?
ISAAC: I think it's all from the heart. There are some things that pop out that other people are able to latch onto that maybe lean more into a pop-country direction or a pop music direction. I think those things are just incidental. The diversity of our sound, that's the part of it that allows all types of listeners to grab onto something in a 49 tune. So, it's not something I really do on purpose. I don't think I have a conscious effort to do anything like that. That's never been the way I write. I never sit down and say, "I'm going to write a song about this" or "I'm going to write an album that all ties back to this." My songs are sporadic. They come to me when they come to me and they usually right themselves in about 10 minutes. Usually when I have a song that I know it's a good song, that's the way it winds up being. I feel a little bit validated in that because Hank Williams said kind of the same thing. "If it takes you longer than half an hour to write a song, you should probably put it on the back burner." There is a little bit of that playing it up, hillbilly/Southern guy thing but I think that's just because of who I am.
Do you consider making videos fun to do or is it part of the job?
ISAAC: I love it. It feels great to know that there's enough people out there that love what you're doing to want to get a deeper version of it than just what they're going to hear on the album. Being able to put out content like music videos is always super cool. I always love doing them. There is a little bit of uncomfortability because it's not what I do. I'm not in front of a camera all the time. "Okay, turn your head a little bit. Now recite the line. Here we go." It's something that I've really learned to love just after a few times of doing it. But, there will be a lot more videos in the future, I'm sure.
You made a video in which the Nashville club Exit/In is prominently featured. Is that one of your favorite clubs?
ISAAC: Definitely one of my favorites. We just did our last Nashville show at Exit/In a couple of days ago. It was a great experience. We built the moment around the video. It's pretty surreal to be on the stage when that moment in "Damn Darlin'" came and the line "Hearts break harder at the old Exit/In" comes out. The whole place blew up and was singing it. Before a couple of days ago, we had never played the room before but when I wrote the song, it needed a place in Nashville to wrap the story around that rhymed with "over the rim" and there it was. It was perfect. It stuck out like a sore thumb. It's the perfect line, the perfect club. It presents the perfect atmosphere for the character in the song which is that classic, forlorn, tear-in-the-beer poor sad sap whose lady left him. That's something a lot of people can related to. The Exit/In provided, not just because of the lyric but because of the whole aesthetic of the place, it was the perfect place for that video and it made sense to do our next Nashville show there. Exit/In is a great place with a lot of history, a lot of people that I've looked up to as heroes, from my whole life, played there. It's pretty cool to walk in there and see all the names on the wall and know that you're part of something that is part of the heart and soul that still remains in Nashville.
When I think of Exit/In, our show there is what I'm going to think of forever. It was a really, really good night. Everybody was there. We had a guest list with 100 people. It was cool to rub shoulders with everybody back stage, the set was great, Cole Chaney, who opened the show, was phenomenal. I love being able to take Cole around and put him in front of a 49 crowd because they really appreciate what Cole does and the songs he writes.
You don't live in Nashville, do you?
ISAAC: No. I'm still right here in Castlewood. I live just a couple of miles from where I grew up in Russell County. I have no intention of moving to Nashville. I have no intention of relocating. It's cool to be a professional musician in a time where you don't have to live in a city like that to have a music career. You can do it from here. You can do these interviews from home in the middle of central Appalachia. I'm thankful for that.
Speaking of Russell County, you made a video for the song "Russell County Line." That one was a little more focused on you rather than the band. Was that uncomfortable?
ISAAC: Not so much. That was kind of by design. That was something I had in my head for the video which was just me, sitting on the line, something very straight forward and different scenes around the area. There was some foresight behind all that. I guess the most awkward part is looking around between takes and seeing your buddies goofing off and smoking joints and you're just like, "Okay, I'm still on camera." We did it that way on purpose and I think it wound up being a cool video, especially with all the great landscape shots that Mike and Victoria from Johnson City Aerial Photography got.
Is that video a reflection of your daily life?
ISAAC: That's home. That's the valley where Castlewood lays between the mountains. All the river shots were there on the Clinch River. I grew up on the banks of the Clinch River. I could throw a rock from my bedroom window into the river from where I grew up on Winchester Street. There's just something special about it, it's always held some significance, not just because I love to fish and I love to camp but the Clinch River Valley is a special place for us and it's the one place that we really feel at home more than any place else. It was important to show that off in that video and give people a taste of how beautiful Appalachia can be.
Because of where you live and where you grow up, when you're on tour, is there any place that you play where you feel like you're on another planet?
ISAAC: Yeah, absolutely. Everywhere! (laughs) If it's a city of more than, say, 10,000 people, I feel like I'm on Mars. As a kid that grew up with a pretty simple and humble upbringing, here in a pretty geographically and culturally isolated part of the country, being able to get out and go to cities and share our music is pretty interesting. It's something that took some getting used to. I still feel a lot more at home here tucked away in the mountains than I do pounding concrete in New York City. That is a trademark of a lot of people from here. It doesn't take a lot to make somebody from a place this small feel like they are in a really big place. Even when we're in small-ish cities, it still feels so urban and foreign to us but it's something we've learned to thrive in.
Is there something that, when you go to a place like New York, grounds you and makes you feel a little bit more at home?
ISAAC: It's always good for me. I love sharing experiences through food, over food. That's my big thing, when we get to a city, no matter where it is, asking, "What's the great local grub?" Whether it's Whataburger in Texas or sushi on the coast, I think food is a big part of it. We're always looking for the next bite of good food in any city we're at so it's always good to get a suggestion from a fan. Norman, our manager, and Jacob, our agent, they've been all over the place with all these bands and they know all the good spots. Food is like music in that it ties people together. That always makes us feel a little more at home.
Did you play an after-show concert following a Black Label Society show?
ISAAC: That got canceled, that whole run got canceled. Covid broke out, all the band got Covid. I was looking forward to that one, a bunch of biker dudes with leather jackets and big beards coming in. We're not Black Label Society, I'm not Zakk Wylde, not even remotely close, but I know that that crowd, they would have found something there that they could latch on to. When the product you produce is something of substance, the people that you would want to hear your stuff in that crowd, those are the ones you're playing for on nights like that.
That's something a lot of people don't know about 49. We've all been metalheads throughout most of our lives, long before we ever discovered that we loved country music. Growing up, like Bus (Shelton), our guitar player, his biggest guitar hero was Jim Root from Slipknot. We love shit like that. My favorite guitar player is Willie Adler from Lamb of God. We were big Pantera fans growing up. There's elements of that that I think you can see in some of our music, that groove and that drive. It's not flat, or just 1-2-3-4, it's got some bounce and some groove and it's played a little bit of a role in our we sound.
Do you think maybe you've got a secret metal side project band within you?
ISAAC: We've tossed it around. We've talked about making a big sludgy, Southern stoner metal record. Don't know when it will come. Don't know if it'll come under the 49 banner but it's got to happen eventually, doesn't it? I think it might be on the horizon in the future.
That's like what we were talking about with the punk rock thing. That spirit, that energy is just something that matches. On paper, it may not make a lot of sense but when you hear it play out, it kind of does. I've always been a fan of cross genres. When I was a kid, I loved a lot of those CMT Crossroads episodes. There's room in country music to do things besides to play radio country music.
Do you have another life besides being the singer in a band? Are there people that know you for something else and they don't know you're a musician?
ISAAC: Not any more. We've done this full time for a year-and-a-half. I haven't worked a day job in two years. Before that, yeah. My family has been in the building trades here around the Castlewood, St. Paul area. We've been doing stone masonry and carpentry and roofing for a hundred years. I'm a fourth or fifth generation of that line of work. That's what I grew up doing. I learned a lot, thought for a while that's what I would do for a living. I'm glad I have that skill, I'm glad I took that time to learn a trade with my family and I think that's a big part of where my work ethic comes from. It's always been like that with 49. Clock in, put your hard hat on, let's go to work. That's our mantra when we're in the studio, that's our mantra when we're touring, that's our mantra when we rehearse. I think that workman-like mentality is something that's helped us a lot and it's something that people around here know.