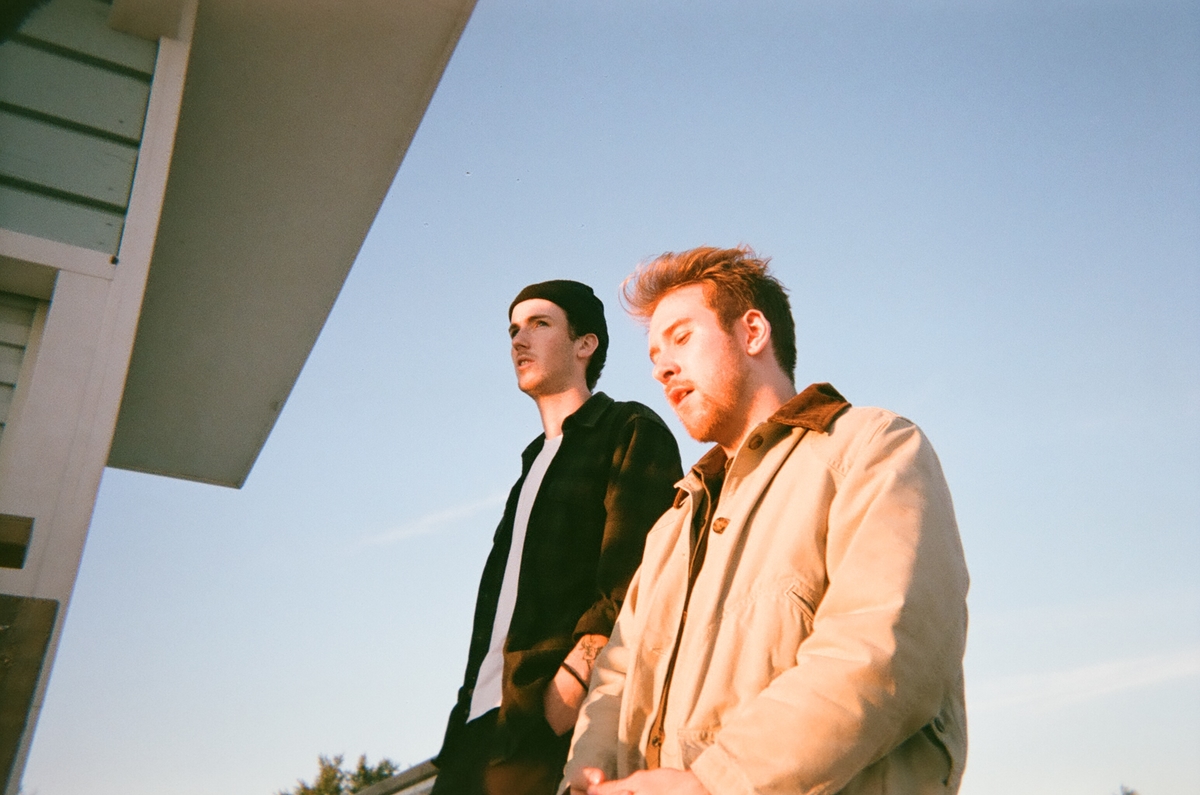 4 June 2021
Photo by Kurtis Watson
A story that's a lifetime in the making, guitarist/vocalist Luke Gruntz and drummer Ian Fraser met in nursery school at the age of 4 and have been inseparable ever since. Growing up in Cobourg, Ontario (population 19,000), the duo dedicated themselves to music early on and have created a sound that's as much influenced by modern hard rock as it is heavy hip-hop beats.
Champions of the DIY aesthetic, Gruntz and Fraser would play any venue that would have them, from small local bars to even smaller basements of friends and fans while, at the same time, writing and recording songs and posting to Soundcloud, Bandcamp and Spotify. Having amassed 77 million streams to date, cleopatrick became a force to be reckoned with and has moved from basements (which they still love playing) to some of the biggest festival stages in the world – Lollapalooza, Austin City Limits, Shaky Knees Festival, and Sonic Temple – all before their first full-length album was released.
Now that Bummer has been unleashed on the world, expect cleopatrick's stock to continue to rise and as things starts to slowly open back up, the duo has already booked a fall headlining tour in the US as well as dates in UK and Canada towards the end of the year.
Before things got too crazy, the young, but wise, Gruntz and Fraser shared their story.
You guys met in school when you were 4. Were your parents friends before the two of you met or did they become friends because of the two of you?
IAN: They actually hate each other … (laughs) … no, I'm kidding. They didn't know each other beforehand, they just became friends after the fact. You know how moms be.
I read that they conspired to buy you instruments.
IAN: That was a little bit after, that was when we were 8-years-old, a few years after we had already been friends. We got matching acoustic guitars for Christmas.
When you were 8, that would have been 2006-ish. I looked to see what some of the top selling rock albums were that year – Nickelback, the Chili Peppers, Panic! At the Disco, Tool and Hinder were in the top 10. When you were 8, did you have any sort of recognition of what popular music was?
IAN: I don't know if I had a grasp of what was going on, but I remember songs, for sure. I remember listening to Nickelback's "Photograph" …
LUKE: (singing) "Never made it as a wise man …"
IAN: Oh yeah! Or, like Coldplay tracks. I have different tracks in my mind that are attached to memories of certain years but I don't know that I was aware that they were the big bands. For the longest time, I just thought on the radio it was actually the bands performing every single time, like they were at the radio station.
I think most kids are attracted to songs rather than bands. Do you remember the first band or artist that you felt like you discovered and were interested in more than just the songs you were hearing on the radio?
LUKE: There was a lot that was handed down to me, classic rock like AC/DC. I got a Beatles record one year. But that didn't really feel like it was my music. I honestly think the first CD that I had that felt like I was in on something was Justin Timberlake's FutureSex/LoveSounds. My family went on a trip to Florida and we got that and that felt like MY CD and MY thing that I knew about. I was excited to get back to school from that trip and tell people the good word of FutureSex/LoveSounds.
And you probably felt like it was your secret.
LUKE: Yeah, because I got it in Florida so it's probably not in Cobourg, right?
IAN: I loved Bon Jovi's Have a Nice Day. I had that CD and I listened to that fully through which is hilarious. But I remember thinking, "This new band Bon Jovi is so sick" even though this was like around 2006. I just thought they had not been around.
It's interesting to think that your era considers bands like Korn, Coldplay, and Metallica to be classic rock as they started putting out music either before or right around the time you were born.
LUKE: I think I kind of skipped that era, we like the old stuff and then there was a period where there was new rock music coming out but I was not privy to it. I always think about how ignorant I was that Arctic Monkeys were dropping some of the dopest rock music ever and I wasn't going to hear it until like 10 years later.
Glancing through the song titles on Bummer, there are a few geographical references, "Victoria Park" and "Great Lakes" and then some that seem directly related to things from your life up until now, like "The Drake" and "Family Van." Are these songs based on things you know and have lived through?
LUKE: For sure, this first record is like what's come out underneath the layers and layers of the life we've lived so far. I definitely feel a little bit of that fear, like, I've had all of these experiences up until this first record and I'm going to have to live a lot of life now before I make a second record. But that's also exciting, there's going to be a challenge or I'm going to have to look elsewhere for inspiration.
This first record, we wanted to treat it as if we are never going to get to make another album again. There isn't really much we left off the table although, since recording it, we've found more inspiration in different ways. We are looking towards the next thing already which is exciting.
You're right, a lot of geographical references and a lot of big ideas that I've been marinating on for my whole life distilled into 10 songs.
Tell me about a song on the album that you haven't had a chance to talk about in interviews, a song that nobody has asked about that you're proud of.
LUKE: What should we pick, Ian? I guess they're all musically dope, aren't they? (laughs) Let's try "Victoria Park," that's a cool one. We wrote it and, as we were writing it, we were like, "This is going to be the intro track for our album." Some of our team has wanted us to put it out as a single for a radio campaign but we've turned that down because we want people to hear it for the first time when they have the record in front of them and can listen to the entire thing. It's not a concept record, but it's designed to be listened to as an album and we're really proud of that. We put a lot of effort into the flow of this whole record and "Victoria Park" is kind of the cornerstone of everything. It sets the tone.
It references a park that is in Cobourg, Ontario that is called Victoria Park that was built back before Canada had a capital. Cobourg was kind of in the running to be the capital of Canada, but not really, and they built this big park for Queen Victoria when she came over to check out the kingdom. They tried to impress royalty with this park but it didn't work out which I think is such a funny little tragic part of the story. Now it's just this sunny retirement community with a nice beach. I thought that starting the album with an offering like that would be a little poetic. That song is very much about trying to figure out who you are, again, treating this album like it's our first and only chance to make an album. Lyrically, it kind of discusses that. It says, "For a moment there, I wasn't sure how I planned to completely destroy my reputation / But now I think I understand." It's kind of a self-aware track, that song knows that it's opening the record.
IAN: A bit of a mission statement almost.
LUKE: I'm really proud of it lyrically.
IAN: Obviously Luke puts so much into lyrics and making sure that there's a purpose behind what he's saying. We really like to tap into that musically as well. Just the fact that the initial idea had come up and it almost immediately felt like an album opener and the fact that we were able to tie that in with that mission statement, I'm super proud of that. And, it's also one of the dopest sounding rock songs of all time, maybe the best sounding track on the album. We're kind of picky when it comes to the sonics and the feeling of the track is just as important as the meaning. Being able to tie those things together, when I hear the song I think the lyrics fit so well over that instrumental and I think it's a really cool thing to have done.
LUKE: Sonically, it's like the lens or the aperture that you choose for shooting a movie …
IAN: Nice! Yeah it is.
LUKE: … it frames the story and it's really important to be critical in those choices. I think sonically it enforces the aesthetic of the theme.
Do you think it will eventually be released as a single?
LUKE: Yeah, the day the album comes out, we're going to be pushing it.
IAN: We are in the music industry and there are choices that have to be made, "business moves." I think we really make an effort to not let that get in the way of artistic choices and I think we both felt really strongly about that one, to wait until the full album was out.
I've heard you reference the New Rock Mafia, bands that you are peers with that are bringing the rock sound to the masses, and it seems like you're targeting younger music fans but I wanted to let you know us old guys are into the music as well.
IAN: A big goal of ours is to speak to younger people and kind of showcase guitar music in a way that feels a bit more relatable but the fact that anybody can resonate with our music is always flattering, that still means a lot to us.
What I will say is that when I come see you live, I won't be upfront like the people in "The Drake" video. That looked to be a pretty intense video shoot!
IAN: There's a bunch more footage from that show too. That was just a really awesome basement show that we got to play and it just kind of ended up being the lyric video.
You've gone from playing basements to playing festival stages, all before your first full-length was released.
LUKE: Yeah, we went from playing a show, literally, in my living room and then we played Lollapalooza, that was like the next gig we did. For us, it's never really about the size, it's about the energy wherever we are. I feel more uncomfortable, not in a nervousness way but in a vibe way, playing for a large crowd. We really want to make sure things are connecting with people and people feel seen in the audience, that it's a communal thing rather than us pretending to be something and have people high five us for it. I think this band is more suited for a small club or basement show. That's where we thrive and I think our best performances happen. We have played some festivals where there are big crowds and that vibe is still there which is really exciting to us. We played the Shaky Knees Festival in Atlanta in 2019 and that was a crazy set. It felt like a basement show except we were in a huge tent with a couple thousand people. That gets us really excited for the future. We're looking forward to taking our shows to the next level but still be able to hold on to this community feeling.
Luke, you used to call bars to see if they'd let you play. How do you go from calling around trying to book your own shows to playing the Shaky Knees Festival and Lollapalooza?
LUKE: It was a long journey and a short journey all in one. When we started out, I was calling bars because we had no idea how to play shows. We're from a town that has no original music scene, there were no role models for how to be a band, so we were just kind of making it up. That was one of our approaches. I think the real catalyst is some Spotify support that we got from the single "hometown." That put us in front of a lot of ears and through that we got an agent and he hooked us up with a more serious look and helped us be taken more seriously.
It's so ironic, and it's kind of poetic, because the same songs that I was calling bars and asking if we could show up to play were the songs that we played Lollapalooza with. It's the same EP, whether it was in front of 10 people or we had an agent and suddenly we were playing in front of a thousand people. It just makes me smile. We like these songs but we didn't think that anyone else did which we thought was the reason we weren't getting shows and flash forward a little while and we were playing those exact same songs on stage at Lollapalooza. It's a funny journey.
What was it like when you did your first tour away from home?
IAN: We had a very small taste of that kind of touring life before the EP with just traveling as far as Ottawa, Ontario and maybe Toronto. That was the first little taste, which we really loved. I think, for us, there was kind of a pivotal moment when we did a drive across Canada to get to the west coast because we were doing a west coast run. We drove there and, I don't know if it was until we were about halfway across Canada that we were like, "We're really not close to home in my van that is normally parked in my driveway in Cobourg, Ontario." We really both – as well as our tour manager and best friend, Jake – discovered this home away from home, being on the open road and the wide open destination and journey to get there. I think that clicked on that trip specifically where we just realized how alive it made us feel. There was that big level of uncertainty mixed with that pure excitement of journeying to places you've never been before. I think that may have been the moment for discovering that. Ever since that, we've completely fantasized about the next tour and where we get to go next. It really became one of the most pure and special part of our lives.
Are you approaching touring the same way as you do releasing an album, like this may be the one and only time you get to tour or are you considering the start of your career now that the new album is out?
LUKE: Touring is where we feel we belong, it's like our home. Our record comes out on June 4 and then there's going to be these awkward few months where there's not much happening because things are still loosening up, especially in Canada. Come September, that's when things are going to start and I think we're ten times more grateful to be a band that has the capability to tour than we were before, and we're ten times more excited about it because it got taken away for a little bit. I think these are going to be our best shows and this record was written and designed for this. I do think of this as a beginning, as a new chapter for us. I feel the page turning for us.