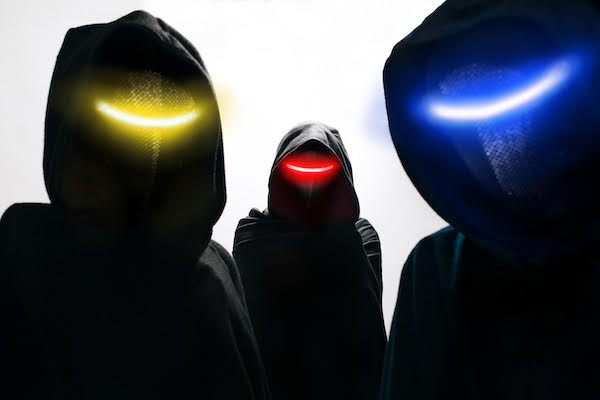 25 March 2022
With hundreds of touring artists tearing through town for the 10th installment of Boise's Treefort Music Fest, it's easy to overlook homegrown talent like Built to Spill and Blood Lemon, both of which electrified the musical festival on Thursday with early sets. But thanks to a legion of diehard fans who will wave glowing sabers in and around the Knitting Factory on Friday night, it'll be hard not to notice thundering instrumental trio Magic Sword and their massive presence.
Fueled by sci-fi movie soundtracks from the '70s and '80s, Magic Sword enjoy broad appeal among fans of rock and dance music alike. Boise's hottest band will play in support of its new studio album, Endless (Joyful Noise Recordings), as well as the graphic novels that accompany the group's sci-fi narratives. The enigmatic trio features The Keeper of the Magic Sword (keyboards), The Seer of All Truths (guitar) and The Weaver of all Hearts and Souls (drums).
(Magic Sword will especially satisfy the night owls who stuck around the Egyptian Theatre after Deafheaven last night for a spellbinding set by members of The Oh Sees, Caustic Resin and Mercury Rev. They performed an ad hoc soundtrack to the 1962 cult film Carnival of Souls, which played in full on a screen above them.)
Expect lots of visuals (including fluorescent headgear) from Magic Sword when they play the Knitting Factory from 10:30 to 11:40 p.m. this evening. While generally shrouded in mystery, The Keeper recently touched base with us ahead of Magic Sword's much-anticipated show.
Why are you particularly excited to play Treefort? What makes the festival special, both from a performance perspective and as a personal experience?
THE KEEPER: Our first Journey into this realm was Treefort 2013. From beginning to end, the festival is well put together and extremely organized, as a spectator and as an artist. 
What are your expectations for this time you're playing the festival?
THE KEEPER: This will be our seventh time playing Treefort. We missed last year, so we are looking forward to coming back. Playing Treefort is like coming home.
How will your 2020 performance differ from your past Treefort concerts?
THE KEEPER: We will be playing a lot of new music this year. We will have two new records out since last time we played Treefort. Our last album Endless was released during a previously cancelled Treefort in 2020. We have two new singles being released a few days prior to the year's fest, "The Weapon and the Soul" and "Dressed for Fantasy."
What is your favorite Treefort memory?
THE KEEPER: This.
Leading up to the performance everything that could have gone wrong did, but the stars aligned perfectly, and it played out just as we planned. It took a lot of people to make that happen. The experience of planning and designing everything involved was equally as rewarding as the show itself.
Do you have any surprises planned for your Treefort set, whether they be songs you wouldn't normally play, added stage elements, etc.?
THE KEEPER: It's a surprise.
Which Magic Sword performance has been the most rewarding so far?
THE KEEPER: Same as my answer to Question 5.
What other bands are you most excited to see perform at Treefort?
THE KEEPER: Dance With the Dead, Foul Weather, Deerhoof.
What friends of yours are also playing at the festival? Who are you planning or hoping to hang with in your downtime?
THE KEEPER: The identities of our friends are a close-kept secret … for safety reasons.
What can fans and newcomers expect from your performance(s) at the festival?
THE KEEPER: Magic, swords, music … much will be revealed to those who have the sight.
The Big Takeover also touched base with other Treefort 2022 participants including Deafheaven, Osees and Guided by Voices. Check back Saturday and Sunday to read our fresh interviews with the other two bands we are most stoked to see at Treefort 2022.