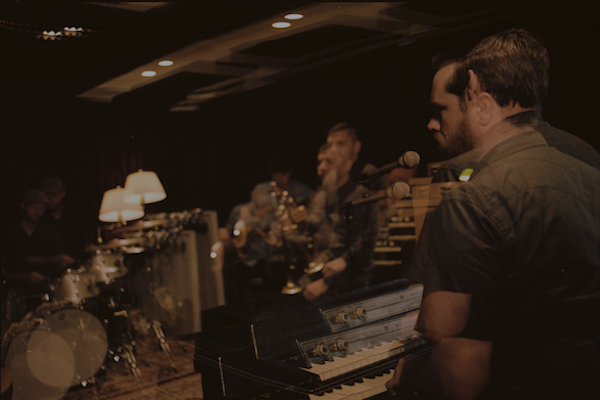 22 September 2021
Bands generally don't like to be confined to a single genre, for fear they will get pigeonholed and perceived as limited in creative vision and/or musical skill. Ask any of the hundreds of musicians playing this year's Treefort Music Fest to describe their sound in one word, and the most common answer will probably be "impossible."
Monophonics might top the list of hard-to-classify Treefort bands. Weaving together psych-rock with soul, funk and blues, their résumé includes performances at festivals ranging from Lollapalooza in Chicago to Blues & Brews in Colorado to Psycho Las Vegas in Nevada.
Indeed, it would be challenging to find a group at Treefort that is truly more eclectic than the Bay Area-based quintet. While Monophonics have performed in Idaho multiple times in the past, tonight they will make their Treefort debut at 6:50 p.m. on the Main Stage. They'll play again tomorrow at 9:10 p.m. at El Korah Shrine.
Monophonics are also in a unique position because they will perform material that isn't on their most recently recorded album. The band led by singer/songwriter/producer Kelly Finnigan — who releases solo records in his own right — maintained its prolificacy during the pandemic. Monophonics recorded an album (Sage Motel) that will hit stores in the spring, while Finnigan even made a Christmas record. (Monophonics have released five albums in the past 10 years.)
For the time being, though, Monophonics are eager to finally present songs from their latest release, It's Only Us, which they put to tape in their own recording studio, Transistor Sound Studios, in San Rafael, California. Unfortunately, the record dropped on March 13, 2020 — the same day the previous president of the U.S. declared a nationwide emergency due to COVID-19. Needless to say, the record didn't get its due at Monophonics concerts; the band's planned appearance at last year's Treefort was postponed along with the festival itself.
Finnigan recently spoke with the Big Takeover about COVID-related setbacks, why he's psyched to play Treefort and why the Monophonics aren't fans of jam bands (sacrilege!).
What is exciting you the most about playing Treefort?
FINNIGAN: Finally getting to show off It's Only Us. We are eager to go out with guns blazing. It's our most successful record to date [sales-wise]. Right now we're focusing on moving ahead and trying to bring a lot of energy to our shows.
How was Lollapalooza?
FINNIGAN: We were added at the last minute, on a Thursday morning before our Saturday show. Twenty-four hours after booking the gig, we were on a redeye to Chicago. Being around giant masses of unmasked people felt dream-esque.
Have any of the Monophonics contracted COVID?
FINNIGAN: No, but some of us have suspicions we may have gotten versions of it around the end of 2019 when we experienced flu-like symptoms. We're very lucky.
Given your innovative musical style, do you guys improvise much onstage?
FINNIGAN: No. None of us are really impressed with jamming. We don't like jam band music. We're big advocates of good arranging and structure instead.
What do you want the biggest takeaway to be for attendees of your shows?
FINNIGAN: I've been collecting vinyl since I was 14 years old, and we're big advocates of educating our audience with new sounds. We play musical styles that were born not just in America but in France, Brazil, Cuba and other countries. We've toured South America, Japan, Eastern Europe, Faroe Islands, Morocco … The coolest part about touring in other countries is when you have time to explore some local music, appreciate the culture and what they bring to the tapestry of art.
Can you give an example of somewhere you went and heard a different style of music for the first time?
FINNIGAN: When we played in Greece, we got to hear some traditional bouzouki and traditional Greek music. We got to hear their interpretation of psychedelic rock.
Does it ever become challenging to incorporate so many different types of sounds into Monophonics songs?
FINNIGAN: Yes. We are eclectic listeners but realize that, if you try to include too many things at once, it can get a little more blurry. We try to figure out in the most natural way how to incorporate magic moments in our songs. We want people to think, "I need to hear this a few more times to get it all." Just like how someone in a museum wants to look at a painting multiple times.
Can you talk more about how, as you said, you structure the process of making music?
FINNIGAN: We always listen to music together before we start writing [our own new music], to get our ears warmed up. We talk about what feel we want the songs to have.
What theme or objective did you consciously decide to infuse into It's Only Us?
FINNIGAN: This actually became almost a premonition record, because some of the songs deal with parallels with how last year felt.
Can you elaborate on that, perhaps with some examples?
FINNIGAN: It's a very apocalyptic record. Like, the world is turning into a scene from "Mad Max" and you're on your own. The record has a "last one standing" theme. It also deals with realizing you're in an unhealthy relationship, mental health, depression and self-examination. America can be a very special place, but right now there's a lack of empathy to the point where there's a major problem in terms of hunger and lack of stability. We can be a very cold people. Spiteful and immature. And the Internet doesn't help. We noticed that even before the pandemic happened.
Monophonics' sessions in your recording studio must have felt special and cathartic.
FINNIGAN: Yes. We were meeting twice a week, in a structured and consistent basis. We felt lucky we were able to continue to be creative and inspired, whether the tone was sad or joyous. What drives you as an artist is trying to reach the same feeling you got when you first heard an artist or song — and then trying to give people that same feeling.