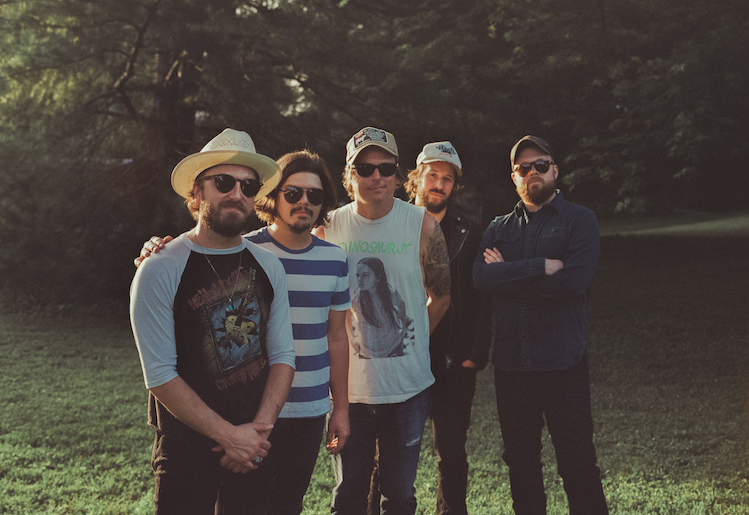 26 December 2021
Photo by Alex Justice
Throughout it's going-on-twelve-years existence, Nashville's The Wild Feathers has paid its dues on the road as both a headlining act and supporting a wide range of high-profile artists, from Willie Nelson to Gary Clark Jr., Bob Dylan to Band of Horses, Paul Simon to The Brothers Osborne. The band's mix of southern rock, Americana, and melodic Laurel Canyon folk pop makes it a logical fit on just about any bill and the recorded output – featuring multiple vocalists (Ricky Young, Joel King, Taylor Burns) – begs comparisons to acts like the Eagles, Crosby, Still & Nash, and Tom Petty.
When the Spirit of the South tour, with headliners Blackberry Smoke and The Allman Betts Band, was postponed from 2020 to 2021, The Wild Feathers, slotted to open many of the dates, decided to use the delay to record it's fourth full-length of original material. After leaving Reprise Records following 2018's Greetings from the Neon Frontier, The Wild Feathers were free of constraints as they recorded the music that would eventually be released on the Alvarado album in a cabin-turned-makeshift-studio in VanLeer, Tennessee. New West Records came knocking on the cabin door and, as the Spirit of the South tour was winding down, released Alvarado in October.
I had a chance to talk with singer/guitarist Ricky Young as The Wild Feathers were traveling to play their final date on the tour at the historic Red Rocks Amphitheater in Colorado.
I caught the Spirit of the South tour this summer. You're aware that most people are coming to see the two headliners, so you can go out and play whatever you want and people aren't complaining that you're playing too much new stuff or too much old stuff. Was it difficult to be out on the tour this summer before Alvarado was released?
RICKY: Yeah. This summer we were getting ready to put out a new record. We had a lot of stuff to be excited about. The main thing is that we were excited to be out playing again When you're the direct support or opening up for a band, you have a little bit more time and can play longer. The first of three is not ideal but the reason we took it on was because they have a very loyal and dedicated fanbase and we felt like they would dig us. Fortunately, we were right. We sold a ton of merch and you see these people starting to come to our own shows and that's the whole point. It was beneficial for sure.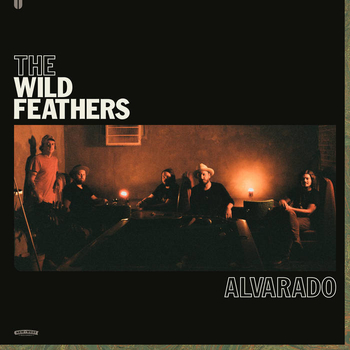 The Alvarado album cover is simple and stunning. I love the aesthetic.
RICKY: We took that picture at one of our favorite bars in East Nashville. We just kind of hung out, they weren't even open yet. We've all spent quite a bit of time there and we were just like, "Screw it, let's keep it all local." On the inside, we're at Dino's, one of our favorite bars in East Nashville, and on the back photo, that's just in my front yard. It's just very Nashville, very local.
We live in a generation where album covers are reduced to postage stamp size on all the streaming platforms on our phones. All of The Wild Feathers album covers are great, they are ones that I want to buy a physical copy of for the artwork alone.
RICKY: That's something I feel like very few people still care about but we do. We like the physical copy and holding it in your hands. We try to make them where, for those who are still into that and like that, they want to hold it, look at it, read what's in it, kind of how we all grew up looking at records.
Vinyl sales were huge in the '70s, before cassettes and CDs, and your music has a '70s feel to it. I hear The Eagles and those kind of Southern California Americana sounds. When I saw you play like, you covered Zeppelin's "Hey Hey What Can I Do". Would you say the '70s was the best decade of music?
RICKY: It's hard to say what was the best decade ever, it definitely was one of the most important ones. I think any real music fan can pull from every decade. For me, the '60s were very important and then the '80s and the '90s were great too. I don't know about the early 2000s, there was a lot of good stuff coming out but it's not as important to me yet as it might be. I can't pick a favorite decade.
"Left My Woman" from the self-titled 2013 debut.
With the Spirit of the South tour originally booked for 2019, had you planned to make a record in 2020 or were you going to do that tour in 2020 and then see where you were when it was done?
RICKY: I guess it was record-making time again. It was the time to start thinking about it but [the tour postponement] allowed us a lot of free time so it was convenient and coincidental at the same time. It was going to happen but it just happened that way and it worked out to our benefit having all that time off. We didn't know what else to do so we did that.
I read that you started writing the songs in December 2020. Is that right?
RICKY: Yeah. The songs were pretty much written beforehand. We went and tracked them in a cabin. There's always those one or two that weasel their way on at the last minute, so there were a couple at the very last minute. There's always songs kind of ready, it's just a matter of time and putting them down that finalizes it. That's just kind of how it happened.
The writing and recording process can take a while and then by the time an album actually gets released, it can be 2 or 3 years since the time the songs were actually written. Is that how it is with The Wild Feathers?
RICKY: Yeah. It's just weird how they make their way onto a record or even weirder how some songs just don't make it on a record at all. You just wonder why but the timing wasn't right, it just didn't feel right. Sometimes, it's just right and that's how they make it on there. I really can't explain it.
This is your first album for New West Records. When you were recording, were you already signed or had you been talking to them or did you record this and start shopping it to labels?
RICKY: We were completely free of any record label. Our idea was to just make a great record and go shop it and find a new home. New West was the first people we talked to and then they were the very first that offered us a deal. It just kind of made sense a lot of sense for us. It's a great label with a great roster.
You guys took the studio to the cabin. Was that out of necessity? Was the idea that you were going to go into the cabin and record an album that was going to be released or was it that you were going to go in and record some demos and then maybe take the ones that made the cut to another studio?
RICKY: It was one of those coincidental things. We knew we wanted to produce our record ourselves one day and it just so happened that the timing was perfect. We didn't have a label, there was no budget and we always went to cabins and wrote and demoed before we went to the studio. All these years doing that, we look back at the demos and say, "That was pretty killer." So we just got in our heads that we should do that and, after all these years of experience and watching these producers and engineers do what they do, we thought, "Hell, we can at least try it." The worst-case scenario is that we get some really great demos. Our goal was to go in there and do it and make the best album we could and then take it and find it a home. It just worked out that way, surprisingly. We were pretty focused.
Were you surprised that you could do this all on your own without bringing anybody in?
RICKY: Once we started getting the first couple songs down and started listening to them, the arrangements were pretty much there. We were really pleased, it was like, "This is going to work." And then once we discovered that, we were pretty confident. We knew how to do it, we just never really had the balls.
You've done a lot of opening slots for acts like Willie Nelson and Bob Dylan. At this point, do you think of yourself as more of an opening act, as a headliner, or a mix of both?
RICKY: We're definitely more interested in headlining our own shows. It's more rewarding being able to connect with your fans and they pay to come see you play a full set as opposed to paying more to see you play half a set and it turns out they don't really give a shit about the headliner. We're always going to be open to support slots, if Neil Young calls, we drop everything and do it. But, really, we'd rather be out here doing it ourselves. I think most bands are like that. You get to play longer, the stage is yours, you get to enjoy it more. When you're an opening band, you're at the mercy of the other band and their crew.
Does it affect your setlist as well?
RICKY: Yeah. We have four records out now, that's a lot of material, and you want to play something from every one of the records. If your fans are there, they have songs they want to hear so it's really hard to put that into 30 or 45 minutes whereas, with a headlining gig, we can cover all of the material that we want to play that wraps itself up into what we're doing.
Are there particular songs that you perform live that tend to get the best and loudest reaction from the crowd?
RICKY: "Hard Times" off the first record is always that middle-of-the-set one that we go into playing the little guitar intro thing and people are kind of feeling it. "Happy Again," off our second record, is another one. There are certain songs that you know are coming up that you know are going to be fun.
I know you didn't write the song "Flashback" on Alvarado, but, is there a song that, when you hear it, takes you back to a specific place or time in your life?
RICKY: That's a really good question. Lots of them. First thing that comes to my mind is some Oasis stuff that takes me back to junior high and high school. There's some Zeppelin stuff that takes me back and reminds me of being a kid and being in the car with my dad. There's just so many, I couldn't pick just one or two.
What have been some of your favorite shows to attend as a fan?
RICKY: In Nashville, we have the Ryman, so I've seen Wilco a handful of times, Ryan Adams and The Cardinals when they were together. Those two stick out the most. Anytime you get to see a band like My Morning Jacket or something like that, like real bands that have real songs and they explore and get weird on stage, those are my favorites.
I was able to get a ticket to a surprise pop-up Foo Fighters show at the House of Blues in Cleveland that they were doing as a warm-up gig for their Rock and Roll Hall of Fame induction.
RICKY: We just finished Dave Grohl's book. What a guy. That's my kind of rock star. He's so grateful and thankful for what he gets to do. He's just like, "I work hard. I'm not anymore special than anybody else." He seems like such a good dude. We did an interview for the Walking the Floor podcast with [Foo Fighters guitarist] Chris Shiflet. It was the Spirit of the South tour, I don't know what city we were in, but we were playing a small amphitheater and the Foo Fighters are playing the megadome across the street. We texted Chris and were like, "Dude, can we come watch y'all?" Of course, it was in the throes of the Delta variant and all that stuff so it didn't get to work out but that would have been a trip.
You've opened for some pretty huge artists. Do you get starstruck? Is it the type of thing where it's better not to meet your idols or have you had good experiences?
RICKY: We've only had good experiences. We got to hang out with Bob Seger quite a bit. It was just surreal. It wasn't like, "Oh my God, I don't know how to act." It was more like, "I can't believe I'm sitting here hanging around and bullshitting with Bob Seger." It's just weird. When we toured with Dylan, we didn't get to meet him, I don't think anybody real does. That would have been something. Being around Willie Nelson and Paul Simon, that was just … strange. I don't know how to explain it. They are just talking to you about whatever and you're like, "Well, it's normal" but then you realize you're talking to Paul Simon.