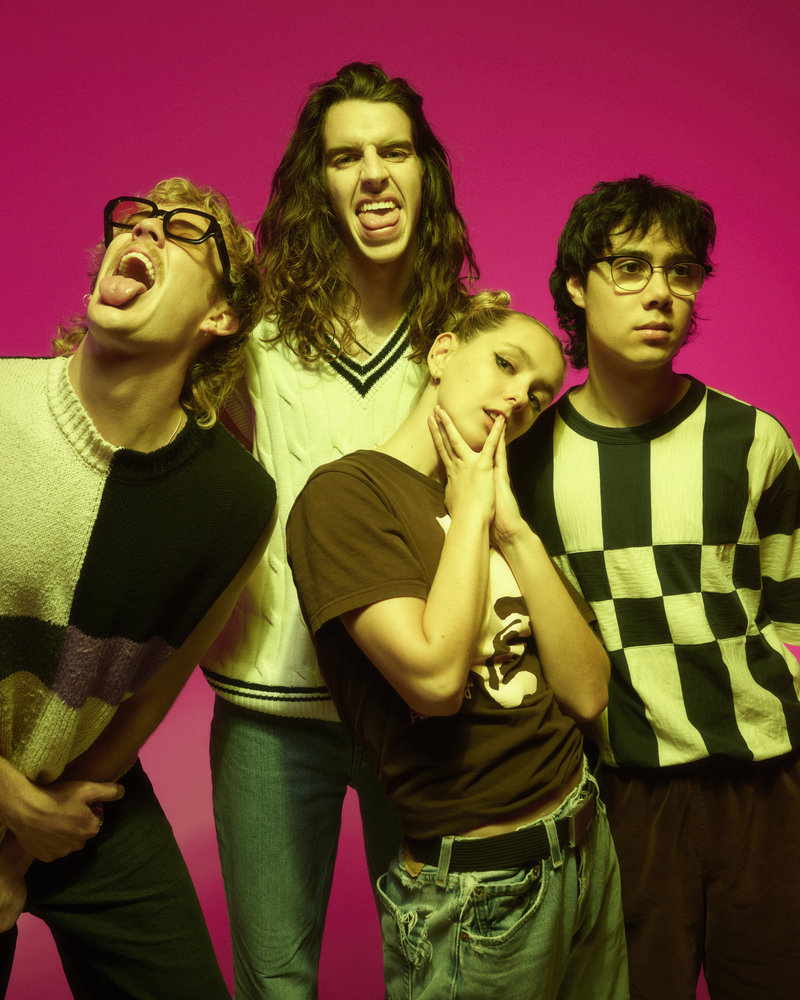 30 June 2022
Photo by Sam Hendel
Like many other bands who had big plans for 2020, Spacey Jane's were cut short due to the global pandemic. The Australian band's debut album, Sunlight, was released in June of that year during a time where the primary promotion tactic, touring, was put on indefinite hold. Despite the challenges, the band's sunny alt-rock reached the ears of people looking for brightness during a dark time and the single, "Booster Seat," was named the 2021 Song Of The Year by the Australian Recording Industry Association
Rather than take a break and wait things out, singer/guitarist Caleb Harper began working on new material with ideas he had before Sunlight had been released. For what would eventually become Spacey Jane's sophomore album, Here Comes Everybody, Harper tapped more difficult subject matter than the debut, partially due to the condition of the world in light of a once-in-a-lifetime pandemic, partially based on self-reflection and mistakes made along the way. Despite some tough lyrics, the band, which also includes bassist Peppa Lane, guitarist Ashton Le Cornu and drummer Kieran Lama, continues to deliver bright sounds that are arena ready. It wouldn't be a surprise if Spacey Jane follows up their 2021 ARIA award with a 2022 Album Of The Year award for Here Comes Everybody.
With a U.S. tour on the horizon, Harper took some time to answer questions delivered via email.
Where did you feel Spacey Jane was at in February 2020? Did you feel like you were well on your way to whatever came next or were you still trying to figure things out?
CALEB: Hmm, it's hard to know exactly where we thought we were or what we thought was going to happen. We were so excited to put our first record out and wanted the best for it, we just wanted to have as many people listening as possible. guess we didn't really expect what came next so we're all pretty stoked on what's transpired since!
I feel like there should be a picture book of Instagram photos by bands that were posted in early March 2020. I see so many happy bands who are either already on the road or who have announced tour dates and are exclaiming, "We can't wait to see you all." And then those bands post the "Due to the ever-evolving situation, we are postponing dates for now" and, in hindsight, you know that it's going to be a long time before those bands are actually able to play a show. Do you remember the situation that led to the conversation about postponing or canceling dates? And, do you recall if you were hopeful that this would all pass over in a few months or did you have the feeling we were in it for the long haul?
CALEB: Yes, I remember it clearly. The Australian federal government put a ban on all gatherings over 500 people and that basically put a stop to all touring for the foreseeable future for us. I think, at first, we felt similarly to a lot of people, that it was going to be a 2-4 week drop in the ocean. But as the reality of the severity of Covid set in, there was a slow realisation that we were really about to be eating shit for a long while to come, ha ha.
You gave birth to a Covid baby named Sunlight. Was there any consideration into pushing the release date back knowing that you wouldn't be able to get out right away to support it?
CALEB: We thought about it briefly but in the end, with no real end in sight, it wasn't like we were working towards some later, more certain date. So we just dropped it when it was ready and I think the vacuum of new releases around that time actually helped to give Sunlight some space to have its moment.
I've read that you're a big Wilco fan and named the album after the working title for Yankee Hotel Foxtrot and even reached out to Jeff Tweedy. Can you put your finger on why Wilco is so special to you? What is it that you find appealing and was it something you found appealing from your very first listen or is it a band that you grew into?
CALEB: My step-dad first showed me Wilco some time in my early teens and they were always playing around the house and in the car. I love Wilco for a number of reasons, Jeff writes with such vulnerability and isn't afraid to let things meander and be figured out as they go. Yankee Hotel Foxtrot is one of my favourite albums of all time, I always go back to it and I'm always finding new meaning and inspiration from it. I love how brave they were in creating that record and that's something we always work towards.
The lyrics on Here Comes Everybody are full of self-introspection. From finding yourself to dealing with anxiety and depression to making sense of fractured relationships. Was it hard to visit those places in your mind to pull out lyrics or is it a place you can go to now that you've started working through everything?
CALEB: Yea, it can be tough to explore those emotions, for sure, but something about song writing makes it feel like there's a barrier between me and those songs and those themes. It's something I try to be conscious of for my own wellbeing, not having to make myself so vulnerable every time I perform or create.
The first few times I listened to the album, I didn't listen intently to the lyrics and while the songs aren't straight up rays of sunshine, I imagine it could have been a lot darker if the music matched the lyrics. Was it a conscious decision not to fall into a black hole musically?
CALEB: No it's not really by design as much as it might seem. The music and lyrics are created mostly separate from each other, we just like making music that makes you feel something strongly even if you can't hear the lyrics.
Besides writing songs, in what ways, if at all, were you able to maintain your mental wellbeing during the period of lockdown?
CALEB: I got into running (sadly) which was really helpful in so many ways. Obviously exercise is good for your mind and body but I also found that just having something to work towards and challenge myself with was really important.
I think the last 2.5 years have really affected many people's mental health, mine included. I live in Ohio where our winters are cold and gray and last five months. This past winter, coming out of the extreme measures of maintaining safety during a global pandemic, I couldn't help but slip into depression. I found your explanation of what "Clean My Car" is about hits me right in the chest. Before finding a great therapist, it was a challenge to get out of the bed in the morning and go about my day. Was this type of weight blocking you from writing songs or was that a bright spot in an otherwise dark timeline?
CALEB: It means a lot to me that you felt a connection to that song, it obviously resonates with me very deeply. It was a bit of both I guess, that weight can be extremely prohibitive when it comes to creating but like you say writing is also a distraction and for me is often a way of distilling and addressing big feelings.
I recently spoke with Alice Merton and, thematically, the lyrical inspiration for the songs on her new album aren't that different from yours. And, like you, she closes her album with a song of hope ("The Other Side"). Like Alice, did you feel like it was important to end the album on a positive note?
CALEB: Yes, although we didn't write the song for that reason, it was the obvious choice when we were working out the track list. I think it was important for us to feel like we can offer at least some sense of hope, even if it's a weak and uncertain hope.
As a younger band, this probably doesn't weigh heavily on you, but wondering, when you're working on a setlist for the upcoming tour, will it be balanced between the two albums since you didn't get a chance to do a lot of touring for Sunlight or are you considering that something from the past and stacking the setlist with newer songs?
CALEB: We're trying to find the right balance there. Obviously we want to play as many songs off the new record as possible but there are so many tracks from Sunlight and even earlier that we love to play.
Later this year, you're doing your first U.S. tour. Do you have any sort of expectations? Anything you're particularly looking forward to seeing, eating, visiting, etc?
CALEB: I've spent a bit of time over there this year already and I really love it! Honestly we're just really really excited to meet new fans on the other side of the world. That shit is still so mind blowing to us.
As you ended the album on a lighter note, I'd like to end the interview on a lighter note. If you could put together a time capsule containing the music, movies, books, entertainment that kept you sane during the pandemic lockdown, what would you include?
CALEB: Ooh, I like this equation: Phoebe Bridgers and Mac Miller, Honey Bee by Craig Silvey and Better Call Saul!
SPACEY JANE 2022 U.S. TOUR DATES
Oct 12 – Bowery Ballroom – New York, NY
Oct 13 – Bowery Ballroom – New York, NY
Oct14 – Brighton Music Hall – Boston, MA
Oct 15 – Union Transfer – Philadelphia, PA
Oct 16 – Black Cat – Washington, DC
Oct 18 – Lincoln Hall – Chicago, IL
Oct 19 – Fine Line – Minneapolis, MN
Oct 20 – Reverb Lounge – Omaha, NB
Oct 22 – Gothic – Denver, CO
Oct 23 – Metro Music Hall – Salt Lake City, UT
Oct 25 – Neumos – Seattle, WA
Oct 26 – Rickshaw Theatre – Vancouver, BC
Oct 27 – Doug Fir Lounge – Portland, OR
Oct 29 – The Chapel – San Francisco, CA
Oct 30 – Teragram Ballroom – Los Angeles, CA
Oct 31 – Constellation Room – Santa Ana, CA
Nov 1 – Belly Up – Solana Beach, CA Nov 2 – Crescent – Phoenix, AZ
Nov 4 – Dallas Studio at Factory – Dallas, TX
Nov 5 – The Parish – Austin, TX
Nov 6 – Houston Warehouse Live: Studio – Houston, TX
Nov 8 – Basement East – Nashville, TN
Nov 9 – Terminal West – Atlanta, GA