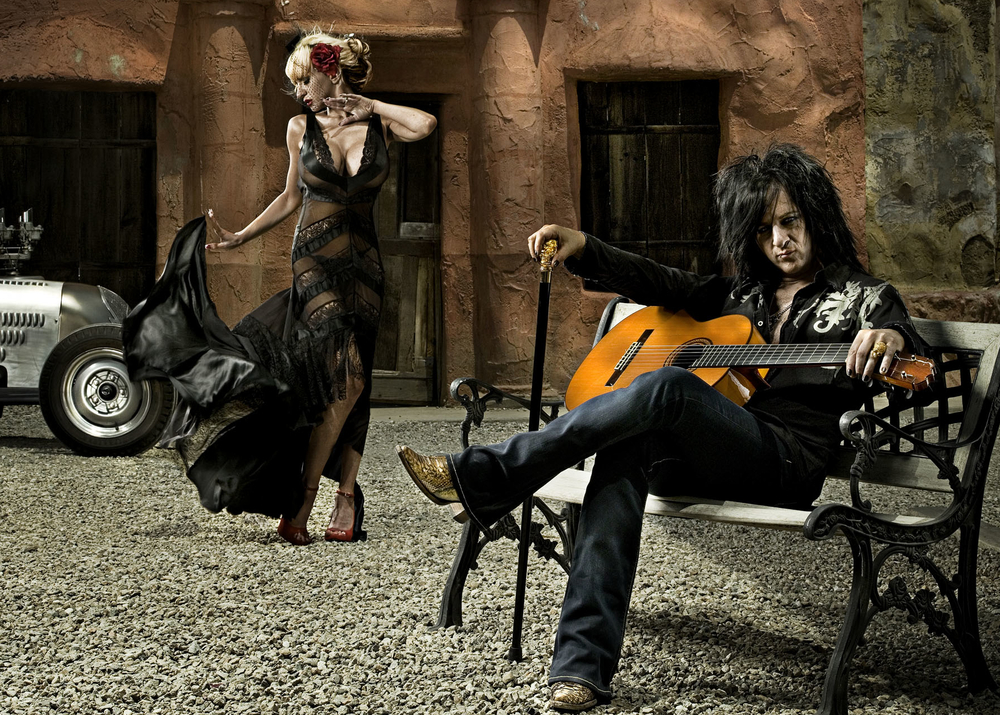 1 February 2022
Photo by Shindov
As a tribute to the late guitarist Randy Rhoads and to honor his induction into the Rock and Roll Hall of Fame, Billy Idol guitarist Steve Stevens recently teamed up with The String Revolution for a cover of Ozzy Osbourne's "Crazy Train" with a Flamenco twist. Stevens recently joined me on a Zoom call from his home in Las Vegas to talk about his involvement with the project, share memories about his early music days in New York City, reveal what current guitarists excite him, and discuss his possible involvement on the Top Gun: Maverick score.
How did the Randy Rhoads cover come about?
STEVE: I think the impetuous for it was Tom Morello getting Randy inducted into the Rock and Roll Hall of Fame. Janet Robin, who's a member of the group that I'm contributing to, was one of Randy's students, which I didn't know. I knew he was a teacher, I knew he had a school but I hear more and more people who say, "Yeah, I took a couple of lessons with Randy." She was one of his full-time students. I was contacted, they wanted it to coincide with his induction and they said, "We're reinterpreting it for Spanish guitar." One of the things I knew about Randy is that he loved classical guitar. I remember reading an interview with him where he said he would go and find the names of classical teachers on his days off on the Ozzy tours. That's dedication, to continue to learn. I think I look at it the same way. I started on classical and moved to Flamenco. It's always been something that I draw inspiration from because it's always cool to have influences outside of the music that you're known to make. It helps you develop a unique style.
Is it a different mindset when you switch back and forth between electric guitar and playing Flamenco, playing acoustic, playing classical?
STEVE: The fact is, my dad first brought a guitar into the house when I was six-and-a-half. I guess I started hanging with other guitar players from the time I was 7 and then got a Flamenco teacher. I didn't get an electric guitar until I was 13. It's really the foundation of what I do. I don't consciously think in my mind, "Oh, now I'm playing Flamenco or classical." If it's got six strings on it, I'm at home. Obviously, the technique is a little bit different. But, I will say an acoustic guitar is a great writing tool, especially with Billy Idol and myself. Every song that we've ever written has always started with acoustic guitar. You really get your full chords and you can hear where the composition is going. Maybe it's the naiveté, you're not getting caught up in technology or sounds. You're just looking for a good tune. I continue to play a lot of acoustic guitar.
Have you played "Crazy Train" before? Is it something that is one of your go-to cover songs when you're playing with other people?
STEVE: I actually played it with Ozzy, we did a benefit that was put together by Linda Perry, the producer. There's certain bands and certain songs where you learn them loosely and there's room to interpret with things like Van Halen and those Ozzy Osbourne songs, you have to learn them exactly and you really have to put in the hours. You get into the mindset and you realize how composed Randy's solos were. His rhythm guitar stuff is phenomenal. Those solos are like little symphonies within themselves.
Did you ever think that when you were listening to Black Sabbath records growing up that you would work with Ozzy, that you'd work with Geezer Butler in Deadland Ritual?
STEVE: God, no! I was never one of those guitarists who ever thought, in terms of making it, I just loved the instrument. Whenever I'm asked to give advice to young, budding musicians, I always say, "You have to want to do it whether you make a penny or a million dollars. You have to do it because it stimulates a way of expressing yourself that otherwise you wouldn't have that outlet." I remember when we did soundcheck with Ozzy, and you hear that voice in the monitors, you kind of go, "God damn, it's Ozzy Osbourne." You can't help but be that way. I found that most of the time, the guys that were my musical heroes turn out to be the coolest people.
Big Takeover started around the time that you started playing in bands in New York City. I have to imagine the early '80s were magical. Were you going to all the clubs, going to see all the bands like the Ramones, Blondie, Television?
STEVE: Absolutely. It was a renaissance in New York. When a scene happens, like CBGBs, there's opportunities. There's record companies that are looking at bands, signing bands, giving them the opportunity to get their music out. There's venues for bands to play, not just CBGBs, but there were places all over the city to play and you could afford to live in the city. They used to have something called A.I.R. which was artist in residence which meant that if you could show the mayor's office in New York that you were an artist, like a painter, sculptor, musician, and you were contributing to the arts in New York, you could have your rent subsidized. That's why so many people and so much music and art from Basquiat and Keith Haring – that time in New York was a perfect melting pot of music and art and everything. It was really special.
I was going to the High School of Performing Arts, which was the Fame school, around '75. I got admitted into the school on guitar but the guitar is not a member of the orchestra so they said, "You have to learn another instrument." I lost interest very quickly. Then, one of my classmates, the next year, we went down to Max's Kansas City and I saw some bands and the next morning over breakfast, I told my parents that I was dropping out of high school. That was my education. My education wasn't what I was learning in school. I never thought in terms of, "You have to have something to fall back on." I just loved it so much, loved the scene. I was going to give it my 110%, whatever it took. If you have something to fall back on, every little misstep or disappointment, you'll be going, "Well, maybe I should pack it in now." But, if you just look at it like it's all part of the learning procedure, I'm just going to continue to do it and that's what that scene was like.
Not only were those bands happening, but you had an influx of people coming to live in New York, like Billy Idol and even Robert Fripp from King Crimson was hanging out with Chris Stein and Debbie Harry. John Waite. It was opportunities for all kinds of music.
Were there opportunities for you? Do you think you could have hooked on with somebody else if the opportunity with Billy Idol hadn't happened?
STEVE: I'm very fortunate to have met him. Almost 40 years later, some things are meant to be. The chemistry has to be there. Even though we grew up in different countries and he obviously came from 1977 punk rock – I knew the Sex Pistols but other than that, I wasn't really aware. But, there's a chemistry thing about personalities and what you bring to compliment the other person. I'm sure I would have done something with music. You go where you're career takes you, whether that would have been working on soundtracks or to whatever degree, I like to think I'd still be making music.
The chemistry is probably the most important part.
STEVE: About 3 months before I met Billy, I had auditioned for Ian Hunter. He had moved to New York and I think I must have been 18 or 19. Ian's a bit older. He said, "I'd love to have you in my band, you're the best guy who's walked in here but you look like my grandkid. I'm going to tell you now, I'm not going to hire you but, damn, you're a good guitar player." I appreciated that. As luck would have it, Ian produced the second Generation X record. So, when Billy was looking for musicians, Ian called him and said, "You know, there's this guitar player." I had already met Billy and Billy said, "Funnily enough, he's coming round about 2 o'clock." I always tell people, even if you don't get the gig, be professional because it may lead to something else.
How did you end up leaving New York to go to L.A.?
STEVE: There was a number of years that Billy and I didn't work together. He had moved to Los Angeles, I had stayed in New York. He did Charmed Life and Cyber-Punk and then I got a call after that. We stayed in touch. We were always checking up with each other. He called me and said, "Would you want to get together and work on a new record together?" Initially, I stayed in a hotel. There was label structuring happening and Chrysalis Records, which he was signed to, was folding, he was going to Capitol. So, I went from hotel to a residential hotel, then I rented an apartment and said, "Well, to hell with it, I'll just stay in California."
And now you're in Vegas. It seems like a lot of musicians have moved to Vegas. Is it the weather?
STEVE: Quite a number of my wife's friends had moved out here. We were looking for a bit more space around us. Actually, what really spear-headed it was when we were doing a lot of residencies. Over the years, we were spending more and more time working in Vegas and as I discovered what was outside the Strip, I don't even go to the Strip, but there's great hiking in the mountains with all these petroglyphs. I'm 62 years old now and I've been connecting with nature a bit. So far, I really like it, it's been a good thing for us.
Did you start writing the EP after your other band, Deadland Ritual, broke up?
STEVE: No, we toured, there were Billy Idol touring dates. I had been talking to Butch Walker, the producer. I had never met him before but I sent him an Instagram message and said, "I love your records." He had done the most recent Green Day record which I really liked and I said, "You'd be the right guy to work with Billy Idol." He wrote me back and said "Anytime. I'm a huge Billy Idol fan." I guess he owned one of my Steve Stevens model guitars in the '80s. We made plans to record and as luck would have it, COVID hit just as we finished our Vegas residency. We spoke to Butch and said that Billy would isolate, I would isolate and if Butch would isolate for a couple of weeks – basically, it's just us three. Butch plays all the instruments and engineers and co-writes. So, we were like, "Let's just see what happens. Let's continue on our plan." I think it was the saving grace. Had we planned on being excited about working with someone like Butch and then having it pulled out from us, I think COVID would have been much more devastating to us artistically.
You guys don't need to make a new record. You can go out and play the hits. It's refreshing that you still have the interest in recording stuff and it sounds great.
STEVE: We have another EP coming out which is actually very heavy. It's the other side of the introspective Billy Idol. This next series of songs I think are going to really shock people, it's us flexing our angry muscle a little bit. When you say we don't have to do it, we have to it because we're just the type of people, I guess because we've worked together for so long, it's like breathing for us. We have to do new music, even approaching doing, on the last tour, we did "Born to Lose," the Heartbreakers song. I said, "Billy, probably 90% of the audience is not going to know this song." He said, "I don't care, I like playing it." And I said, "So do I. It's good fun." That's it exactly. That's the reason.
You've got opening dates with Journey coming up soon. Would 1982 Steve Stevens and Billy Idol hopped on a 1982 Journey tour?
STEVE: Oh God, no (laughs). Although, here's the thing about Journey, even punk rockers like Journey. Journey is one of Steve Jones's favorite bands because it's about the songs. I had met Neal Schon way back in the day because I loved his guitar playing, even from the first inception of the band before Steve Perry. They were this weird off-shoot of Santana with a bit of prog. I don't think anyone would have put together the tour back in the '80s. We'll play with anybody. We've played with some band where people go, "Huh?" We actually really like opening for bands, we don't have an ego about it. I would assume there's a lot of Journey fans who only know the Billy Idol hits. I think the common bond is the initial age group. But, it's really about the songs. If a band has songs that last a lifetime, like some of the Billy Idol stuff and certainly the Journey stuff, I think that's all people really want. They want to hear those songs. Hopefully when they see Idol and I, it's "Oh, it's the same two guys. They're still doing it."
Do you have tour plans for the rest of the year?
STEVE: After Journey, we have some other dates and then we go to Europe with the Go-Go's and we're doing big arenas. That will be the first time we're playing Wembley Arena which, for Billy growing up in England, has got to be quite a big deal. It's like playing Madison Square Garden for me. And then we do Rock in Rio. After that, we'll see.
Who are today's guitar heroes?
STEVE: He's not the most recent guy, but a guy like Tom Morello certainly took what we were doing to another level and presented it to his generation. I think there's a dangerous trend with guitarists who are locked away in their bedroom with all this technical ability getting on YouTube and they're all trying, like Pac-Man, to eat up all the dots. I guess technically it's impressive but I always look for guitar players who have the whole picture. Performing live in front of an audience is a big part of it. Matt [Bellamy] from Muse is one of my favorite guitar players. There's a band called All Them Witches, I really, really like them. They seem to be the next evolution of Queens of the Stone Age. I don't necessarily look for guitar players with technical ability, just people that are doing some interesting things. There's a female duo called Deap Vally, maybe not on technical terms, but the guitarist is doing some really cool things. There's a lot happening in the blues part of guitar playing – Samantha Fish is incredible. Marcus King, he's great and what a band, with horns and everything.
Are you involved with the new _Top Gun movie?_
STEVE: Maybe. The gentleman I worked with on the first movie, Harold Faltermeyer, he's also scoring the new movie with Hans Zimmer. From what I understand, they have the multi-tracks from the original and they're probably going to use the guitar tracks. I'm as curious as anybody to see what they do with it but we shall see.
Is there anything else you're working on this year?
STEVE: I have plans to do another record. It won't be instrumental. I'm thinking about doing something with guest vocalists. I like working with musicians outside of what I'm known for, not necessarily work with rock musicians. I think as long as I'm challenged and covering new ground, there's a reason for me to do it. More and more I'm leaning towards doing a combination of orchestral and guitar. I listen to a lot of classical music and soundtracks lately and I'm really enamored with arrangements. We'll have to see where that leads me.