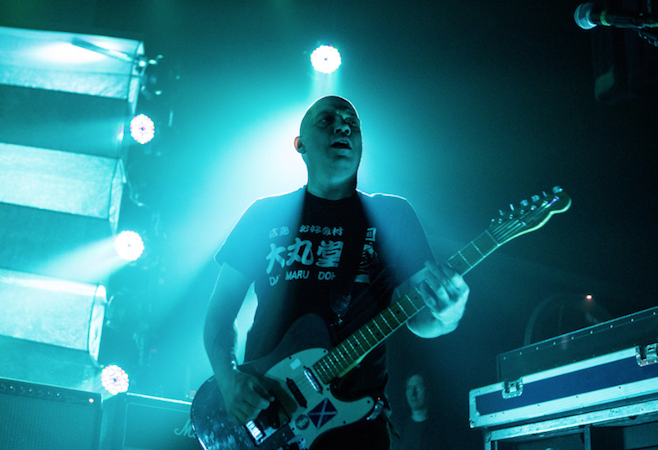 23 June 2019
Photo: Tim Bugbee
Underground heavy music is an ever-evolving entity, sometimes transforming and reinventing itself even faster than pop or rap. But in terms of subgenres, none has risen as fast and furiously — or brought more indie-rock aficionados into the fold — as "blackgaze," the combination of black metal and shoegaze.
While San Francisco's indefatigable and unconquerable Deafheaven may be the face of the sound, it's one of their idols — Glasgow's Mogwai — that set the table for blackgaze. Both bands will perform at this year's installment of Psycho Las Vegas on August 18 at the Mandalay Bay Resort and Casino, uniting protégés and icons at an event that is recruiting indie-rock bands, electronic artists and others to push the boundaries of its traditionally metal-based lineup.
This week, the Big Takeover unveils recent interviews with the frontmen of both bands, as well as a third article in which they discuss their mutual affection for one another.
We start with a conversation with Mogwai's Stuart Braithwaite, founding guitarist/vocalist for the beloved post-rock band born about 25 years ago. We caught up with the nonchalant Braithwaite via Skype while he was "having a nice day out" at a park in his homeland.
He spoke with us about the band's connection to fellow Psycho participants Godspeed You! Black Emperor, part of the reason why Mogwai went vegan, and how he'd like their spectacle at the festival to measure up to a Britney Spears show.
What is Mogwai currently up to?
BRAITHWAITE: We're hanging out, getting ready to rehearse a ton of songs for shows this summer. We're doing a few festivals this year that are more mainstream than Psycho Fest, more underground-guitar-based. We're going to Belle & Sebastian's cruise festival [the Boaty Weekender], which is the opposite of [Psycho].
Do you have any surprises planned for your Psycho set, whether they be songs you wouldn't normally play, added stage elements, etc.?
BRAITHWAITE: We write our set lists on the day of the show. We've been going so long, but we've been playing songs from all our records.
Given the Psycho crowd, might you play some of Mogwai's heavier selections, as you did when you played with Isis in September 2003 at the Knitting Factory in Los Angeles?
BRAITHWAITE: Maybe a little bit, but that sounds like we're pandering. I remember the Isis show. A few of us got on a bus to Juarez afterward. We struggled in Mexico with the food a little bit — it's one of the reasons we became vegan. I won't go into the gory details.
Why are you particularly excited to play Psycho? Were you familiar with the festival before you were invited to participate?
BRAITHWAITE: I didn't know about it, which is weird, because there's tons of bands we're friends with [that are also on the lineup]. We're really excited about it. There are tons of great bands. The concept reminds me of [All Tomorrow's Parties], with all the bands staying in the same lodgings.
Do you tend to be more nervous or relaxed playing in front of musicians who are your friends?
BRAITHWAITE: It definitely makes you concentrate, playing in front of friends. You want to show your peers you're doing something good. But it's a nice social thing. I have a lot of friends in bands but hardly get to see them. Maybe we can have a beer or lunch with some of them.
What are some of those bands?
BRAITHWAITE: Godspeed are good friends, and we like their shows. It'll be good to see Deafheaven. Sometimes you get excited about bands at festivals you're playing — but then miss them by them a couple of bands.
How do you feel about playing in Vegas?
BRAITHWAITE: We've played a couple of times in Vegas. The shows were good but low-key. The festivals we've played in America have been big — like Coachella [in 2004, 2006 and 2014] — where we stick out a bit. A lot of people [at the bigger festivals in the U.S.] don't know our music.
Tell me something that happened to you in Vegas that was supposed to stay in Vegas.
BRAITHWAITE: It wasn't that wild, but the last time we played, we had a day off the day Trump got inaugurated. I was so depressed and wanted to avoided sitting in the hotel room getting distressed about the state of the world. So me and Alex [Mackay, touring guitarist/keyboardist/percussionist] went to see Britney Spears, which was a great distraction.
Psycho Fest will be different from the Britney show, but if we have the budget, I'd like to come down from the ceiling dressed as an angel.
For previous installments of the Big Takeover's Psycho Las Vegas preview series, check out our interviews with:
• Colin H. Van Eeckhout, vocalist of Belgian post-metal purveyors Amenra
• Jason Shi and Scott Key, singer/guitarist and drummer, respectively, for melodic hard-rock masters ASG
• Victor Vicart of Scottish progressive-metal quintet Dvne
• Zack Simmons, drummer of blackened death-metal demigods Goatwhore
• Emil Amos, drummer of experimental post-rock band Grails
• Julien Chanut, guitarist of French sludge-doom band Hangman's Chair
• Tony Campos, guitarist and founder of thrash revivalists Hell Fire
• Nashville cosmic-riff connoisseurs Howling Giant
• Thomas Eriksen, centrifugal force behind true Norwegian black-metallers Mork
• Tobias Grave, frontman of shimmering post-rock trio Soft Kill
• Derrick Vella, guitarist of death-metal arsonists Tomb Mold
• Niklas Källgren, guitarist of Swedish fuzz fanatics Truckfighters
• Los Angeles Satanic doo-wop duo Twin Temple
• Bruce Lamont, frontman of experimental heavy-jazz project Yakuza and Led Zeppelin tribute band Led Zeppelin 2
• Aaron Rieseberg, bassist of Oregon doom-metal dealers Yob