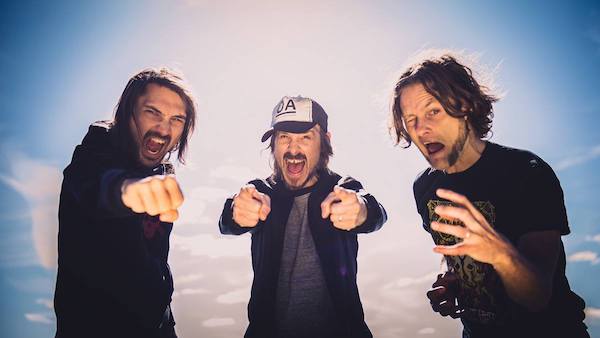 27 May 2019
On February 21, 2018, Truckfighters announced on their Facebook page that they were going on a "long, long hiatus" and "Might come back stronger than ever (that's the only way) or not at all!" But to the delight of fans, about a year and a month later, the Swedish fuzz-rock vets were announced among the first wave of acts slated for this year's edition of Psycho Las Vegas.
Taking place at the Mandalay Bay Resort and Casino from August 16 to 18, the festival will see Truckfighters rubbing shoulders with fellow stoner-rock stalwarts Electric Wizard, Black Mountain and Dead Meadow. The Swedes plan to make their show extra-special by performing their debut record, Gravity X, in (almost) its entirety.
The show, along with a couple of warmup dates in Canada, will mark what the band hopes to be a two-year-long celebration of the record that originally came out in Europe in 2005 and a year later in the U.S. (It's common for at least one Psycho band to play an album in full each year; at the festival's 2018 edition, for example, Danzig played Danzig III: How the Gods Kill in its entirety.)
We recently spoke with Truckfighters' founding guitarist, Dango (Niklas Källgren), about the heavy rockers' history with Psycho, their expectations of playing in front of their biggest crowd ever in the U.S. — and why they've all but given up booze.
Of the 70-plus bands on this year's Psycho bill, you are one of the few that played the festival before it relocated to Las Vegas. What memories do you have of playing the 2014 edition in Santa Ana, California?
DANGO: We took a fun picture in a photo booth with some friends! It was nice to play that festival because it was a little bit of a sign that this kind of alternative hard-rock sound was coming back in the States. These [type of rock] festivals are very common in Europe, and at that time it had started here — but not in the States.
The gig itself I don't remember too much about, to be honest. I think it was a successful show. I think the venue was quite nice — 1,500 people, so quite intimate for a festival.
Earlier this year, the organizers reached out and asked if we could come back. It's going to be really fun. It's much bigger now than it was then.
Will this be the largest audience in America to which you will have performed thus far?
DANGO: Yes, maybe the biggest crowd in the U.S. We did Rock on the Range [in 2014] and some other festivals a few years ago, but we played the smallest stages, and early in the day. I don't know which time we're playing [at Psycho], but it could be our biggest audience in the U.S. to date. The capacity at the main venue [Mandalay Bay Events Center] is going to be 6,000.
Our profile is a bit higher in Europe. I think it's nice to mix these two [festival] experiences because there's a feeling that you're building something, going forward and gaining more fans. Since the last album, we really noticed that we gained more fans [in the U.S.]. Maybe in Europe the progress isn't as obvious anymore.
Do you have any surprises planned for your Psycho set?
DANGO: This time we're doing an anniversary tour for our first album. We're going to play two shows in Canada before[hand], because we don't want to play for the first time in two years before the Psycho audience. We're also doing a show in Los Angeles and one in San Diego.
Unfortunately the set length is a bit shorter than the album, but we're going to do [most of Gravity X]. We have been discussing [the set list] but haven't made a final decision. Compared to the latest record [2016's V], the first record is a little more easy-listening, has less complicated structures, and the sound is classic stoner rock.
Which songs are you most excited to revisit from Gravity X?
DANGO: I realized that it was fun to play quite a few of the songs from the first album. "Freewheelin," because we probably haven't played it since 2005 or 2006. Same with "[A.] Zapruder." I'm not sure we're going to play those two [from the 67-minute album] when we play a 45-minute set. "Subfloor" and "Superfunk," those two we haven't played for 15 years almost.
It's quite nice to go back — more fun than expected, we had to relearn some things because we had no memory, almost. I think [the album] still holds up really, really good. In general, the arrangements of the songs are a little more basic when it comes to verse, chorus, whatever — nowadays, we might add more complicated structures.
Tell me something that happened to you in Vegas that was supposed to stay in Vegas.
DANGO: Las Vegas, we've been twice. I thought it was weird to go there. It was not like a normal town. It was like a big event. It was a bit strange.
I don't think any of us are going to the casino. We don't drink much more either. When we toured a bit more and got a bit older, we felt we couldn't party and perform at the same level. So we tried [not partying,] and it felt good. It was a gradual process where we partied less and less. Now we might have a beer, but we usually don't.
What other bands are you most excited to see perform at Psycho?
DANGO: Opeth is going to be fun. I still haven't seen them ever, and they're playing the same day we are. I'm probably going to hang out and see some bands and see what happens. It's hard to focus on watching shows before you play but sometimes you get to enjoy it after you've done your thing.
What friends of yours are also playing at the festival? Who are you planning or hoping to hang with in your downtime?
DANGO: I'm going to have to double-check the lineup. We did two European tours in 2007 with Fu Manchu. Thirty-seven shows. Our paths have crossed with them a few times as well. We're coming a day before we play because we thought we should have the best preparation for ourselves to do a show there. We think there's going to be a lot of people, so we want to feel the vibe a bit the day before, and eat and sleep properly.
What can fans and newcomers expect from your performance(s) at the festival?
DANGO: Nothing new recording-wise. And we've been doing this for so long that we don't care about pressure or expectations at all.
For previous installments of the Big Takeover's Psycho Las Vegas preview series, check out our interviews with Thomas Eriksen, centrifugal force behind true Norwegian black-metallers Mork; Tobias Grave, frontman of shimmering post-rock trio Soft Kill; and drummer Zack Simmons, drummer of blackened death-metal demigods Goatwhore.