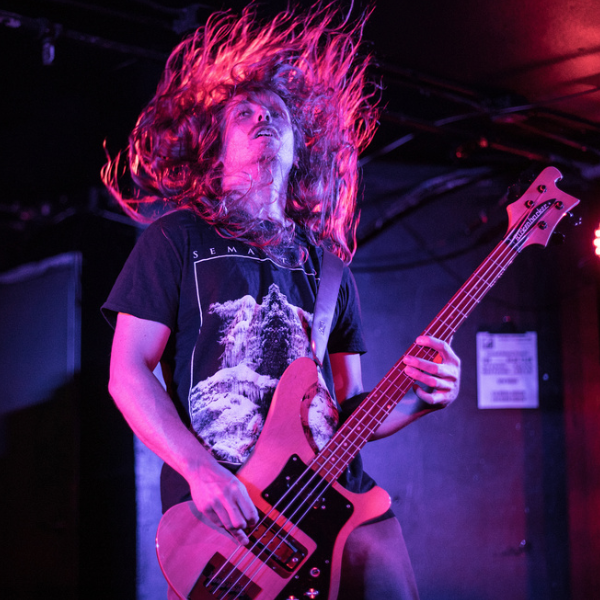 17 June 2019
"It's going to be a really heavy set. One big and beautiful tune." – The Book of Yob, 6:66
Photo by Tim Bugbee
Yob is, in many ways, the quintessential band playing Psycho Las Vegas, the heavy-rock festival descending upon Mandalay Bay Resort and Casino in August. Adored by fellow musicians and critics alike, the doom trio from Eugene, Oregon, is arguably the new face of the subgenre. Yob's 2018 album, Our Raw Heart, — which documents singer/guitarist Mike Scheidt's battle with a brutal intestinal disease — is widely considered to be one of the year's best metal releases. They're a perfect fit for the Psycho, the premier metal festival in the U.S.
Scheidt, bassist Aaron Rieseberg and drummer Travis Foster will pack the poolside stage at Mandalay Beach when they play Friday, August 16. Members of Amenra, Yakuza and Howling Giant and loads of other participating bands will be in attendance, according to their recent interviews with the Big Takeover.
Yob played Psycho Las Vegas in 2016 and 2017, and headlined this year's first Psycho SmokeOut, held on April 20 in L.A. The bandmembers are clearly excited about Psycho, as the only two Facebook posts they've published in the past two months were related to the festival and SmokeOut.
That said, as Rieseberg revealed to the Big Takeover, this could potentially be one of the band's final appearances at the festival. Yob is currently working on a new album, and he said it could be the threesome's last.
Rieseberg took time away from a BBQ for his brother's birthday to talk on the phone about Yob's new material, Scheidt's health and why taking MDMA from strangers may or may not be a great idea.
Why are you particularly excited to play Psycho? What makes the festival special — both from a performance perspective and as a personal experience?
RIESEBERG: We seem to thrive on a bigger stage, and we love that festival atmosphere. Psycho tries to make a really special curated festival. It reminds us of some of the festivals over in Europe, and it feels extra-special to us. It feels comfortable. We know a lot of people who go to the festival — bands and friends. We've become familiar with the organizers too.
Is this the biggest show you play in the U.S.?
RIESEBERG: Unless we're opening for a much bigger band, I think it is. It seems like it's growing every year. That said, I haven't seen the venue layouts, and I'm not sure what the capacities are.
Why does Yob perform stronger on larger stages?
RIESEBERG: The songs have a lot to do with it. Some of the newer stuff we've been writing over the last couple of records fill up a big room really well. There's a lot of space between the big riffs, and a lot of power. Somebody called it "arena doom" — I wouldn't quite go that far, but it transfers really well in a big room. It can sound nice and not as muddy. The PA on this stage can make everything sound big and have a clarity.
Is there a similar band you can think of whose music transfers similarly well?
RIESEBERG: Sunn0))).
Do you guys handle playing in the heat OK?
RIESEBERG: We're playing the pool stage to make room for Power Trip, to help them out scheduling-wise. We haven't had a whole lot of hot outdoor stages. We've had a lot of extremely hot indoor experiences, but we're new to that earlier-in-the-day outdoor experience. We played in Nashville, and it was 107 degrees, and inside there were puddles of sweat on the floor. This past tour, we followed a heat wave. But this is more uncharted territory.
What do you have in store for your Psycho set?
RIESEBERG: We'll play a couple of songs off Our Raw Heart — we're comfortable with them, and they've taken on new life. It's been really cool playing that material live. We'll also play four songs [total] from The Unreal Never Lived and The Great Cessation. It's going to be a really heavy set. One big and beautiful tune.
Are you still processing all the acclaim that your last album drew?
RIESEBERG: Man, we were fucking grateful. We felt like we were making something special while we were in the studio, like we had hit some new places we hadn't gone before — the tones and production of everything. We felt like we achieved the mission going in and did some things differently from the last record [2014's Clearing the Path to Ascend].
The fact that people embraced where we went with that was extra-gratifying and we were extra-happy we got those accolades. People went there with us, where we were going. We were taking things so step by step and not looking too far ahead, with Mike's health. We were focusing on the music and being so thankful we could still do it.
So fans shouldn't expect to hear any new material at Psycho?
RIESEBERG: We're working on new tunes now. Nothing to play live yet. It might be our last record.
Mike's doing great. This last tour he had a little discomfort in his abdominal region, but he got a scan and it came back negative; it was just a pulled muscle. He's living super-well, stopped drinking, eating clean, trying to stay rested. It's looking like we'll be great for August.
Sounds like you guys won't be partying too hard at the festival.
RIESEBERG: I think that we all feel better leading up to the performance and have reached a new level performance-wise due to a little bit milder partying and taking better care of ourselves. We're feeling better overall throughout the day and not having a couple of drinks before we play.
But I think Psycho Vegas is a little different. When we do these one-off festival appearances, we see a lot of friends, so we try to maximize the night and watch band after band. We definitely still party a little bit, but it's less late nights. Mike's going to be taking it easy for sure.
What friends of yours are also playing at the festival? Who are you planning or hoping to hang with in your downtime?
RIESEBERG: Chris Lemos from Chrch will be there, I look forward to hanging with him. The High on Fire dudes — they have a new drummer, Nick Parks, he's a close friend from Portland. Nate [Newton] from Old Man Gloom. The Deafheaven dudes are buddies. [Check back next week for a Psycho interview with Deafheaven frontman George Clarke.] Plus the countless friends from Portland who are going to see us.
What other bands are you most excited to see perform at Psycho?
RIESEBERG: Oranssi Pazuzu is #1 on the excitement index. Godspeed, Black Angels, Old Man Gloom. I've never seen Fu Manchu. [Stay tuned for an upcoming interview with Fu Manchu frontman Scott Hill as well.]
What are your best memories of Psycho?
RIESEBERG: Hanging out in the pool watching Tribulation with our drummer, looking at each other and saying, "That was so fucking amazing," with a bucket of Coronas. I love the pool stage. Magma, watching them too.
I feel like most everybody I know who's been there before goes the next year, and it keeps growing. They make it special and keep continuing.
Tell me something that happened to you in Vegas that was supposed to stay in Vegas.
RIESEBERG: I went years ago with some buddies and we got crazy. We were smoking a joint in public when they could throw you in jail, and a guy came up to us and said, "What are you doing? Wou could get locked up for that."
I did take some MDMA that some random dude gave me, and that wasn't the smartest thing because I didn't know what it was. I didn't even think twice. Wound up having a great time, luckily. I usually don't take random drugs that people offer me unless it's weed or brownies.
Will you be there for the entirety of the festival?
RIESEBERG: I'm leaving Sunday. Mike flies in Friday and leaves that night, because he's got a wedding he's gotta hit up. But me and the sound guy will be there the whole time.
For previous installments of the Big Takeover's Psycho Las Vegas preview series, check out our interviews with:
• Colin H. Van Eeckhout, vocalist of Belgian post-metal purveyors Amenra
• Jason Shi and Scott Key, singer/guitarist and drummer, respectively, for melodic hard-rock masters ASG
• Zack Simmons, drummer of blackened death-metal demigods Goatwhore
• Emil Amos, drummer of experimental post-rock band Grails
• Julien Chanut, guitarist of French sludge-doom band Hangman's Chair
• Tony Campos, guitarist and founder of thrash revivalists Hell Fire
• Nashville cosmic-riff connoisseurs Howling Giant
• Thomas Eriksen, centrifugal force behind true Norwegian black-metallers Mork
• Tobias Grave, frontman of shimmering post-rock trio Soft Kill
• Derrick Vella, guitarist of death-metal arsonists Tomb Mold
• Niklas Källgren, guitarist of Swedish fuzz fanatics Truckfighters
• Bruce Lamont, frontman of experimental heavy-jazz project Yakuza and Led Zeppelin tribute band Led Zeppelin 2