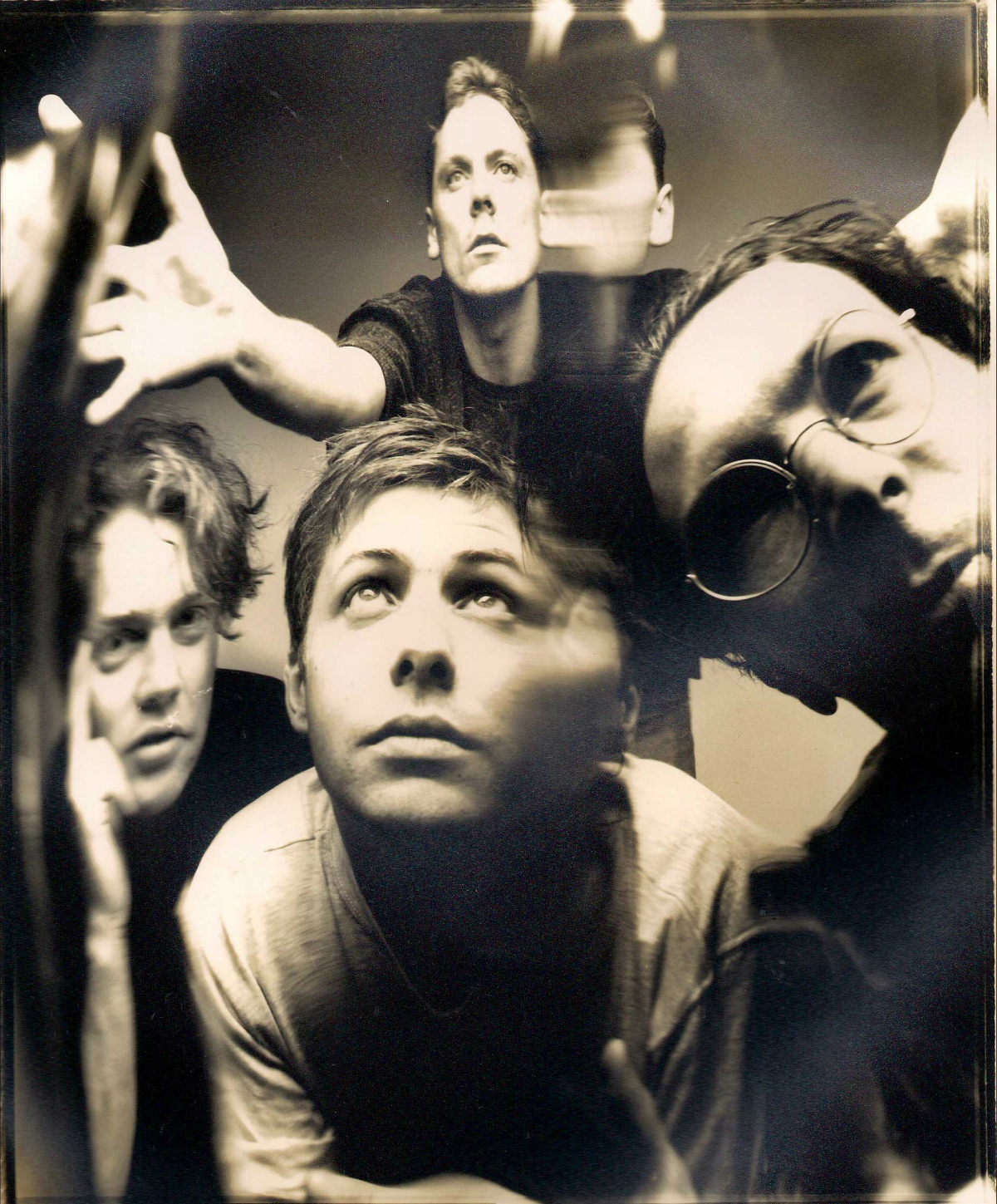 11 July 2015
I count myself lucky to have seen The Jean-Paul Sartre Experience when they toured the States in 1992 with The Bats and Straitjacket Fits. It was a memorable experience, even if the club (Lupo's in Providence, RI) was less than stellar. The band's deceptively simple sounding songs have always stayed with me, possibly due to the captivating turns of phrase and melody they capture so well. "I Like Rain" sounds like Peter Gabriel, and other songs reveal the Velvets influence that colored so many other sonic palettes on Flying Nun. In concert with the pending release of the band's epic box set (I Like Rain: The Story of The Jean-Paul Sartre Experience) on Fire Records, I contacted band member Dave Yetton (vocals, bass guitar), who kindly sorted me out on a number of matters. Thanks to Dave, and to the always awesome Alice Gros at Fire Records, for setting this up.
Can you describe your very first release and how it was distributed, and also how you got Flying Nun's attention?
DY: Our first release was 30 home-recorded cassette tapes that we packaged in empty dog food cans. We took them around the record shops that we frequented in Christchurch and the staff took a few and put them on the counter for sale. From memory they sold out quite quickly which is, I guess, one of the advantages of what you would call a "boutique" release. I'm not sure if the dog food tin release made it as far as Roger Shepherd's desk, but New Zealand is small and Christchurch is even smaller, so word got around quite quickly about interesting bands. We were invited to play at the Flying Nun Xmas party in 1985 (I think?), and that night culminated in label founder Roger Shepherd going for an impromptu swim in the Avon River in the small hours of the morning. I don't know how much of that was influenced by our set and how much by other stimulus, but it seemed that from that time we were pretty much "on" the label.
When it all started back in the mid 1980s, what was it like being in the thick of the Flying Nun bands making ripples in the indie market?
DY: At that time there was no Internet or email or anything like that, so NZ felt quite isolated from the rest of the world. We were aware when we first became involved in Flying Nun that there was interest from the music press overseas in various bands on the label but, given that it took about 8 weeks for a copy of the New Musical Express to arrive in the shops in ChCh (Christchurch), we were quite insulated from the reality of any of that and we just went ahead and did our own thing – whatever seemed interesting to us at the time. What we created was partly influenced by what we were hearing around us from the local bands we liked, what we were hearing from overseas, what was in our record collections and, if the truth be known, probably what drugs we were taking at the time too. But, looking back I think it was all flavoured by a feeling of musical and cultural isolation. New Zealand in the 1980's was mostly a pretty conservative and narrow-minded culture, what we were doing was considered very weird, distasteful and actually quite threatening to a lot of mainstream Kiwi society at that time – so here we were on the fringes of a culture that was already barely connected to the rest of the world. So, although we were not that aware of it at the time, I think that whole "outsider" thing was very close to the surface in what we did, and in actual fact probably our greatest blessing. In a way the Flying Nun label and the music it produced became a bit of a haven for odd-bods, for people that didn't quite fit with the rugby, racing and beer lifestyle that was still very prevalent – it was a way of being outside of the bland Kiwi mainstream. So around that time, there were quite a few great bands that emerged and in some ways Roger Shepherd had an embarrassment of riches on his hands. One of the less helpful facets of that though was that there was to some extent a sense that the bands on the label were competing with one another for a very finite pool of resources – be it the funds to record another album, or some financial assistance to tour the U.S. or Europe. Creatively speaking it was very fertile ground, but financially speaking it was more like a dust bowl.
Velvet Underground aside, what other bands were important in your musical canon?
DY: I think any genuine music fans (which we undoubtedly were) appreciate music across a pretty wide spectrum. We enjoyed everything from experimental music through to mainstream pop. So maybe The Residents and Throbbing Gristle records would sit next to the Cyndi Lauper and Prince albums. I think the more obvious touchstones for us were the likes of Wire, Television, Pere Ubu, Joy Division, Can, Brian Eno etc. But we were also big fans of Fela Kuti, Nina Simone, Motorhead, Captain Beefheart, 70's disco, Billy Idol, Bruce Springsteen, Suicide, James Brown, Van Morrison, Paul Simon, PIL, The Beatles, Nick Cave – oh god the list is endless really…
How did you approach songwriting, did each person bring in complete songs or was it sorted differently?
DY: We wrote in many different ways and the songs were seldom complete when they were brought to the band – maybe just a couple of ideas that seemed to fit together well. The whole band would then begin to fill in the gaps and give the song a life of its own. To begin with, we would tend to bring in songs that we had written alone and then flesh them out as a band but as we progressed, we began to write together more. James Laing (guitar) and I wrote a lot of songs in that way – musically speaking, we would deliberately try and derail each other a bit because from experience we knew that the most interesting material came from a certain amount of chaos at the beginning. If we were too controlled or respectful of the other person's efforts, we ended up with nothing of any value. However, at the end of it all there was a necessity for the whole band to like the song before it became part of our set list or made it onto a record; because we had so many songwriters in the band we could afford to be quite brutal with what we kept and what we discarded. Looking back now we were perhaps too brutal at times – I can remember some great songs that we played for a while and then unfortunately they didn't ever see the light of day again.
Was the US your biggest fan base, or was it focused more in Europe?
DY: I really don't know to be honest – I seem to remember that most of the gigs were reasonably well attended in both places (now there's a good line for the obituaries – "The Jean-Paul Sartre Experience; most of their gigs were reasonably well attended"), although it's fair to say that Bremenhaven in Germany was largely untroubled by our arrival and departure.
Do you think the big delay in releasing your second album, The Size of Food, was a sign of things to come for the band, or was it just one more disappointment?
DY: The delay in the release of The Size of Food was definitely frustrating, but it was probably the first real hiccup we'd experienced in terms of our "career". Up until then, we had a fairly smooth ride on that sort of logistical, business level. Or maybe we just cared a lot less about that stuff at the beginning. It was a bit unfortunate, in terms of the timing, that the rise in our ambitions coincided with Flying Nun essentially dropping the ball with the long delay in the release of The Size of Food. But there's hundreds of stories out there from bands whining about what might have been and the way that some record company or another let them down, and pretty much every one of them is boring. Our story however is totally riveting! Buy the box set and find out why!!
I saw you in 1992 with The Straitjacket Fits and The Bats. How was that tour, and was that your only visit to the States?
DY: The Noisyland tour was a high point for me – it felt fantastic to finally get out of Australasia. It was the first time any of us had visited the U.S., and to experience it in the context of touring in a band, playing to people who, in some cases, had driven many hundreds of miles to see you play your songs, was simultaneously really satisfying and really surreal.
There are so many nuances and layers to the JPSE sound, I hear new things every time I listen, little melodic flourishes or cool sounds. Was that deliberate at that time, or did it just fall out naturally as you recorded songs?
DY: We all operated on a very instinctive level musically. Apart from our drummer Gary (Sullivan) who had a jazz background, our technical ability wasn't great. But as a band we had fertile imaginations – we'd grown up on the punk ethos of not letting lack of ability get in the way of creating music. We knew that our naivete was an asset, and we kind of scoffed at musicians that showed too much technical prowess – we weren't put off by the fact that we didn't have any "chops".
Out of all your recordings, which ones are your favorites?
DY: It would be a different list for each of us in the band, but I think we'd all agree that our first self-titled EP was a record where we managed to capture something really unique. For me the songs, the production, the whole feel of that record is really pure.
How did you connect with Fire Records?
DY: John Foster from Fire Records got in touch with me around 2006 via a website that I set up to promote a solo record that I recorded (Blow Out Your Candles). John admitted that he was obsessed with the Size of Food album and his lifelong ambition was to see it get re-released. After some discussions with Flying Nun, it was agreed that Fire Records would re-release a box set of the Jean Paul Sartre Experience material. Sadly, it's too late now to call it Most of their gigs were reasonably well attended, but if there's ever a re-release of the re-release, I think that should be the title.
I am very glad to see you guys on Bandcamp. Will you ultimately reissue all your music and have it also be available on Bandcamp? Because anything that brings you to the attention of more people is a good thing.
DY: I didn't actually know we were on Bandcamp, but at this stage we are happy for our music to be made available via whatever channels exist. This Fire records re-release is a part of that, and it will hopefully help to expose our music to a few more people that have never heard of the band.
Listening to your box set now as I type these questions, I realize once again how important you were to the whole Flying Nun sound and how you didn't get the credit you deserved at the time. Your music is timeless and sounds as great today as it did all those years ago when I first heard it. Is there any chance you guys would reform or record together again, or has that ship sailed? Because the fans are still out there.
DY: Anything is possible, and I really don't know how the rest of the band feel about the idea of playing again, but for me there would have to be some kind of creative output from us as a group to warrant it – not just dusting off the old material. I would very much like to play the U.S. and Europe again as part of that too. And money, I would really like large amounts of money to be involved.
What are you guys up to these days?
DY: We have all been involved in musical projects since JPSE broke up and to a greater or lesser extent bits and pieces are available on the Internet and YouTube. David Mulcahy (guitar) formed Superette, Mulchzoid, and Sexy Animals. I formed The Stereo Bus and released a couple of records under that name before recording a solo album, Blow Out Your Candles. Jim Laing recorded an album under the name Lanky, and Gary Sullivan has been involved with a number of projects including Dimmer and The Adults. In terms of our day jobs, we've all ended up following quite unusual paths. David Mulcahy runs a wildlife park in Christchurch and actually does train lions! James Laing is a hang gliding instructor (at a naturist club funnily enough) and Gary Sullivan works as a professional magician. Unfortunately, I was incarcerated several years ago for unpaid traffic fines and am currently a guest of the New Zealand Government – the good news is that I have a lot of time on my hands which is why I am answering these questions. Every cloud has a silver lining.
The JPSE box is due out later this summer and can be pre-ordered here.