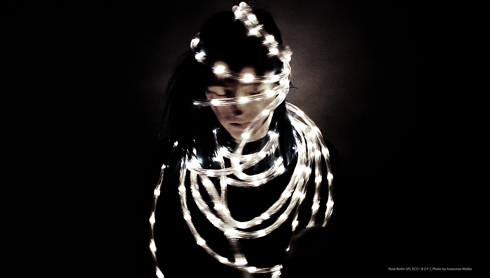 10 June 2014
This is the full interview I conducted with Dean Garcia (DG) that was cut down to a Short Take in Issue 74 of Big Takeover. Dean has been around for a long time, creating excellent music in Curve with Toni Halliday and continuing on in SPC-ECO and BOFC with his daughter Rose Berlin.
SPC-ECO seems like a logical extension of Curve stylistically. Was this deliberate on your part?
DG: Not really, although maybe subconsciously because I'd mostly constructed and recorded all of the music for Curve, so it's bound to have certain musical and productions similarities / elements that crop up. But the intention wasn't to be like Curve, it was to be whatever it turned into, as ever when I make any music. It's all open to the free fall effect ie you have an element or sound that you like from the off and develop everything from there. With the early 3D / S E recordings, I was working with Joey Levenson for left field sounds and ideas, cutting them up in various ways and building upon that until the track takes shape. As we've progressed and moved though the years, we tend to start with different people and collaborators for different EPs and albums, such as Perry Pelonero (from A*Star) on the Don't Say EP, and more recently Jarek Leskiewicz on the Sirens and Satellites album, who was integral to the overall sound and feel of the record. SPC-ECO is very different from Curve, but I can see how you and others would think it was similar or a natural extension.
How do you create your soundscapes? Do you engineer and produce everything yourself?
DG: I do engineer, record, and produce a lot of what you hear, but it all depends on where the source sound/s are coming from. This could be from a drone that I've been sent via a collaborator, or something that I've made myself via the various sound apps I use like Reason, Ableton, old analog synths, pedal sample noise, old cassette tapes, or the world unto its own Mini Moog that I've used for many years. To me it's how you edit the various source sounds, and the way you then shape, build and colour what's around it that makes everything move and breathe.
Slowed down and mega time stretched balloons slowly letting out air make for a brilliant siren sound for example, but I don't want to give away too many things I use or explore as it's for me to know and others to listen to. It's all about imagination and the freedom to explore sound without boundaries or constriction, once you allow yourself to explore in that frame of mind set you're half way there. Sound is all around us all the time, you just have to tune in and make it your own.
Shoegaze and dream pop have been quite a comeback, and there are many more bands now than in the 90s when this all started. How do you feel about some of the newer bands on the block?
DG: To be perfectly honest, I rarely listen to any new bands of any genre, the way I listen or discover new music nowadays is mostly by way of films which I have been exploring in great detail these past years. I've seen more films in the past two years than I ever have done before, I find them to be all absorbing in a way that music used to be for me. I've also come to the conclusion that most non-diegetic music you have within films should have the option of being turned off. I much prefer the natural sound of the things within the film over the so called 'musical enhancements' like very average and tedious string arrangements and the like. It's the creepy weird music you get on obscure films like Downloading Nancy or Love and recently Gravity that I really enjoy, something that enhances the visuals in a unique way by someone you've never heard of is the thing that interests me, it's quite rare but when it works there's nothing quite like it as it involves more of your senses all at the same time.
The only other way I hear new things is when Rose or Harry (K G) play me something new they like, oddly Harry (Dean's son) mostly digs real old school music like The Meters or similar classic awesomeness. Generally, I don't respond or like new things or bands I hear, it's odd. The way you experience music changes as you get older, it's not like it used to be running down to the record shop on a Saturday morning waiting for the new T. Rex single to drop, nowadays for me it's more about pushing yourself more and more outside of your comfort zone to maintain an interest with musical ideas and take on things.
I haven't been overly excited about any new music since the rave days of the early 90's, although having said that some of the noisy bedroom hardcore dub-step artists like Trolly Snatcha n the like are fucking sick, those guys just take the piss with the electronic shit they use, I do love that…lots. Other than things that stand up and shout full on beats and noise, I tend to stick with what I know and love. It's all been done before anyway, so I don't feel the need to actively explore new bands 'n' the like. I think it's best to leave that to the young happening people, and for Rose 'n' Harry to latch onto it and blow my mind with it.
Regarding shoegaze and comeback, I just think it's an interesting sphere of sounds 'n' bands that will always be around, it's very niche and of its own peculiar ageless world where everybody is welcome and anything goes which is the thing I really like about it. I don't think anyone involved is out to make any serious money or whatever, they do it because they love the effect of it, and the way it makes them and tuned in others feel.
Sirens and Satellites is quite ethereal and a real headphone album. Has there been any success on the dance floor with some of the recent tunes?
DG: It's very multi-layered and deep sounding, great to spin out to in headphones or played loud in a big room with mega speakers and mind blowing projections, it was a joy to make and we're all very close to it. I haven't been able to listen to it though since we made it, which I find slightly odd. Regarding dance success, possibly so with the release of "Push" and then "Delusional Waste", both of which are standalone outside of the SE sphere experimental tracks. "Delusional Waste" is the track that has made most impact re listens and plays and general public awareness, the Soundcloud plays are around the 45k mark which for us is amazing as it's normally 3 to 4 hundred.
Due to that and our love of the film Drive and its soundtrack, we've recorded a new batch of songs under a new name B O F C (the meaning is open to interpretation). It's a big step out of the ethereal slow guitar 'scapes and a dive into melancholic pop-art electronica that is very melodic and future club friendly. We really like the minimal-tronic pop thing which we've explored with previous S E releases such as "Push" and "Delusional Waste", but felt that S E was not the place to deliver these new tunes from, which is why we've introduced B O F C. We've just released the debut track "Burn It Down", which is the first song in a series of singles we have planned for the early spring and summer (note: since the initial interview, Dean and Rose have released another single ("Ray of Sun") and a full length album called "The Art of Pop").
Where is your biggest fan base? You have quite a few supporters here in the US.
DG: I think we do OK both here in the UK and USA, the odd smattering in Europe, and a bit of reach in Japan and R O W territories. We're really amazed by the amount of people that follow and support us, but we also feel we're a best kept secret type of band at the same time. We've never had the exposure that you'd get with major label reach, it's all been very low key and underground. We've only ever put our songs up on Bandcamp and linked them via Facebook, and let it roll from there, never any advertising and the like, it's only recently since Chris Rigg has been involved that things have had more reach due to his PR blog-sphere know how. For the amount of self promo we've done before Chris has got involved we're amazed that anyone has heard of us at all. Obviously, we want as many people as possible to hear us as we feel they'd dig it, but as ever it's the unfathomable quest of somehow getting your music onto the wider public radar, to stick out from the ever more saturated market that is the only way to shift up to the next level.
We're here doing what we do and love it, but we'd like to tour and play some cool shows, but you don't get on that road until something breaks open or you get serious pick ups and add on rotation at radios-TV-networks etc, and for that you need the right track at the right time, funding for days, and a large amount of luck. Having said that, we are cool and content to be able to do exactly what we want and be the best kept secret, it does have a certain charm to it.
Have you and Rose done any soundtrack work?
DG: We recorded a track for a Neil Gaiman CD comp called Coraline, which went onto become a film, and we have a track on Cowboys and Angels (indie film). "Delusional Waste" is featured on the soon to be released Nick Hornby film A Long Way Down for which we're releasing a limited edition 7" vinyl for, but apart from that no. We made our own 'non-existent film soundtrack album' when we released Dark Notes a couple of years back, that was formed mostly from Rose's 3 year Art Sculpture Sound Design degree (of which she got a first, Dean says proudly).
A film score is definitely something we'd like to do, so anyone reading this who is working on the next Gravity type film and in need of the right atomos and special tones, please feel free to get in touch ;) I've always thought that what we do could work on a lot of different films 'n' media, but you need to have the right feelers and fixers in place for that to happen. We have a few of those feelers out there, but so far we're just waiting in the wings for something to bite.
What comes next for your group? Are you touring behind this album or creating any new songs?
DG: No touring due to funds, sales, and necessary profile bumps etc. We'd really like to tour as we love to play live, but it's just not going to happen unless things pick up to the point of good offers and being able to fill decent sized venues. Otherwise it just simply isn't worth it as playing very small starter venues in and around London is quite soul destroying, especially when I've done it all many times over with previous artists and bands. I'm too old to give a fuck about it to be honest.
The thinking right now is that we're resting up S E for a while as we feel we've more or less exhausted the project as a recording band and are in danger of repeating ourselves (again) or releasing too much stuff. There's a large body of work out there already, near a hundred songs more or less so let that do what it does for the time being, we're not saying we won't come back to it at all as we are always recording new songs that would fit the S E sound.
But for now and the near future, we're diving full on into B O F C. It's similar as in the attitude and approach etc, but it's made with entirely different influences and thinking and is very much just the two of us. We're not going to be working with any collaborators on this (other than remixers) as it's very much just about what the two of us can do. It's also very refreshing for us to step out of the hazy gloom and into a different shade of light. It's still a very melancholy sombre black bulb sort of light, which as I'm sure you know is exactly how we like it.
Band links:
BOFC on Bandcamp
(we love them more than waves upon the sea)
SPC-ECO on Bandcamp
SPC-ECO on Facebook
SPC-ECO home page