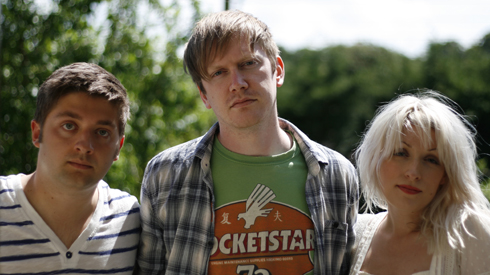 2 April 2013
I first picked up on Presents for Sally's music through When the Sun Hits, the dream pop/shoegaze blog curated by my friend, Amber Crain. It was around the time their Sing EP came out, with the great opening track, "Angels Sing Songs." It's hardly a candidate for the shoegaze category, but is instead a more straightforward piece of jangle pop with lovely harmonies that only veers into psychedelia at the end. Contrast that with "A Thousand Ways to Say Goodbye" and you definitely hear the shoegaze influence floating through. My point is, guitarist/vocalist Matt Etherton and his band trot out many styles, and are quite good at holding your attention with their loud/soft tonal variations throughout their body of work. Look for their new single, "Anything Anymore" on Distant Noise Records. But in the meantime, Matt was kind enough to answer some questions for us.
In reading about your origins, you've been around 3 years? Any old bands you want to tell us about, or should we look forward with your current venture?
MATT: Well, I met Anna (Etherton) through replying to an advert for a guitarist for her band at the time. We played stuff inspired by early Hole/PJ Harvey but when that split up, I just started recording demos at home on a 4-track. These became the first Presents for Sally songs and it just kind of took off from there.
Where in the UK are you currently situated, and is that location advantageous to the business of being a band?
MATT: We live just outside of Glastonbury in Somerset, although I''m not from here originally. Our closest city is Bristol, which isn't far and it's where we did our first shows. Even though we have one of the biggest festivals in the world on our doorstep, i'd say the location holds us back if anything. There are no venues here, and no one has any ambition to travel and play shows unless it's literally in the same town. We have never actually played a show anywhere around here as there would be no interest.
Tell us a little about the three of you, and how you all interact. How are songs conceived and arranged? Do you produce yourselves?
MATT: Well, all the songs start off being roughly recorded at home where we have our own studio. They are sometimes just ideas repeated over and over again which get added to over time. I guess there's no particular way it all comes together, but it seems to work! Yeah, everything is always produced by us. We have had other people have a go in the past, but I think I'm the only one who can get closest to the actual sound I have in my head when writing the songs originally. I never really write the songs with the vocals in mind, or who is going to sing it. I personally hate singing, and know that Anna has the better voice!
Was your first recording your contribution of "Flowers Falling Sideways" on the Invada Records comp, The Secret Garden?
MATT: Yeah, that seems like ages ago now! This was the first song we ever had out anywhere. I had gotten to know a guy called Mike who owned a record shop in Bristol, and we talked about bands and stuff and I played him some tracks. We became mates and he started a band called The Fauns who are great, then a few months later came back and said he wanted to use "Flowers" on a compilation he was putting together. It was an exciting time as we had never played live or pushed any of our music anywhere really, so we were lucky to be in the right place at the right time I guess. There were also bands on that album that I really liked, so to be included and then play shows with some of them was pretty special, to say the least.
I have to ask, how was the name 'Presents for Sally' conceived? Is Sally a real person?
MATT: I don't think Sally is a real person, haha. Anna actually came up with the band name quite a while before any recordings were made, and then when we used it and it kind of stuck.
How would you describe your music to someone who has never heard of you? Do you mind when people use the 'shoegaze' tag, because I know some musicians get really annoyed by that.
MATT: I wouldn't say I get really annoyed as everyone gets pigeonholed at some point, and if it makes someone listen to us then it can only be a positive thing, but personally, I don't really see us as a shoegaze band as maybe some others do? I mean, I am the only one out of us 3 who really listens to anything like that, but it's not all I listen to by any means. I probably feel more inspired by American indie bands than a lot of the typical English shoegaze bands. Don't get me wrong, some of them I adore, so it's a hard question to answer, but I wouldn't want to limit us to just one sound.
Your debut album (A Touch of Joy, A Touch of Sadness) was great, and your recent EP Sing was even better. Can you tell us about the evolution of your sound on these two releases, and on to your forthcoming single, "Anything Anymore?" The guitar reminds me a little of Ulrich Schnauss, though that may be off base.
MATT: Even though A Touch Of Joy had a really good response, I see it as more of a compilation album really. A lot of the songs were recorded a good year or two before the album came out. When "Catch Your Fall" came out as a single, the album was a year later almost to the day. I'd say only "Smell Your Scent" and the actual song "A Touch of Joy" were recorded for that album, and the rest were old demos etc. Looking back, those two songs are probably the two that I was happiest with overall; those and "Catch Your Fall" and "Smooch", which were both on the 7". "Smooch" has always been quite popular, even though it wasn't going to be on the album originally as I have never been a fan of B-sides that appear on albums, but we didn't have any other songs good enough!
The new songs I think are more in the mould of the ones I just mentioned, but I think all the new stuff sounds a lot more raw than the last album. The album has basically been recorded twice, we had the original demos which sounded really good, and then we spent a long time re-recording them. But they just didn't have that magic that the demos had, so we basically scrapped everything that had been re-recorded and worked with the original demos! It was worth keeping the feedback, wrong notes etc to ensure the magic and energy from those demos remained so that's what you'll hear when it comes out. A lot of the songs are recorded in different tunings, which wasn't something that was intentional to start with but just kind of happened.
How did you hook up with Saint Marie? Wyatt Parkins seems like a good guy, and he's got a great ensemble of artists.
MATT: Yeah he's a cool guy, I can't remember exactly, I think I got an email from him originally, and then we started talking about bands and it just seemed quite natural. To be fair to him, he has been pretty patient with us as our album is late and still not finished. I knew Anna from Drowner already through emails etc, and she had nice words to say about Saint Marie so that helped. Seemed strange to sign to a label in the States when we are based in the UK, but I'm sure we made the right decision. One of the main reasons was Wyatt being cool about us releasing 7" vinyl with other labels in the UK. Anything Anymore came out on Distant Noise Records and has done well, so if anything, it's good publicity for the album.
What art, music, and literature has most influenced you?
MATT: Music wise, I think my main influences are the songs/bands/albums that I grew up with and made me want to pick up a guitar in the first place. I was obsessed with Nirvana, Sonic Youth, and Helium, and that has always stayed with me and I think it will forever. Obviously, there is a love of bands like Slowdive and Pale Saints, but also a lot of indie pop C86 era stuff. I'm a sucker for stuff like The Shop Assistants, The Darling Buds, and The Flatmates, so hopefully taking little bits of all of the above and putting my own spin/sounds and ideas in is what gives PFS our sound. One thing I have always been really happy with is that a lot of reviews have said that we are hard to tie down to a particular sound, and that we sounds like Presents for Sally, that is probably one of the greatest compliments you can get.
What special gear do you use to achieve your sound?
MATT: Honestly, we don't use a lot of specific expensive equipment. Nearly all the songs are recorded in our studio at home which is fairly basic. I have a zoom rack and a looper pedal which I use a lot, but that's about it. There are a few fuzz pedals, but I think most of our songs are just basic songs, not complicated in the slightest. I don't use computers when recording and everything is recorded in real time rather than sampled or double tracked so like I said, pretty basic! I wouldn't have a clue where to start using computer programs and stuff, but it is something we have thought about for the future. I'm not really much of a muso or geek when it comes to guitars and equipment. I can count on one hand how many times I have been into a guitar shop in the last 5 year!! It just doesn't really interest me that much..I'd much rather spend that time in record shops.
Where is your greatest concentration of fans?
MATT :I'm not really sure, I'd say it has to be either here or in the USA. We have sold quite a few albums across Europe which is always cool, but mainly the UK and the States. It's a nice feeling that there a quite a few people over there taking notice of us even though we haven't officially released an album or single over there yet, hopefully when the new record is out there will be quite a few more who discover us!
You alluded to a lot of fervor over your single. Did you get the same amount of interest in the UK when you released it on Distant Noise?
MATT: Yeah, it did/is doing a lot better than we thought it would, especially as we had been pretty quiet recently. I mean, the last physical release was the album which was over 2 years ago, so the main worry was that no one would remember or care anymore; it's a nice surprise! I think the only place you can buy a physical copy of the single now is from the Distant Noise website as any shops have sold out, and we as a band have no copies left either.
Where has most of the media support come from for the band? I know Amber at When the Sun Hits is a huge fan, and she turned me on to you.
MATT: When "Catch Your fall" came out, we somehow managed to get on Radio 1 over here, which is the biggest exposure the band has probably got, but there have been a lot of magazines and blogs that have been very kind to us. Yeah, Amber is a legend! She wrote an amazing review of A Touch Of Joy when it came out, and has written nice things/played our music ever since. It is things like that you can never take for granted, as there is so much music out there these days. The fact that someone has taken something you have written, recorded and then taken their own time not only to listen to it, but write and tell other people means more than anything I could possibly put into words.
Looking beyond your single to your next album, what do fans have to look forward to?
MATT: We just hope people who liked the last record will like the new one..It does sound a little different to "A Touch Of Joy", but I think it's quite a big step forward. I think it still sounds like us, but even though it's a little more rough around the edges, it still has that "Presents for Sallyism" about it, haha. Obviously people have heard "Anything Anymore" and "Sing", and the response was very positive so that is a good thing, which in theory should mean the same for the album. It's a pretty exciting time, I'm looking forward to people hearing it as no one outside of the band have really heard it yet. We're not too sure when it's going to be out, and there may even be another 7" single around the time which would be cool. We are talking about some form of special limited release on double vinyl as well, but we'll see! Then maybe a few shows, but that can often be difficult with us all working full time, but all in all, there could be lot going on which has got to be a good thing right?
Catch up with the band on their Facebook page.