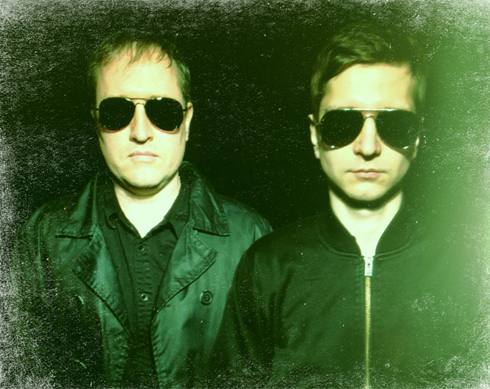 25 August 2013
I can't recall when I first heard this Brooklyn duo. Maybe it was on Strangeways Radio, where my friend Amber Crain does her weekly radio show as an adjunct to her excellent blog, When the Sun Hits. No matter, I instantly recognized that these guys were operating from the same sonic palette that has informed my own musical tastes. Imagine an infusion of The Cure, Joy Division, and maybe even The Chameleons ("You Make Me Change"), and you'll be in the ballpark. Comprised of Stephan Cherkashin and Adam Humphreys, the band has a massive sound that belies their slim numbers. Read further for more on this great band as they discuss their new album, Always Is Right Now, and what they're all about.
Tell us a bit about the band's origins, including your stints in Telltale and Audn.
Stephan: Audn formed in 2007, and it was kind of a dream pop, shoegaze, space rock band. It really opened my eyes as to what guitar can do. Half of the band members departing Audn before the recording of our new material led to a search for new members, without any luck, so that project eventually came to an end. At that time I started playing with Telltale. They had more of a post punk and noise rock approach. A much darker sound. I was good friends with them at the time.
Telltale recorded a full length album and toured promoting that album but soon decided to part ways as well due to professional differences. I am still good friends with all of them though! At that time, I had a few songs I'd been working on, in my spare time, over the past few years that I wanted to develop further. I decided to record and release some of these songs by myself under the name [aftersun].
Who are you working with currently?
Stephan: At this moment, it's just two of us. Myself and Adam Humphreys. We haven't been working with anyone else.
The new album sounds wonderful. How long did it take to pull together?
Stephan: Thank you! Honestly, it took almost a year and a half to finish this album. We actually had to re-record the entire thing twice. Also getting a consistent recording schedule was tough because of our day jobs, or actually my night job at a bar and Adam's day job.
I really like the track, "Born Again." Who sings the female vocals?
Stephan: Thank you very much. That one actually fell together pretty easily. LeeAnn Falciani sang on that track. She is also the designer of the album cover as well.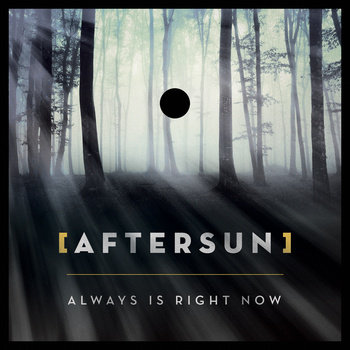 Some of the tracks like "Last Night" shoot me straight back to the 80s, but in a good way. It has that menacing, post punk sound combining Joy Division and maybe a bit of Jesus and Mary Chain. Was that intentional, or merely an organic process? In any case, a marvelous track.
Stephan: I would say that it was definitely an organic process. We didn't set out to specifically write a song that sounded like ones done by those bands.
Adam: We're both definitely influenced by those bands and that era, though, so it makes sense that there are similarities. I'm just glad you didn't say it sounds like Michael Buble or something!
How about "I'm On My Way"? I love that dark edge it has, and yet there is always a glimmer of light hovering at the edges.
Adam: Thanks. That's one that I came up with as a recording experiment on my computer. And yes; I was attempting to go deep into the depths with that experiment! We decided to use it on the album so Stephan wrote the lyrics and tricked me into singing it by saying that he needed a vocal guide track to help him understand the melody. If you listen closely, at the very beginning, you'll hear a sample that I made in an underground tunnel with a walkway and cars passing through it in Rome!
About the song "Drowned", is it in any way influenced by Dead Can Dance? It sure reminds me of them.
Stephan: Yes and no. I love Dead Can Dance and know their first two albums very well, but I'm not as familiar with the rest of their records. If you're talking about string arrangements, I've been always interested in making something massive. Classical instruments have always been something I wanted to work with to achieve that big and timeless sound.
Describe the recording and production process. Do you do all this yourself?
Stephan: We did all the recording ourselves. Totally DIY, recorded in our apartments. Because of scheduling differences, we usually recorded separately and then traded files. It was an interesting process that I'd never tried before. I never knew exactly what Adam was recording until he dropped off the files.
Adam: Yeah, same with me. Sometimes Stephan would give me files, and that would inspire different parts that I would then come up with but, at least during recording, that rarely happened face to face.
Stephan: We also learned a lot about recording and production methods while we made this album. That's one reason that it took so long to finish. We basically recorded the album and then re-recorded it using everything we'd learned. I mixed and mastered the album as well, which I also did with an [aftersun] EP that I released called Pain Sounds. I made Always is Right Now a bit more radio friendly.
What drives your song writing process? Is there any particular element, such as literature or art, which influences you, or is it an amalgamation?
Stephan: Most of the melodies were made walking down the street, riding on the train, at random, and then recorded onto cell phones. You then have an idea that turns into a song skeleton and we build a shape around that. I believe that most of the best songs are written spontaneously. I'm also not a fan of jamming. The song writing process is a reflection of our experiences and everything we've gone through. I believe that when you're creating something you should always trust your instincts because the result would be something that you would hopefully enjoy presenting to the world. The first guitar part you write is usually the best.
Adam: My approach to song writing is to imagine what a band would sound like that had Camus on guitar, Kafka on keyboards, Nietzsche on drums, and Herman Hesse bringing it all home behind the microphone and then trying to re-create that sound!
How would you describe your sound to someone who's never heard you?
Adam: A dark mix of delicious nightmares.
How do you achieve the [aftersun] sound? Do you have any specific gear you rely on, or is it more of a kitchen sink approach?
Stephan: Experimenting. Trying new things and seeing where they go. I used mostly Alesis HR-16 samples and classic 808 samples for the drums. We programmed a few instruments as well using different VST plugins to complement our classic guitar band setup.
Adam: I recently went on a guitar pedal buying frenzy! I was obsessed with it for several months. Before that I had always used a big multi-effect unit, but it's amazing what you can get out of little boutique specialty pedals. There are a lot of really cool pedal companies out there like Devi Ever and Lovepedal that are making great stuff. I run keyboards through my guitar pedals a lot as well.
The music industry has changed so dramatically in the past ten years. How does that impact bedroom artists such as yourself? Does online music help or hinder getting music out to fans? Bandcamp seems to make it easier.
Adam: I don't know, we've definitely relied on the Internet for promoting this album, but it's still not easy to reach a lot of people. Everyone is using the internet to promote their albums, even big artists and labels. We're thinking about robbing a bank while wearing [aftersun] T-shirts and then getting caught on purpose. Or breaking Pussy Riot out of jail while wearing [aftersun] T-shirts.
Have you toured at all?
Stephan: We haven't even played live yet! Originally [aftersun] was conceived of as a studio project. Since we've been getting a lot of requests for playing live, we may change our minds and start working up a live show. At this moment, though, we're concentrating on writing and recording new material.
What music has most influenced you? Any favorites in the current shoegaze/dream pop realm that you think people should hear?
Stephan: We're mostly influenced by the darker side of 80s alternative music. We don't really follow the current music scene closely, but there are some bands that we like, like Dead Leaf Echo, The Stargazer Lilies, Screen Vinyl Image, Ulrich Schnauss, and many others.
Adam: I think Vinyl Williams is doing some interesting stuff.
What do you do when you're not playing, writing, and recording?
Stephan: We have jobs because so far we aren't able to pay all our bills with music alone. We've been living in New York City for a while. There's always something interesting happening here every day. It's easy to get distracted. We drink wine from coffee mugs more often than most bands, I think.
Adam: I love to travel. I've been reading a lot of UFO books lately as well.
What do you have planned looking forward in terms of writing?
Stephan: We are trying to get ideas together for our next release. Learning new things about production and all of that. Trying new things. Not planning to tour in the near future, but local live shows may happen next year.
Adam: Ideally, I would like the band to tour the galaxy in a UFO.
Any final words of wisdom for fans?
[aftersun]: You'll never walk alone.
Head on over to Bandcamp to partake of the band's delicious musical fare or visit them on Facebook