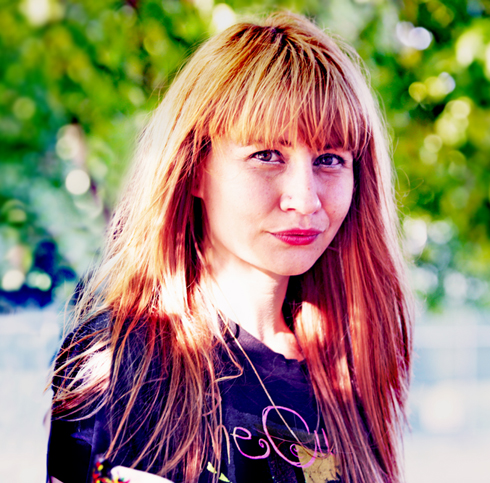 23 September 2013
This interviewer/photographer was very pleased to sit down with "Frankie Rose" at Pitchfork Music Festival after she played a fantastic set. As time goes on, Frankie Rose continues to define herself even further with her own solo projects and develop a sound quite different than many of the bands she was part of in the past. It's both exciting and intriguing to listen as her rich sound enfolds. Her newest release Herein Wild has just been released via Fat Possum Records.
Big T:I love the glorious way that Interstellar (2012) opens up. It completely calls your attention to the rest of the album and makes one really keen on listening closely as well as feeling an emotional impact and it draws the listener's attention to the album as a whole immediately. I was wondering if there was any particular inspiration for that-especially the way the drumming works together with the vocals as if it was its own vocal in a heavy hitting crescendo. (A similar thing happens in track three on the album, "Gospel/Grace"
FRANKIE ROSE: I feel like it's a trend in music for things to be really flatlined. I hate that. I like dynamics and cinematic feelings to music and that's sort of what I live for..songs that are like that which make you feel something and take you from one place to another. They really make you feel like you've accomplished something and that was a definite goal I had.
BIG T: I really feel like the songs "Pair of Wings" and "Apples For the Sun" capture such beautiful wistfulness and moments of pure serenity. Was there anything particular that inspired that song or that makes you feel in this blissful mood?
FRANKIE ROSE: I like things that are soft and quiet nice dynamics. It's nice to have that break on the album to sit and feel calm for a minute. I think it's really important to have songs like that.
BIG T: I love both the rich sound and the lyrics to "Had We Had It." The song also mentions a fall, which in context of the music feels like it could be almost metaphysical or more abstract. I was wondering if there was a specific moment in time that this was referring to.
FRANKIE ROSE: I just finished a new record about a week ago and it's strange to think about the old record (Interstellar) because I'm so into the new record. But, it is a little abstract revolving around a fall as a whole or a concept and led into what I am doing now as a loss concept with that feeling delved into more.
BIG T: How in tune to the overall pacing were you when you were creating and ordering the tracks of this album? Did the songs arise naturally all within the same time period or were they songs you were working on when you were in previous bands (Vivian Girls. Dum Dum Girls, Crystal Stilts)
FRANKIE ROSE: I worked on them all within the same year definitely after I'd split from the previous bands I was involved in. It's really funny when you are making an album because you don't know what is exactly that you have on your hands until you are putting all of the songs in order. Each song is like a painting and an album is a series of painting and so all of them have to have a similar aesthetic for them to all make sense together. Even if once feels different, it has to also feel like it's part of the whole.
BIG T: : Did you feel any difficulty transitioning from a member in a band (Dum Dum Girls, Vivian Girls, Crystal Stilts) into your own stuff or did this seem necessary to you as a female artist?
FRANKIE ROSE: It was the next step for me. I really liked collaborating but it became really clear that I just needed to put out something on my own for sure and have as my vision. It can be more difficult and bittersweet because there's no one to bounce ideas off of and no shared responsibility. There's only you and there's high risk and high rewards but it's my name on it and it's mine for better or for worse.