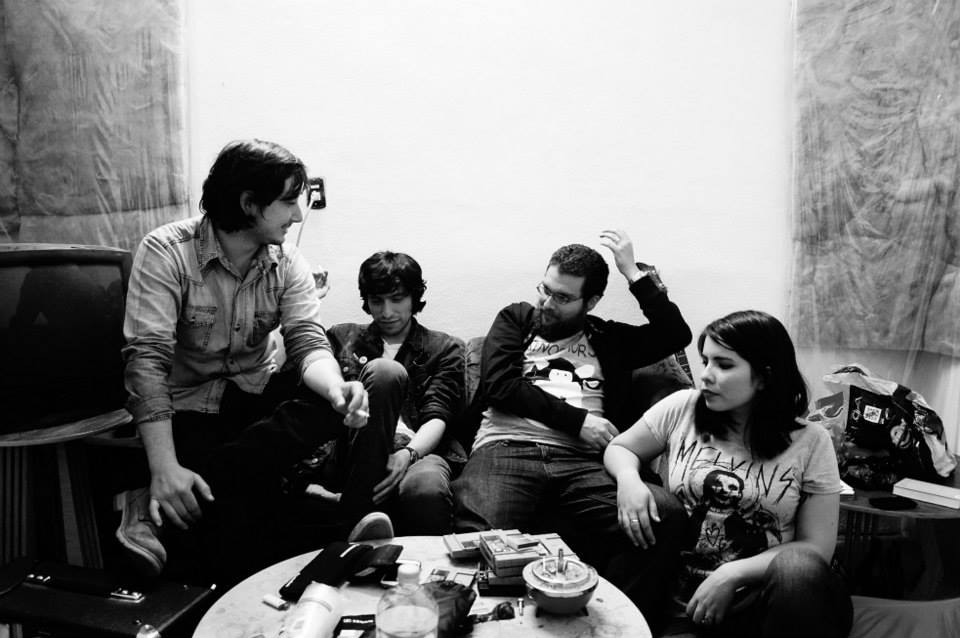 12 June 2015
I first discovered Mexican shoegaze band Car Crash Sisters on the excellent Ride covers compilation released by The Blog That Celebrates Itself, Leave Them All Behind. That cover drew me to their new EP, The Crystal Garden, which dropped in early May and is available on their Bandcamp page. The EP runs the gamut of the band's influences and ranges from smashing shoegaze to dreamy musical sequences. The band's two married guitarists, Kique and Alma, agreed to answer some questions about the band's past history and the recording of their new EP. Thanks for taking the time to answer my questions!
Tell us about your early years. What drew you to making music, and shoegaze/psych influenced music in particular?
KIQUE: I have always loved art in its many expressions. I used to draw and paint a lot as a kid, but it only felt like something that was easy for me to do. When I found music it was different, it added an extra "something" that gave me much more excitement and freedom. Before shoegaze, Sonic Youth was the band that introduced me to all this noisy experimentation with guitars, so that was what opened the gates to a flood of shoegaze bands for me.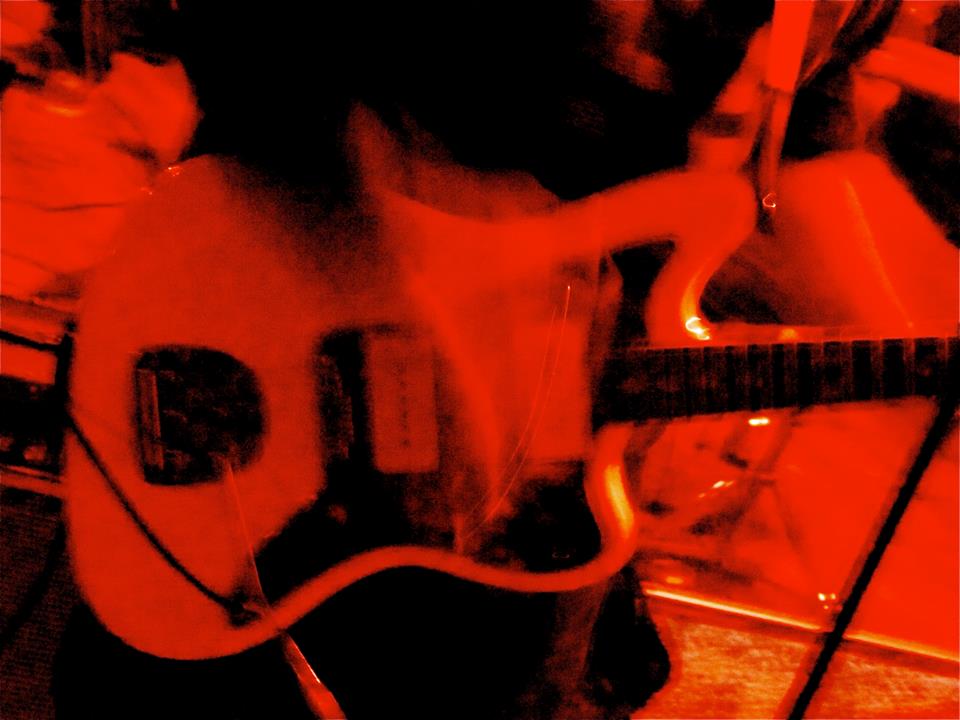 ALMA: I started listening to bands ever since I was little, like 6 years old. I would listen to Queen, and Nirvana because my older brother listened to those bands. Then I discovered a lot of other bands as I grew older, like everyone else, then when I was 16, I bought my first guitar, and I've been playing guitar and bass ever since. I'd say my direct influence to play what I play now is Dinosaur Jr. and Sonic Youth.
How did the band come into existence, and has your marital partnership fueled your creativity?
KIQUE: Alma and I played together in other bands before we were married, even before we were a couple. We share very similar musical tastes, so we felt it was time to start a new project together. A very cool experience was the moment we started working on our first song called "Anyway", I had the whole rhythm guitar part ready and the idea of what she could play, when all of a sudden she started playing exactly what I had in mind. I couldn't believe it! I never told her what I wanted and she did it like if she was reading my mind.
ALMA: Kique inspires me a lot, I've looked up to him as a musician ever since I heard him playing for the first time. He inspires me in a lot of ways.
Coming from Aguascalientes, how hard was it to find music? I would think the Internet made that a lot easier.
KIQUE: It's all about word of mouth. In high school, I had this classmate who came from LA and showed me a lot of music that wasn't exactly popular here. The Internet and magazines were also great sources of information.
ALMA: I was lucky to grow up when MTV aired good music, and then yeah, I discovered a lot of awesome bands through the Internet and people I've met through the years.
Does Aguascalientes have a music scene, and in fact, what is the scene like in Mexico in general?
ALMA: There are a lot of metal bands here in Aguascalientes, some of them really good ones, also there are a lot of garage bands. I hadn't heard shoegaze bands here before until now, for example our friends Bleak Boys and Le 1991. The music scene in Mexico is growing so fast it's awesome; the Internet has played a major role because it's so much easier to know bands now on Bandcamp or Soundcloud.
Have you performed in the States at all, or would you like to? I can think of some psych festivals where you'd be a natural fit!
ALMA: We haven't but we'd love to! Actually we really want to play there, we hope we can go sometime soon.
I discovered your music through The Blog That Celebrates Itself, with your grand cover of Ride's "Here and Now". How big an influence is Ride, and would you also count Swervedriver as a big influence? Because some of the songs on your new EP, like "All My Friends" and "Automatic", seem like Adam Franklin snuck into your studio.
KIQUE: Ride was one of the first shoegaze bands I ever listened to. Nowhere is one of my favourite shoegaze records of all time.
There's something funny with Swervedriver: Years ago, a good friend of mine told me once, "Do you like Swervedriver? Because your music sounds a lot like them", but I actually didn't know them! Now I do and I really like 'em, but I find it funny how we're often compared to a band I never felt as a direct influence.
ALMA: I love those bands, though we hadn't consciously decided "We want to sound like Ride or Swervedriver," but yes, we can say they have influenced us.
That lovely song "Constellated" has the best bits of MBV and Ride thrown in, but it's your own unique take on "dreamgaze" that really nails it for me. Is it planned as a single?
KIQUE: Well, that's also very lovely from you to say! That's my favorite song of the EP, I thought I was the only one who thought that, so I really hope we can release it as a single.
Can you describe how the EP came about, what the recording process was like, and if you have any favorite guitars, pedals, or other equipment you used or tend to favor?
KIQUE: We worked very hard on it, in fact, it was recorded twice. Instead of "All my friends", there was a song called "The Sad Star", and the general tempo of the songs was faster. You can listen to the 2014 version of "Automatic" on our Bandcamp page, and you'll understand what I'm talking about. I was ready to release it but one night I just couldn't sleep. I thought, "I don't like it, I just can't show this to anybody, I hate it", so I decided to do it again. A lot of things happened over the following months. Our lineup changed, we recorded all the drums in a friend's studio, and everything else was done by ourselves. We recorded the bass and guitars in our rehearsal room and the vocals in our home. I was incredibly stressed, we announced the EP release for December 2014, and there I was, recording it again by January, but I'm glad we did it. I was reading a Brian Wilson interview where he said "Good things come to those who wait" and it gave me the patience needed to finish it the way I wanted.
I only used Fender guitars: "Whitey" (my Jazzmaster), a Fender Telecaster, and my very first guitar, a very bruised Squier Strat. For the distorted sounds, I recorded with a Big Muff Pi and my beloved ProCo Turbo Rat. Phaser was very important, I used both the EHX Small Stone and my MXR Phase 100, and of course, tons of chorus and reverb. All of this through a Roland Jazz Chorus 120 amp.
ALMA: I'm a Fender fan forever. My favorite pedals are Malekko analog delay, EHX small stone and ProCo Rat so far. I also use a lot of chorus.
Your EP has many varied moods, do you prefer the fast rush of shoegaze, or the slower, dreamier pieces?
KIQUE: I've always enjoyed experimenting with contrasts. I like it when a song grabs you by the throat and surprises you, it's like a bittersweet thing. For example, "Broken" starts with this acoustic, dreamy base, and ends with a very dissonant outro. I personally find interesting the recording process of the quiet songs, experimenting with vocal layers and atmospheres, while I find the faster ones much more fun to play live.
Any future plans you'd care to share with us on new projects or touring?
ALMA: We want to record another EP and then an LP, and then we want to go on tour, we just played in Querétaro and Guadalajara and it's been awesome so far. I love to meet so many people, bands, all those experiences, it's so nice.
Check out the band on Bandcamp, Facebook, and Twitter.