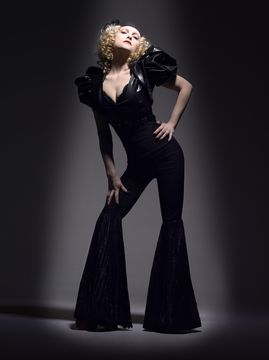 19 May 2006
After attending GOLDFRAPP's delicious live show twice in the past six months and falling in lust with their newest electro-glam masterpiece, Supernature, I was excited to speak with the platform-loving siren behind the songs, ALISON GOLDFRAPP. Aloof yet polite, she revealed her views on commercial use of the band's music and what group she believes to be creatively on par with Goldfrapp.
Goldfrapp's live show is so much more rock 'n' roll and organic than one might expect given your fondness for effects and synthesizers on record. How has your live show developed over the years?
ALISON GOLDFRAPP: It has just evolved. It's something I just feel more comfortable with these days. I really, really enjoy the whole performing live experience.
Do you have a particular pre-show ritual that you do before you go on?
ALISON GOLDFRAPP: No. I don't have any strange rituals. Just warm up and hang out with the band and relax.
I have a stagewear question: Who's your favorite shoe designer and where do you get your amazing platforms?
ALISON GOLDFRAPP: Well, some lady makes them for me. I just say what I want and she does it.
There's such a heavy glam influence on Supernature. Do you have a particular favorite '70s glam artist that you grew up listening to?
ALISON GOLDFRAPP: Um, MARC BOLAN I really liked. I think it's more just that era that I like — also the production.
Where do you see your music going in the future? Do you think you're going to keep adding more guitars, more glam?
ALISON GOLDFRAPP: There's always things that we'd like to try out and experiment with. But we never really know until we get into the studio and we're writing. It's something that you can talk about forever but until you're actually in there doing it, it can sort of take any shape, really.
For you, do lyrics come after music? I'm particularly interested in how "Satin Chic" was born.
ALISON GOLDFRAPP: There's no rules, there's no formula, so it's kind of different every time.
What about that song in particular?
ALISON GOLDFRAPP: Oh, I can't remember. I think the lyrics came first.
I've noticed "Ooh La La" is in a Diet Coke commercial and other music of yours is on TV as well. How does that work? Do you and WILL GREGORY decide who gets to use what song where?
ALISON GOLDFRAPP: Sometimes we do, but quite often TV can use music without getting any permission. Obviously for adverts they have to have permission, but things like using it as an intro or things like that they don't need permission.
Has it been used in any way that you didn't like?
ALISON GOLDFRAPP: No, we make music, we put it out and it becomes everyone else's property. You can't decide how people will use something in the same way you can't decide how someone listens to music. It's out there in the big wide world…
What kind of criteria do you guys have for who gets to remix your tracks?
ALISON GOLDFRAPP: Well anyone can have a go, but whether we like it or not is another thing.
Do you have a favorite remix that's been done?
ALISON GOLDFRAPP: Um, I really like CALEXICO, they did a remix for us. Also MUM.
Conversely, how do you decide whose tracks you're going to remix? For the MARILYN MANSON track, did he approach you guys?
ALISON GOLDFRAPP: Yeah he approached us, and so did DEPECHE MODE as well.
Are there any artists you feel are doing what you're doing today – meaning writing your own music, designing the entire aesthetic, including website, album sleeves, etc?
ALISON GOLDFRAPP: Is anyone else doing what we're doing? Well, I don't know. I think there must be. I'm sure. (Pauses) GORILLAZ!