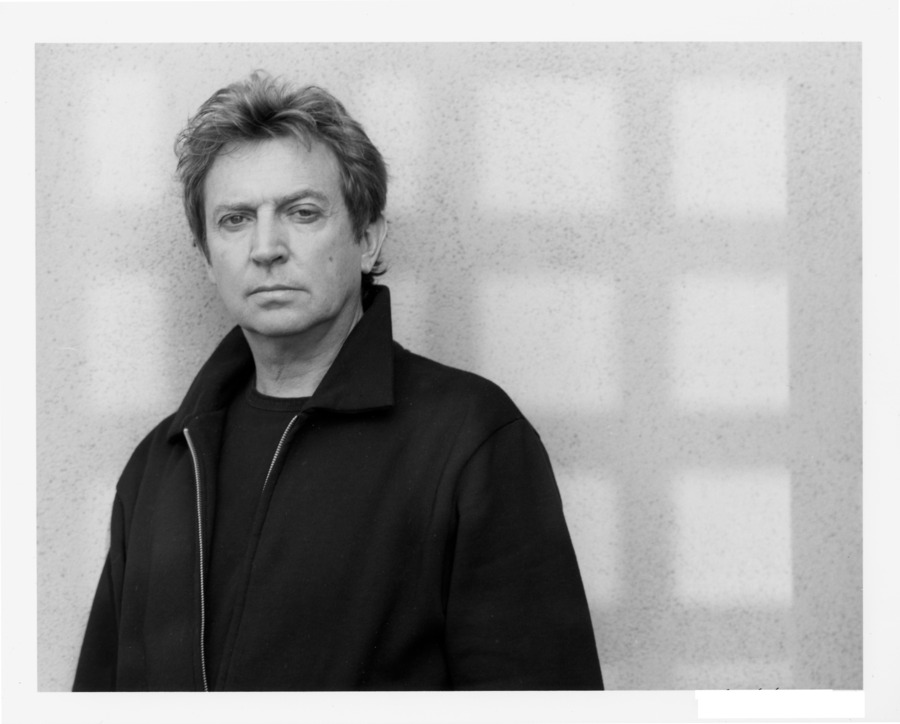 9 October 2023
Photo by Dennis Mukai
Andy Summers needs no introduction. The Rock and Roll Hall of Fame guitarist was an integral member of The Police, his unique blend of jazz, rock and new wave guitar playing helping the trio sell over 75 million records worldwide. Picking up photography as a hobby during his days in The Police, Summers has found success as a photographer in his post-Police career, holding exhibitions around the world. In 2019, Summer began a one-man, multi-media show mixing solo guitar performances, storytelling, and photographic displays to much success. While the pandemic put the world on pause, Summers picked back up this year and has been doing short runs of dates since earlier this summer with dates scheduled through the end of the year.
At the age of 80, Summers shows no signs of slowing down and admits during our conversation that he's never felt better. In addition to the remaining tour dates, he's working on a new book which he hopes will hit shelves in 2024 and has plans to start recording new music. We started the conversation discussing his book of photographs.
You've released a book of photographs, A Series of Glances, and it's almost like the "best of" your photos. People have seen these pictures before but you're compiling them the same way you might compile a greatest hits album.
ANDY: I never liked phrases like "the best of" because it's so finalized. I'm like, "I'm just getting started." It's some photographs. I have a vast archive of photos that are very well organized. I have them all in a search program so I could make many, many different kinds of books.
I based this book on a Robert Frank book called The Lines of My Hand because I particularly liked that book of his for the layout. It took me six months to put this together. You lay out a few pages and don't look at it for a while. Then you come back to it in a very similar way as recording music. My technique, as far as any of that goes, is to say, "I'll listen to it in a couple of days." Then when you hear it, bam, it's real fresh and you go, "I want to change that and this. And we've got to get a new ending." It's similar with the photography, the way the pages and shapes play off each other.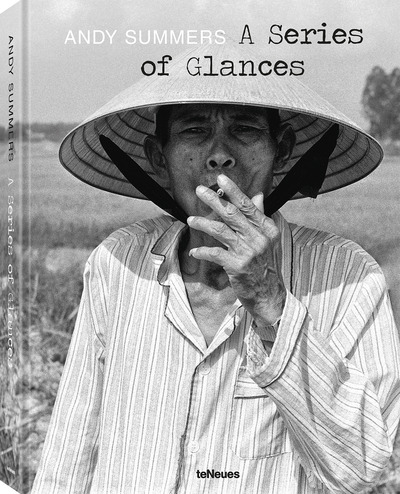 Do you have more control over your photos and how they end up in print than you have with music you've recorded?
ANDY: I have total control over recording because, as you might imagine, I have my own studio. And someone I've worked with for many years, he's very good and he's a musician and is very gifted technically. I have a good setup except it's all fallen apart this year. I think we're going have to buy all new equipment because we had such heavy rain in LA earlier in the year, it kind of fucked up a lot of stuff.
And we're just about to go on tour, which is going to go on to the end of the year, on and off. I think after that, it's time to have a redo. But I'm in there at the moment and we are recording. This is a solo tour, only me on stage, but I have a cinema screen and I project all sorts of crazy photography stuff and that's what we're doing. It's a combination of tracks that I play to and some actual solo guitar pieces. I do a whole Brazilian section, which is really solo guitar with one sort of little Brazilian drum, which is very nice. And I've added a little bit more Police into it now, but my own versions. And now I can play with the original backings that have just become available to us.
I'm not really using the recording part of the studio other than when we bring something up and go, "It's be really nice if I had a hi-hat just to hold the time," because otherwise it's difficult for me to come back in if I'm on stage trying to hear it. They're little subtle things. I was playing something with a guitar quartet, a version of "Roxanne." It's beautiful. I've noticed though that if I can't hear the speaker, the timing can become a little bit weird. So, I said, "Let's see if we can get it a little louder." These are all small things but the audience will never know.
I read your autobiography and it doesn't seem like you were taking photographs as a young child, that you picked it up a little later.
ANDY: I think I was just a normal person, like everybody that had a camera. My family had a camera. I've got boxes of snaps (photographs), as we call them in England, of the family growing up and all that.
Cameras were around. My brother, who was older than me, I remember him getting a pretty nifty camera. He must have still been in his teens, but he had a smart camera at the time. It was like some sort of magical device that he had. It was with The Police in New York that I suddenly thought, "Hey, you know, I'm going to do photography and I'm going to get really good at it." I just sort of made a formal declaration to myself with no idea that I had necessarily any talent for anything and whether it would even stick. I could have given it up one week later, but I didn't. I became completely addicted to it and still am. It's been a whole sort of sub career for me throughout the musical career.
When you were in The Police, were you always saying, "Hold on, let me grab my camera" or did you just always have a camera and snuck in candid shots when you could?
ANDY: I'd say it was a combination because once I got going taking photos, which was pretty fast, I rarely took the camera off whether we were practicing, rehearsing, or turning up at the soundcheck. I was probably overdoing it a bit but I was very compelled. I ended up lugging around the typical big pack of lenses and cameras. Too much shit. All you need is one camera and a 50-millimeter lens, but I carried a lot of stuff thinking that was the way to go.
And, of course, it got more sophisticated after a while, especially when I met Ralph Gibson and he told me to get a Leica and I did. And then I never looked back. I've never, never used anything other than a Leica ever since.
Do you ever take pictures with your phone?
ANDY: Yeah, I do. Occasionally, one will even make it into something more important than something I shot with a Leica. But, mostly I shoot with a Leica. I'll go out on tour and I'm sure I'll shoot a hell of a lot of pictures on my iPhone. I'll be taking the Leica. I'm really looking forward to being on stage and playing but I see this as a great opportunity to go out and get some new photographs.
It's been a long time since I have toured the U.S.. Before the pandemic, I was doing this show and we got through 10 or 11 shows and happily ended at the Metropolitan Museum of Art in New York. That was pretty swanky. And then the pandemic took over and that was the end of that. Here we are, coming back three years later.
It almost sounds like you're going on tour to take pictures and just playing music on the said.
ANDY: It's a little bit of that. I didn't want to play clubs or anything like that. They're all sort of medium-sized theaters. They are beautiful, I've looked them all up. They're all bijou theaters and that's exactly the right place for me to do this at this stage. We'll see how it goes.
There's a wonderful Police section at the end with an incredible collage of stuff that I shot in the '80s on the road in America, not only of the three of us in the band, but all sorts of scenes from places like Tennessee and rural America. It looked pretty different then than it does now.
If you were a teacher or a banker, you'd be retired by now. But, I love that every picture or video I see of you, you've got a guitar in hand.
ANDY: (holds up an acoustic guitar) What was that you just said? (laughs) I can see eight guitars in this room.
So this is not really a job you retire from. The guitar is attached to your body.
ANDY: I feel very fortunate to have been a guitarist all my life. I've written books, I've had a movie, I've done a lot of other artistic things, many, many photography exhibitions. The guitar is the thing that's carried me throughout all this, being in a great band. I'm a musician. I feel like I was born to play music and that's the calling. I wouldn't give up music to do photography. Music is the highest of the arts and I'm absolutely a musician. I love playing music. I'll go until I just can't do it anymore. I don't see that coming. I'm actually in extremely good shape. I've been very fortunate. Nothing wrong with me. I'm still there. A lot of people my age are already gone. Thank you, Lord.
Your autobiography came out in 2006. I'm guessing you may have a sequel since so many years have passed.
ANDY: I have another book. I've done the writing. I think it'll probably come out next year now. It's called The Trouble With Guitars. My life is defined by which guitar I had at that time. "That was the white strap period." "That was the custom SG." "Oh, this is the Les Paul period." I came up with a list of 30 guitars that I had stories about. My concept for the book is there'll be a picture of the guitar – and some associated guitars – and then the stories that go with it which, of course, involves women, troubles, poverty, riches, all the angst. Each guitar is loaded with problems. That's what the writing's about.
I have to imagine upon the ending of The Police, you must have been in high demand. Were there opportunities you turned down or offers to join already established bands?
ANDY: Yeah, I did turn one incredibly famous singer down. That was probably a real mistake because it would have been a stadium filler immediately. I won't even say his name. I do regret that. It was pretty stupid. I was too gone because we were the biggest band in the world. We were all very famous. I'm probably the most famous guitar player in the world at that point. Probably the highest paid. It's like a wall of stuff coming to you all the time, mind bending, hard to keep your feet on the ground and think straight about anything.
What can you tell me about Call The Police? Is it just a recording project? Is it a touring thing?
ANDY: It sort of casually came together and it's a wonderful band. It's based in Rio. I've been working with a guy down there since '95. I've done every kind of music down there. I go there every year, never miss a year. In the later years, I went down to Rio and he said, "You've got to meet this guy I'm working with now, a guy I'm managing." He was a bass player and his name was Rodrigo Santos and he was from the band, Barão Vermelho, which means Red Baron. They're very famous, have big hits. He was a very cool guy, I really liked him. He was a singer/bass player. We started doing some stuff together and we did a couple of little gigs around Rio to try it out and we did a couple of Police songs. Fast forward. We started to see the potential of this and the guy that worked with us, the manager, he got a drummer in from the Paralamas. They're incredibly famous in South America. They have loads of number ones. And his name is Joao Barone. So we had the three of us and what happened is we eventually said "Let's just do hits of The Police," which is very fantastically popular in South America. The Police had all these number one records so we built a set list of about 15 songs. And that's the band. Rodrigo is a wonderful singer, I absolutely love his vocals, and he's a wonderful bass player.
I was never expecting to do a sort of knockoff of The Police because I thought it was sacred. You can't do it. But we did do it and it turned out to be a huge success. We sell out everywhere we go. We couldn't do it during the pandemic, for all the obvious reasons, but we did do a tour this year and we played some countries in South America. It's great fun. The band is an absolutely kick-ass band. For me, it's very loose and I have a huge amount of guitar solos.
You do a lot of instrumental stuff. What about rock music? I have a Circa Zero record you played on. Do you enjoy flexing that rock muscle on occasion?
ANDY: Yeah, I really enjoyed making that record. I think that's some great stuff. That should have been a huge hit. It's got great songs on it. That took two years to make and I was with that guy Rob (Giles) and I thought we'd really get something. And I think we just got the wrong management and the wrong record company. It got placed in the wrong hands. It just didn't happen. I thought that was the best rock record I ever made. I had to move on fast. I didn't want to get bogged down on that. We did try. We did a couple of shows. It could have been a huge band.
Do you pay attention to what Sting and Stewart are doing? Do you go out and buy their stuff the day it comes out?
ANDY: No. I mean, both Stewart and I live in Los Angeles. We're not very far from one another. We have the same manager so there's a connection. And, of course, the other thing is that we're what they call a "brand". We still sell a lot of records. "Every Breath You Take" is the most played song of all time, and that's my guitar playing. And that's one and a half billion plays, I think, at this point. No one can touch us. It's the most played song on American radio.
It's just business. We get to oversee it all. It's another sort of substratum of your life. I'm much more wrapped up in my own creativity. I was very pleased to get this new photo book out and go on tour. I've got some more exhibitions coming up in Japan, which is sort of exciting. That's what occupies my mind and also, of course, writing new music. And I'm very much due to make a new album when I can, hopefully this year. The Police is just a thing that's there all the time, not in any acrimonious way. We're all lucky and it just continues on and continues on. It's one of the great classic bands.
*******
Andy Summers – The Cracked Lens + A Missing String 2023 Tour Dates
10/11 – Albany, NY – The Egg
10/12 – York, PA – Appell Center for the Performing Arts
10/14 – Patchogue, NY – Patchogue Theatre
10/16 – Kent, OH – The Kent Stage
10/17 – Pittsburgh, PA – Palace Theater
11/03 – San Luis Obispo, CA – Fremont Theater
11/04 – Monterey, CA – Golden State Theatre
11/05 – Napa, CA – The Uptown Theatre
11/07 – Portland, OR – Newmark Theatre
11/08 – Seattle, WA – Kirkland Performing Arts Center
11/09 – Vancouver, BC – Vancouver Playhouse
11/11 – Edmonton, AB – Myer Horowitz
11/12 – Calgary, AB – The Grand Theatre
12/7 – Ft Lauderdale, FL – The Parker
12/8 – Ponte Vedra, FL – Ponte Vedre Concert Hall
12/9 – Ft Pierce, FL – Sunrise Theater
12/10 – Clearwater, FL – Capitol Theater