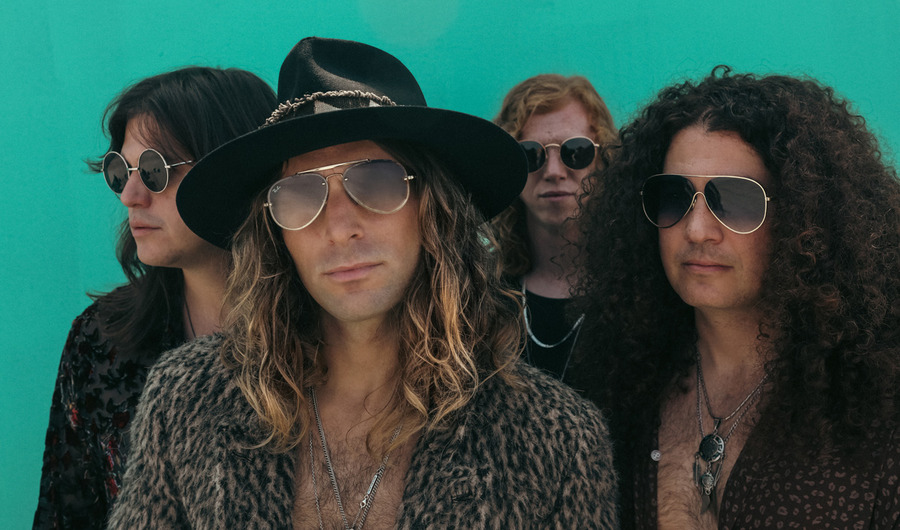 3 November 2023
Photo by Katarina Benzova
Blasting out of Southern California like a rocketship to outer space, Dirty Honey's been on a fast trajectory since the release of their debut self-titled EP in 2019. The band's penchant for delivering classic-rock influenced bangers, complete with soaring, arena-friendly vocals courtesy of Marc LaBelle and guitar solos primed to make a hero out of John Notto, has earned them more opportunities in four years than many bands get throughout a career. From playing major rock festivals to co-headlining a tour with Mammoth WVH to warming up shows for Guns N' Roses, The Who, KISS and The Black Crowes, among others, Dirty Honey's freshly-dropped, Nick Didia produced, sophomore effort, the aptly titled Can't Find the Brakes, demonstrates there is no "stop" for this four-piece which also includes bassist Justin Smolian and new drummer Jaydon Bean.
Hours before Dirty Honey's twelfth show of their current headlining tour, a stop at Rams Head Live in Baltimore, Notto and Bean joined me to celebrate the album's release, discuss how Bean came to join the band, what it was like recording in Australia, and how they feel about carrying the modern rock torch.
Happy release day. Does it feel like you've been carrying a baby for 9 months and you've just given birth or does it feel like just another day?
JOHN: Well, so far it's been just another day but I'm only on my second coffee. I slept later. We had nice hotel rooms, which is rare for all of us to have a good place to sleep. But, I'm very excited that people have the album now.
You're playing in Baltimore tonight. Did you go out to a record store and pick up a copy of your album or at least see if they had it?
JOHN: I haven't done that yet. I went yesterday though and bought a lot of old records. I got everything from Chic records to Donnie Hathaway to Goat's Head Soup by the Stones. I found Eric Clapton's Slowhand. I found Bruce Springsteen's Born to Run.
Jaydon, you're the newest member of Dirty Honey. How far back does your relationship go with the band?
JAYDON: Pretty old. I've known John for probably 12 years.
JOHN: The whole time I've been in L.A.
JAYDON: I used to play with all these guys all the time pre-2017.
Were all the songs for Can't Find the Brakes already written before Jaydon joined or did you all write together?:
JOHN: It's kind of a song-by-song thing but there was some real collaboration for sure. "Don't Put Out the Fire," we came up with together.
JAYDON: I'd say for a majority of them there was a collaborative effort.
JOHN: "Won't Take Me Alive" and "Coming Home" were done. But nobody really told Jaydon what to play, even on the ones that were done. "Won't Take Me Alive" was kind of interesting because he ended up playing what I played on the demo, but I never played him the demo. I have a good instinct, at least. I can't play drums anywhere near satisfiable, but I sometimes know what I want to hear. I also don't like to force it on people because it seems weird to do that.
The ones that were truly a quartet writing experience were "Don't Put Out the Fire" and "You Make it All Right." "Don't Put Out the Fire'' started with me and Justin, we did a demo of that. Me and him on bass, drums and guitar but that was so early, all we really kept from that was a guitar part and the basic groove. The whole catchy part of that riff came later.
JAYDON: There was about three and a half weeks of pre-production before we even got in the studio where we were writing and demoing everything. We demoed probably 20 songs and tracked like 20-ish songs in Australia before we whittled it down to the 11.
*So having known these guys and playing with them before, there probably was no adjustment period. They didn't have to get used to you coming in and sitting behind the kit."
JAYDON: They're all my bros. I even used to live with Justin and John. We've known the living scenario, the musical scenario.
JOHN: We already knew what we didn't like!
Recording in Australia sounds like such a terrible thing, such a hardship (laughs):
JOHN: The flight over is horrible. Nick's studio is in a beautiful location. He actually moved studios from when we recorded the EP, it almost seems like a first again. He moved to a much more traditionally real studio. The first EP was recorded in a converted house. He did have a drum room but everything else was in the living room. This time, it was a proper studio. There was even a shower, a separate kitchen, a mixing room and a basketball hoop, per my request. We're not slumming it at all but I think I did get homesick because we were all just kind of cramped up in this Airbnb and it wasn't that comfortable.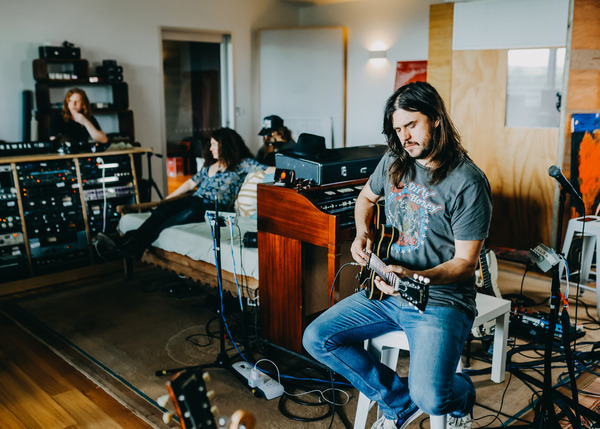 Photo by Glenn Mossop
JAYDON: We had a nice beach, literally a short walking distance from the Airbnb but there's a lot of downtime, just depending on where you're at in the recording process. There are some days where you're like, "I already went to the beach today. I already went to the two coffee shops."
JOHN: I think I was probably the busiest person because when you're tracking the basics for drums and bass, that's when the focus is on them to get it right. We like to have them together. I record with them, we record it all together, but there's a good chance I'll redo what I did for tone purposes depending on if I like it or not, if I nailed it, if I nailed the sound. It's more about the sound. So, I'm working then and then, once they're done, it's my turn to do everything that I'm going to do which is rhythm guitar, lead guitar, and then sound effects guitars. As a philosophy, try to make them feel like one guitar. We never want to sound like, "How are you going to do that live?" We did venture into that territory by adding a lot of keyboards on this one background singing. So we kind of said, "F- it" in that way. Then, at the last bit, it's Marc's turn, but we kind of do it at the same time. I like the evenings, Marc's a morning guy. He would go in and do a bunch of vocals, and then he'd come back, pick me up, and then I'd go in and do solos. Solos would be the last thing. I like to solo if there's a lead vocal that's on there, feed off that energy, maybe listen to that chorus and cut into that solo.
You started this tour before the album was out. Is it difficult to play songs that people don't know?
JOHN: I think it's most difficult for Marc because he's the focal point of everyone's eye gazing. What we've learned over the past five years is that when people are experiencing music they've not heard for the first time, they can't show their reaction during it. You're not going to get someone by the second chorus who knows the words and is willing to scream it. But that doesn't mean they don't like it, but it does mean during it, you're not sure if it's going over well. And, the nature of showing people your creation is vulnerable. If you're not getting a reaction during it, that insecurity pops in. You do a lot better when people are encouraging you. I can just look down at my guitar and be cool and look at the guys.
Let's be honest, there's a Dirty Honey sound. It's not like you're going and doing something that people are like, "What are they doing? This doesn't sound anything like them." They might not know all the words, but they know what it's going to sound like.
JAYDON: All that being said, people still obviously responded and reacted to the new songs. A lot of them we've been playing all year.
I do appreciate that you've been playing 5 new songs on this tour. You're not shying away from playing songs that, until today, people haven't heard. A lot of bands might throw in one new song but you're going all out.
JOHN: A lot of that was for us, we just needed to play something else. We've been doing the same sets. That's maybe the downside of having not put out an album for two years but, touring, I'm itching to play some new songs so let's put the maximum we can into the set without blowing the whole record.
You've stretched a little bit on this album by throwing on what I can best describe as mid-tempo, almost ballad-type, songs. Did you do that to break up the album a little bit, take your foot off the gas to let people catch their breath?
JOHN: We just want to stretch out. We wrote them and it was like why exclude them? As long as we can shape them from the beginning nugget, which usually starts the most outside the sound, to fit in with everything else we already do, then we're good.
JAYDON: We demoed 20 songs so it was best song wins and those happened to be what we all thought were the best ones. There was some conversation about how many ballads should be on the record, but in the end, it was pretty much just best song wins.
JOHN: If you believe in something, you just have to get everyone on board. Justin wrote the finger picking and the whole form of "Coming Home." Everything that he's playing, he wrote but I knew that Marc hadn't been hooked in by it yet, for some reason. I think it was just too "Landslide-y" or something. He thought it was too outside of what we do. When I heard it, I immediately thought of the Allman Brothers' "Little Martha." I knew right then that my job was easy. All I had to do was put that swag on it. And then all of a sudden, Marc was like, "This is amazing." Sometimes you have to dress these things up in the right way and then it feels like it's ours.
Same thing with "Don't Put Out the Fire." That was a last-minute tweak. I think I was approaching it the wrong way. I was approaching it sort of like Stevie Ray Vaughn, but as Stevie Ray John which, by the way, is a few tiers below the original. Then I was like, "It needs to be AC/DC John." At the last minute on the demo, it just made it feel like some choices that made it move more in that direction. And then, boom, Marc was like, "This is great."
My local classic rock radio station plays 90% older music but for the 10% newer stuff, bands like Dirty Honey, Greta Van Fleet, Rival Sons, Goodbye June and Marcus King, they call all of you the "modern torchbearers of rock." Do you feel any pressure to have to carry this torch?
JAYDON: No, I think it's cool. We love all those bands.
JOHN: It's cool that the best way I play guitar is like that. Being a guitar nerd who's checked out this kind of guitar playing and that kind of guitar playing, I'm like a jack of all trades, but the thing I do the best is this and it's cool that it has some meaning to a lot of people.
I was a little young for the huge all-day stadium rock shows but I did see things like the Monsters of Rock Festival. I don't know that the group of bands I just mentioned could fill a stadium but it's my dream that, some day, you all could replicate those '70s stadium rock shows with stacked lineups.
JOHN: That would be cool. Our dream festival is Greta Van Fleet, The Struts, Marcus King. We have to play a lot of festivals where the bands are much heavier and more modern and the thing that we're sort of intentionally not. Everything that gives us our identity is by doing not what those bands are doing. They've all been great guys, but, you know. I don't know if that dream festival will ever happen, but you know, I think the fans would love that festival.
Your touring experience has been pretty awesome. You've opened arena shows, you've played huge festivals, you've headlined your own dates, you've co-headlined tours. Since releasing the EP, has there ever been a show that hasn't lived up to expectations, where you've played to like 15 people?
JOHN: The first tour was quite hard work. I wouldn't say it was humbling, because we weren't anything yet in terms of exposure. We knew that was where we needed to start. That's where the low attendance was but that wasn't our fault, we were opening for a band that actually quit after that tour. But, it's been a steady growth the whole time. The fact that we made it through the pandemic, it's hard to remember, but it's amazing that we did it because we just barely got into the public's consciousness on a national level, and we managed to pull through.
I think there was one time we played very far into the north of Canada, and it was a fun show, but it was probably the first time in years where there was low attendance. And we were like, "Whoa, this felt like the very first tour." But the rest of the tour was great. We were in Saskatoon or Saskatchewan. It was up there.
Jaydon, you've been able to sit back and watch your friends do these amazing tours and, since you've been in the band, I know you've had some great experiences. Is there anything that you're hoping to check off your bucket list as a member of Dirty Honey in terms of touring?
JAYDON: I'd like to open up for AC/DC with these guys. Other than that, I'd just like to see us play in the stadiums ourselves. I think these guys, even before I joined the band, deserved it and be recognized as fucking dope musicians and great songwriters that they are.
***********************
Dirty Honey 2023 Tour Dates
October
18 – The Regency Ballroom – San Francisco, CA
19 – Ace of Spaces – Sacramento, CA
21 – The Observatory North Park – San Diego, CA
22 – The Nile Theater – Mesa, AZ
24 – The Studio at the Factory – Dallas, TX
25 – RISE Rooftop – Houston, TX
27 – The Beacham – Orlando, FL
28 – Ponte Vedra Concert Hall – Ponte Vedra, FL
29 – The RITZ Ybor – Tampa, FL
31 – Buckhead Theatre – Atlanta, GA
November
1 – The Underground – Charlotte, NC
3 – Rams Head Live! – Baltimore, MD
4 – HMAC – Harrisburg, PA
5 – Asbury Lanes – Asbury Park, NJ
7 – Théâtre Beanfield – Montreal, QC CANADA
8 – Danforth Music Hall – Toronto, ONT CANADA
10 – The Vogue – Indianapolis, IN
12 – Bogart's – Cincinnati, OH
13 – Concord Music Hall – Chicago, IL
15 – Liberty Hall – Lawrence, KS
16 – Summit – Denver, CO
17 – The Depot – Salt Lake City, UT
19 – The Sand Dollar Downtown – Las Vegas, NV
20 – The Belasco – Los Angeles, CA
24 – Knitting Factory – Spokane, WA
25 – Roseland Theater – Portland, OR
26 – The Showbox – Seattle, WA
28 – Knitting Factory – Boise, ID
December
1 – Bourbon Theatre – Lincoln, NE
2 – Uptown Theater – Minneapolis, MN
4 – The Rave II – Milwaukee, WI
5 – The Castle Theatre – Bloomington, IL
7 – Saint Andrew's Hall – Detroit, MI
8 – Elevation – Grand Rapids, MI
9 – House of Blues – Cleveland, OH
11 – The Bluestone – Columbus, OH
13 – Brooklyn Bowl – Nashville, TN
14 – Mercury Ballroom – Louisville, KY
15 – The Hawthorn – St. Louis, MO