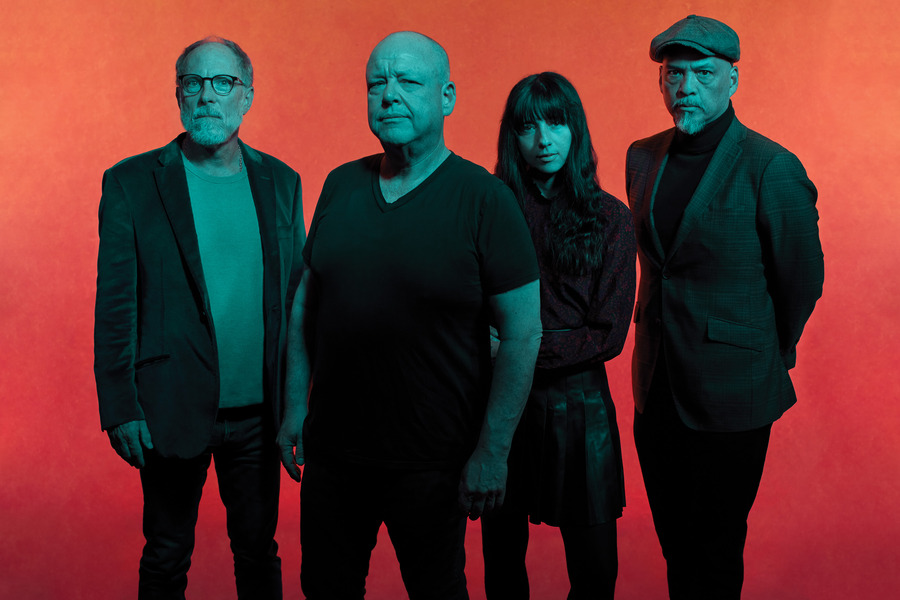 7 June 2023
Photo by Tom Oxley
Since reforming in 2004, the Pixies have continuously released albums and toured around the world, their latest release being 2022's Doggerel, which has earned glowing accolades from critics and fans alike. Guitarist Joey Santiago told me in a phone call, as he drove around Los Angeles, that the new songs give the band – singer/guitarist Black Francis (aka Charles Thompson), bassist Paz Lenchantin, and drummer David Lovering – energy and that fans should do their homework and listen to Doggerel because most of the album will be played on the next two legs of the Pixies 2023 tour along with the alternative rock staples like "Where Is My Mind?," "Monkey Gone to Heaven," "Here Comes Your Man," and "Gigantic."
You've been doing this a long time so I'm guessing it's a bit like a machine, but is there anything that you learned from the first leg of the tour that you finished recently that you'll apply to the second and third legs that are coming up?
JOEY: That's a good question. When I'm playing, I keep forgetting that I can play with more finesse and dynamics. At the beginning of the tour, I just bash away and then think to myself, "You know what? You always forget to finesse shit."
When you start a tour, does it take a few days to get into the rhythm of things or are you firing on all cylinders starting with the first date?
JOEY: We always have to, unfortunately, write the first two or three gigs off. It's just the nature of it. Washington D.C. is going to get a shitty gig (laughs). Well, maybe just in our heads we'll think that.
Do you have any idea what merch is selling particularly well? Is that something you even are concerned with?
JOEY: I don't really know. I don't have a clue. I know the Pixies duffel bag has become very useful to me. We have duffel bags, I guess. I laughed at it at first but then on the second day of the tour, you know what? I needed a fucking duffel bag. I was like, "Give me one of them damn things." They're very useful and it's the right size.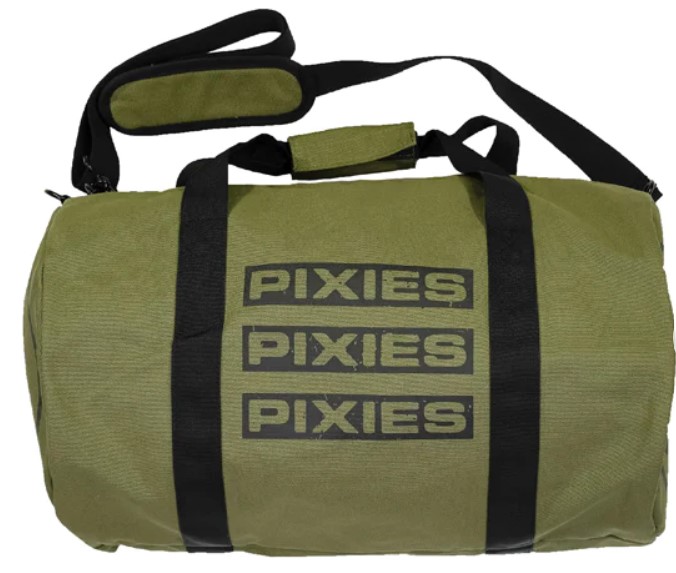 What I admire about the Pixies is that not only are you releasing new albums, but you're playing lots of new songs in your set. You're not just playing a greatest hits set and calling it a day, you're also playing most of Doggerel.
JOEY: Yes, we are. I enjoy playing it. It's something fresh and new for us and the audience is taking to it.
I saw The Who last year and when they played a new song, about 25% of the audience got up to get beer and go to the bathroom. This is fair warning to people coming to see the Pixies on this leg of the tour – listen to Doggerel, learn the songs because you're going to hear them.
JOEY: When I'd see bands, I would always say, "Oh, new songs. Bathroom break. Beer break." We don't announce to the audience that we're going to play a new song. They'll figure it out themselves.
When you're playing the new stuff, are you looking out at the crowd to see if they are reacting to it? Are people singing new songs back to you?
JOEY: I look at the crowd in general. I scan. I don't look at one person, that would be fucking creepy (laughs). I should do that, freak someone out but staring at them. That's almost like our version of heckling. When I look out, I do see it. I think, "This is new, why are people singing it?" Or, "It's new and people are digging it." They might not necessarily know it, but they're just enjoying it.
The hits, you've been playing forever. It must be a breath of fresh air to be able to play these new songs live. Are there any that you particularly enjoy more than others?
JOEY: I really enjoy playing "Doggerel" and "Dregs of the Wine," because I wrote the music for that one. "Pagan Man" is fun to play too – I did the lyrics for that one. Weird, right? For "Doggerel," it just really starts with this mood and it ends up in this other place. For lack of a better word, it rocks out. I mean, we are a rock band.
When I first heard "Pagan Man," I kept singing "Pay the man."
JOEY: You know what? That was the original lyric. Charles was mouthing off stuff and was like, "Pay the man." I thought it was a bit too working class for us. We're not that type of band.
Is it true that "Dregs of the Wine" is the first song you've written that has made it to a Pixies record?
JOEY: Yeah. First co-write.
Have you introduced other songs in writing sessions?
JOEY: No, I have not. Nothing was broken so I just assumed that Charles wanted to keep the helm. That was the vibe back then so I just left it alone.
What made you introduce a song to the band this time?
JOEY: Well, I started fooling around with the acoustic guitar. With acoustic guitars, I tend to stack chords more, just like organized chords. I was doing it and is sounded Pixies-ish. So, I was like, "Fuck it. We might as well do this. What am I going to do? Give it to someone else? We should record it."
There was a mini-documentary showing the Pixies in the record studio in Vermont. I'm not sure where you've recorded in the past but was this a unique situation for you?
JOEY: No. I mean, we recorded at Rockfield Studios in Monmouth, Wales. And that's practically in the middle of nowhere. Also, we recorded somewhere near Woodstock. We like remote places. That's what we like to do. We recorded in London one time, we were in St. John's Wood and it was really quiet there, you wouldn't even know you were in London in that neighborhood, where Abbey Road is.
Does recording in remote locations help keep you away from the distractions of everything else that's going?
JOEY: Yes, exactly. That will keep us away. And recording in the winter also does the same job.
You've seen the movie The Shining before, I assume. Does recording in a remote location in winter every get a little bit too claustrophobic?
JOEY: No, not for me. We're working. Honestly, the way I see it is for selfish reasons. If I have to stay in, the whole neighborhood has to stay in.
Do you consider the Pixies to be a nostalgia act?
JOEY: Yeah, I would, just because we've been around for so long, there's going to be nostalgia there. I see older people at our concerts in front sometimes, and they look like they really are just reminiscing. That's great. I like seeing that.
The reason I ask if that the night before I see the Pixies, I'll be seeing The Cure and that scratches my nostalgia itch. Did you play with The Cure back in the day?
JOEY: We toured with them, did a bunch of shows. We did some shows with them, then we would break off and do our own little shows on that tour. It was The Cure and Love and Rockets. That was a great bill.
Would you have ever guessed when you were doing those shows over 30 years ago that you'd both be on tour in 2023?
JOEY: I wasn't thinking it but, I bet you subconsciously, I was thinking, "Man, I hope this thing goes on forever." I grew up with classic rock. And you would think that only classic rock would continue on. And classic rock, we are not. The last time I checked, we're hardly on the radio. But, it's great.
I think it's funny that you're always called the quiet one in the band. It's like some cruel trick that you're the one doing interviews.
JOEY: Yeah. I think I might be getting out of my shell more, but I'm still very awkward. I seem to have a knack for it though.
***********
2023 Tour Dates
(with guests Franz Ferdinand and Bully)
6/8 – MGM Music Hall at Fenway, Boston, MA
6/9 – The Met, Philadelphia, PA
6/10 – The Anthem, Washington, D.C.
6/12 – Kemba Live!, Columbus, OH
6/13 – Stage AE, Pittsburgh, PA
6/14 – Andrew J. Brady Music Center, Cincinnati, OH
6/16 – Red Hat Amphitheater, Raleigh, NC
6/17 – Rabbit Rabbit, Asheville, NC
6/18 – Bonnaroo, Manchester, TN (Festival)
6/20 – Coca-Coca Roxy, Atlanta, GA
6/21 – The Fillmore, New Orleans, LA
6/23 – Bayou Music Center, Houston, TX
6/24 – Southside Ballroom, Dallas, TX
6/25 – Moody Amphitheatre, Austin, TX
(with co-headliner Modest Mouse and special guest Cat Power)
8/20 – Stone Pony Summerstage, Asbury Park, NJ
8/21 – The Rooftop at Pier 17, New York, NY
8/22 – The Rooftop at Pier 17, New York, NY
8/24 – Hartford HealthCare Amphitheatre, Bridgeport, CT
8/25 – Brewery Ommegang, Cooperstown, NY
8/26 – MASS MoCA, North Adams, MA
8/28 – Artpark Amphitheater, Lewiston, NY
8/29 – TCU Amphitheatre at White River State Park, Indianapolis, IN
8/30 – Salt Shed – Outdoors, Chicago, Il
8/31 – Salt Shed – Outdoors, Chicago, Il
9/2 – Gerald R. Ford Amphitheatre, Vail, CO
9/4 – Outlaw Field at the Idaho Botanical Garden, Boise, ID
9/6 – Pavilion at Riverfront, Spokane, WA
9/7 – Kettlehouse Amphitheatre, Bonner, MT
9/8 – Climate Pledge Arena, Seattle, WA
9/9 – Doug Mitchell Thunderbird Sports Centre, Vancouver, BC
9/12 – McMenamins Edgefield, Troutdale, OR
9/13 – McMenamins Edgefield, Troutdale, OR
9/15 – Oxbow RiverStage, Napa, CA
9/16 – Gallagher Square, San Diego, CA