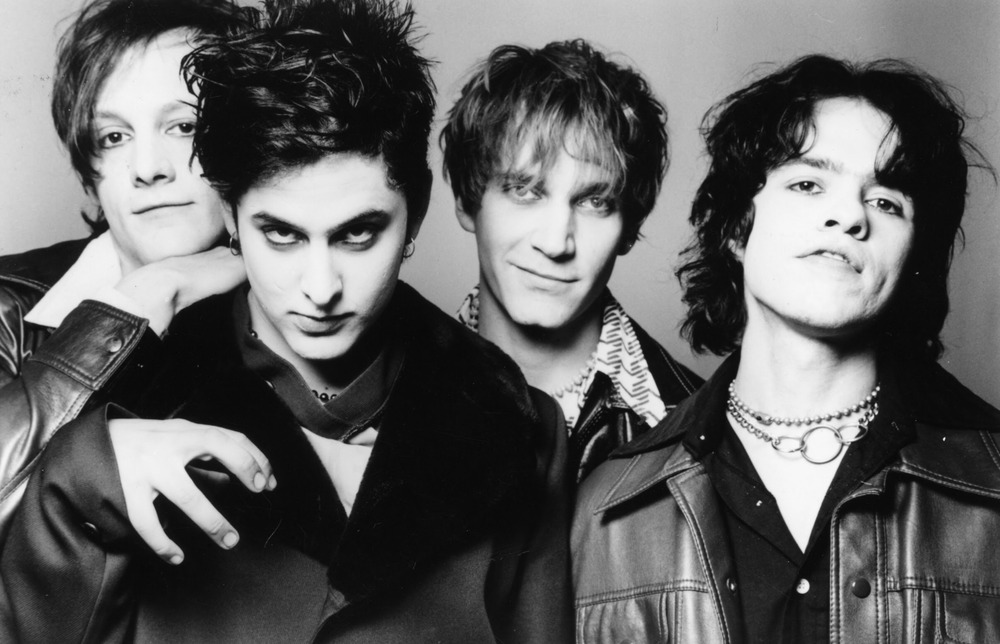 24 January 2023
Photo by Lee Ann McGuire
Dayton, Ohio's Brainiac was an anomaly – a weird, electro-driven, frantically spastic, experimentally noisy art-punk band that was uniquely original at a time when radio stations across the country were switching to an alternative rock format in order to reach an ever-growing audience. We can't go back and change things from the past but one has to wonder whether Brainiac's popularity would have been accelerated had they been from an entertainment-based city such as New York, Chicago, or Los Angeles?
By the time the band's second album, Bonsai Superstar, was released by Grass Records in 1994, people were taking notice and Brainiac was invited to play Lollapalooza in addition to support slots for artists ranging from Beck to Jesus Lizard. At the same time, major labels started aggressively pursuing the band, hoping to raise the awareness of the music that Tim Taylor (vocals/guitars/keyboards), John Schmersal (guitars), Juan Monasterio (bass) and Tyler Trent (drums) were dishing out of the funk capital of Ohio.
On May 23, 1997, as Brainiac was beginning pre-production on an album that would have been their first for Interscope, Taylor was tragically killed in an auto accident and, to nobody's surprise, the rest of the members retreated in different directions to deal with the tragedy on their own terms.
Of the remaining members of Brainiac, Schmersal has been the most active, forming bands like Enon and releasing solo music under names like John Stuart Mill. He's also been in possession of unreleased Brainiac material (demos, live sessions, etc) since Taylor's passing and with a global pandemic giving the world some down time, Schmersal began taking note of the music he had. In 2021, Brainiac released two Record Store Day albums – Attic Tapes and From Dayton, Ohio. By a stroke of good fortune, Schmersal also discovered some demos of tracks that have never been heard outside of the band's inner circle and earlier this month, Touch and Go Records released those tracks as The Predator Nominate EP.
Though Brainiac ended with Taylor's passing, the remaining members have gathered together to honor Taylor and the band's music in a live setting on a few occasions in the last few years. Some shows were played around the time of the 2019 documentary Brainiac – Transmissions After Zero – and while the band won't be reuniting for a worldwide tour, there are some opportunities coming up in the near future to get one more chance to hear Brainiac songs live.
Schmersal recently talked about the release of new material, the impetus for playing live shows, and what the future has in store.
You lived near Dayton, Ohio when you were in high school and before you joined Brainiac. Did you ever venture an hour-and-a-half east to Columbus to go to shows?
JOHN: Oh my gosh! In my adult years, playing in Brainiac, I did go to Columbus a lot. In high school, I had just started to drive when I won tickets on WYSO, Yellow Spring radio, to see Nirvana on the Bleach tour. They were my favorite band at the time. I was a pen pal with this guy who lived in Toledo and he sent me a tape that had Bleach on one side and Melvins Gluey Porch Treatments on the other side. It blew my mind! I won tickets to see the Nirvana show at Stache's in Columbus. When do you ever win anything on the radio, right? I told my parents and my mom would not let me go because it was on a school night. It's something I forever held over her head. Of course, that band went on to be more than just a one off for Sub Pop.
Can you talk about how the 2019 documentary, Brainiac: Transmissions After Zero came together?
JOHN: In the Enon days, I remember Eric Mahoney had approached me about wanting to make a documentary. I think he was in college. Years later, he was working in the film industry and living in New York and he wrote to one of us, I forget who. He was involved with a company at the time that had given the green light to a trilogy of documentaries that he was going to produce. He wanted to do one on Brainiac, one on the Dayton punk scene, and I forget what the third one was. That ended up falling through but he persevered and was able to make the documentary about us.
There's some live reunion footage in the documentary. Were you considering those shows a jumping off point for more shows?
JOHN: What started the reunion shows happened before the documentary was made. A group of our friends were doing a benefit show every year in Dayton just before Christmas to raise money for the college fund for the daughter of a friend of ours who had passed away. Every year, an older Dayton band would reform for it and we decided to get Brainiac back together. It was super fun and a lot of people came out. We did it with a few guests handling vocals.
When Eric was filming the documentary, he asked us how we felt about doing a live show. Honestly, I didn't feel good about playing a show to be filmed for the documentary. I had been preparing for the Brainiac documentary by watching a bunch of different rockumentaries to see which ones I thought were good. My least favorite part of every one of them was when the old guys get together at the end to fucking jam on "Sloop John B" or some other song.
But, we ended up playing some shows to be filmed. Most of the people that were involved were close friends of mine that were in bands that we had toured with. This happened in December and there was also supposed to be another benefit thing in Dayton. One of the bands that was supposed to play had to cancel because of a family emergency. We had already gotten together and rehearsed and practiced. We were all in New York and had been filming for the documentary the night before. We had all stuck around New York because we had tickets to see the Jesus Lizard. Juan was like, "If you'll cover my flight to Dayton, we can be the band to fill in at the benefit show." So, we wound up playing again.
After the documentary had been finished, it was played in a bunch of cities. In L.A., we had a dual showing where the documentary would be screened and then Brainiac would play a show with Fred Armisen joining for one song. At other shows, we had different friends join us to do guest vocals.
I don't think continuing on was something we really thought about at the time, but part of the reason there's any live activity now is that during the pandemic, I had gone through all the archival stuff and put together a few releases. There were two Record Store Day releases that came out in 2021 (Attic Tapes and From Dayton, Ohio) and an EP that's coming out on Touch and Go Records in January.
While doing those things, we discussed if we would play any shows once it was possible to start playing shows again. We agreed that we'd do one or two, maybe in Dayton and Chicago or somewhere else. I ended up mentioning this when I was playing some festivals this past summer with Caribou to the guys in Mogwai. I explained to them that Brainiac has a release that was coming out in 2023 and that we were going to play a few shows to promote the EP. A week later, they wrote to me and offered Brainiac the whole support slot on the UK tour. It just snowballed from there. I feel like a lot of people have this impression that Brainiac is back in stride. Playing that first reunion show, it was really fun to see how much it meant to everyone in Dayton. Through doing the documentary, and I didn't really expect this, I think for everyone involved, doing those interviews and talking about all that crap again was really cathartic. It was like therapy. It gave us a new appreciation for each other. When Tim passed away, we were all thinking "Wow, this fucking awful thing happened to all of us," but we didn't talk about it at the time. We all went our separate ways after it happened. We forgot about our relationship, it just kind of ended because the band seemed to end.
It's been a blast to get together with these guys when we have the chance and that's how we approach it. It's an opportunity for us to celebrate this music again. The fact that we're going to be playing 14 shows is absolutely insane. If I had been the one to suggest it, it would have gotten a big "No way!" from the rest of the guys. When Mogwai reached out and offered us the support slot, I was like, "There's no way everyone will be available to do this" but everybody ended up making arrangements to be able to do it so here we are.
You mentioned putting together the Record Store Day releases. Does that mean you're the person with all the old material?
JOHN: Yes. I would say that, aside from the record label that has all the master tapes of the proper albums, I'm the archivist of the band at this point. I've had all the 4-track tapes since Tim died in '97. There have been a few things that I don't have, like cassette tapes and stuff. I didn't know this at the time, but as Tim was feeling more confident about his songwriting, people would come over to his house and he'd play them demos he had recorded and just make them copies. I've asked some people, "How did you fucking get that music?" and they'll say, "I went over to Tim's and he made me a cassette."
There was a version of a demo that we were trying to track down when we were doing Attic Tapes and it was well known that the second-best copy of the demo – I eventually found a DAT that was the original – was owned by a guy who had been given a cassette!
With all the material to go through for the two Record Store Day releases and the EP, did you spend a lot of time figuring out the sequencing and the packaging or was it more important to you to just get the stuff out there?
JOHN: I spent a lot of time on everything, just figuring out what would be best. I shared stuff with Juan to see what was relevant to release. The Attic Tapes was two full records. That's a lot of material and a lot of the stuff is probably only of interest to me and the hyper-nerds. I just wanted to make sure I wasn't going too far. I tried to sequence the material in a way that made sense in the way other Brainiac releases had been structured.
As far as the artwork for those releases, that was a band project that we were all involved with. We hadn't been involved with some of the non-sanctioned releases when Tim was alive. We wanted to make sure these were done right. None of the Brainiac albums ever had any pictures of us. When it came to these releases, we wanted to use some photos but it became a little complicated because we had a lot of pictures but it was hard to pin down who some of the photographers were. We had imagined how we would have liked the covers to have been but, in some cases, that just wasn't possible because you have to give credit where credit can be given and we didn't know the source of the photos so we didn't use them.
When the EP was first announced, I was wondering if perhaps the remaining members of Brainiac had recorded new material. But, while the material is new to listeners, it's not newly records, is that correct?
JOHN: Right. The record is called The Predator Nominate which came from a single cassette of the same name. The name is analogous to Electro-Shock for President. The music is from the same era and has similar sounds. Sometimes you might notice similar cadences and things that go with other things you may have heard. The instrumental title track sort of feels like you can tell where the sequence of "Fresh New Eyes," (from Electro-Shock for President) ended up heading. There's similarities like that but it's all new material. It's not just demos of songs that you've already heard.
Is this the end of Brainiac releases or do you still have some material that you might put out some day?
JOHN: I would say this is the most comprehensive of what was planned to be released. The Attic Tapes was really a career-spanning thing. This EP is more of just the last stuff that we had been working on.
What about shows? Will there be yearly reunion shows?
JOHN: I don't think so. Logistically, we all don't live in the same part of the country. You're starting to see this more and more now that bands are back out touring post-pandemic, it's getting to be unaffordable for a band our size. The scale that we're on, it costs a lot of money just for us to gather and practice. Even thinking about the shows that we have coming up, it's a huge expense. I think we're very fortunate. We wouldn't have ever imagined that we could achieve playing this many shows in a run. It makes it worthwhile because it's such an effort for us to get together.
You're a touring member of Caribou and, since Brainiac's untimely end, have had a number of projects, from Enon to *Crooks on Tape to Vertical Scratchers. Do you have anything planned for 2023 outside of the Brainiac reunion shows?*
JOHN: I think Caribou is going to do 7 or 8 shows. Brainiac has the Mogwai tour. That's all I have lined up right now. I'm trying to figure out how to work between all those things. I don't have anything that's finished that's in the pipeline. The backlog is so long for actual releases for vinyl, that's the only thing I really care about. I need to be a little more proactive about finishing things and not being so snobby about digital stuff. I just don't care that much myself but it's getting to be a world where you can't ignore that.
Brainiac 2023 Tour
Feb 9 – Albert Hall (Manchester, UK) +
Feb 10 – Albert Hall (Manchester, UK) +
Feb 11 – 02 Academy (Leeds, UK) +
Feb 12 – Sage Gateshead (Gateshead, UK) +
Feb 13 – Stereo (Glasgow, UK)
Feb 14 – Rock City (Nottingham, UK) +
Feb 15 – The Forum (Bath, UK) +
Feb 16 – Cardiff University Great Hall (Cardiff, UK) +
Feb 17 – Brighton Dome (Brighton, UK) +
Feb 18 – Corn Exchange (Cambridge, UK) +
Feb 19 – 02 Institute Birmingham (Birmingham UK) +
Feb 20 – Moth (London, UK) +
Feb 23 – UFO Factory (Detroit, MI)
Feb 24 – The Brightside (Dayton, OH) *
Feb 25 – Woodward Theater (Cincinnati, Oh)
+ supporting Mogwai
with support from Dead Rider