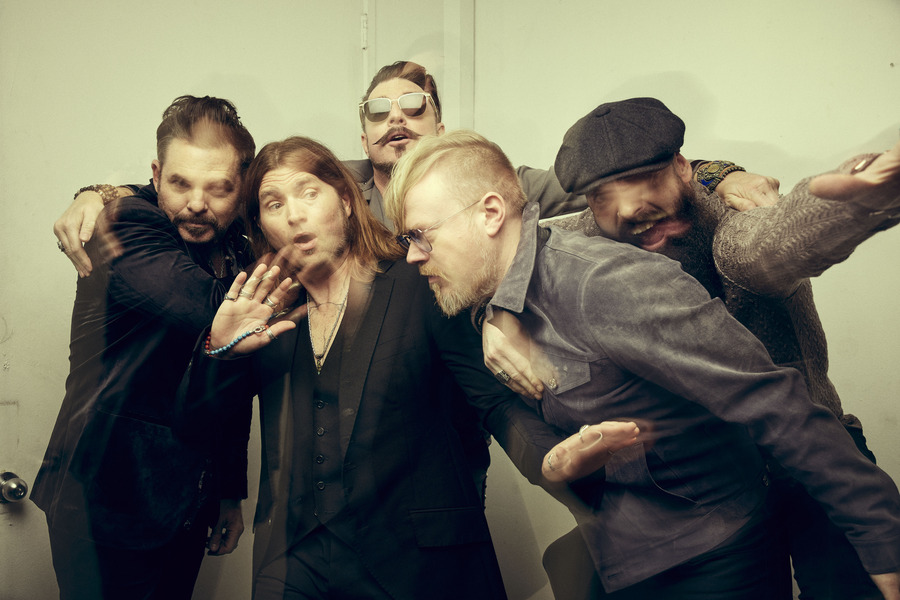 26 June 2023
Photo by Pamela Littky
For the first time since their formation in 2009, Rival Sons was given the luxury of time coming off the Feral Roots tour in 2019 to start working on their follow-up album. Of course, had we not gone through a global pandemic, that time would have been cut short as the band is well known for their constant cycle of releasing albums and touring. Instead, Rival Sons has already delivered Darkfighter in 2023 and will release the follow-up companion, Lightbringer in October. The band also has a full calendar of global tour dates, both as a headlining act and as the opener for Smashing Pumpkins summer run, scheduled deep into the year.
Guitarist Scott Holiday recently called in from a tour stop in Denver, Colorado to discuss the band's work ethic, how the pandemic led to a creative writing and recording period, the importance of an album sequence, and the records he spins when not globetrotting around the world.
In the '60s and '70s, many bands put out albums every year. Rival Sons is pretty much on that same pattern.
SCOTT: It was every single year until Feral Roots really.
Is that the work ethic of the band or do you pattern yourself after the bands that you grew up listening to?
SCOTT: It was just the way we wanted to work. By the time you make a record and tour around the globe a couple of times, especially early on for our band, we had new things to say, new things we wanted to put down, new things we wanted to write. We had evolved and changed. The songs from the previous records will have changed because they take on that symbiotic quality with the audience and with us. They change so much that you're always evolving.
By the time we get to the end of an album cycle, we're just ready to make something new. And it's also a strike-while-the-iron-is-hot thing. When you're busy and hungry and inspired, you should work, work, work. I look at bands like King Gizzard and the Lizard Wizard. They just go non-stop. I don't know how they even do it. It's unfathomable. And they're touring, and they're just working like crazy, and the records totally contrast each other in a beautiful way. You got a death metal record, a jazz record, a psych record, a pop record. It's just so cool, man. I love that.
Our ethos has always been like, what I said, one a year, because we would basically make the record, go around the globe a couple of times and go, "Okay, we have to stop." That's all we could take. It's time to make a record, and frankly, we'd make the record and go right back out on the road pretty quickly. And we did that up until Feral Roots, when we switched management and changed our business a little bit. We had, I think, eight weeks, maybe six weeks, to make that record, and me and [singer] Jay [Buchanan] wrote a little bit before that together, so we had a little bit of time.
And with this record, of course, we didn't plan to take as much time as we did, but we were in the pandemic. We were in the black hole. We had one tour cancel, then we had another tour cancel. As soon as that second tour canceled, I went, "That's it. We're making a new record now. Start writing right away."
The tour cycle for Feral Roots had been a long one, I think we had been touring that record for about a year and a half. It was Grammy nominated, and we had more accolades on that record, so the promotion and tour just went longer. We had to keep returning to more places and branching out. This one ended up being inside the better part of two years, if you can believe it. But that's because we couldn't leave. There wasn't a window to release it. We certainly weren't going to put an album out when we couldn't tour it. So it was like, "There's not a rush."
We're not going to put a record out, sit on it, never get to play the record live, never get to let those songs live another life like every other record and every other song we've ever made. And then a year later act like we're going to tour that record when it finally opens back up? Wrong. We didn't do that. Instead, we wrote and focused on different material and tried a lot of different things. And we're able to really create a cinematic arc that is Darkfighter and Lightbringer.
I've talked to a lot of bands who had put something out in early 2020 or even through mid-summer of 2020 and decided to go back and record another album since they had nothing else to do. They wound up not touring the record they put out in the first half of 2020. It almost seems like a waste.
SCOTT: To each their own. It's totally cool. I worked a lot. I produced other bands. I wrote with other people. I worked the whole time, and so did Jay. But for Rival Sons, the way we do it, we always create records that are meant to be played live. That's just the way we wanted to do it. Instead of putting one out and really worrying about a big campaign while we couldn't tour, which is a huge part of the promotion of a record, we just didn't want to do that. We wanted to save it. Maybe when you have two records out you'll of course put another record out. Maybe when you have three records, put a fourth out. We're releasing records eight and nine. There's no reason for us to rush records out at this point of our career. We have a very solid record, and I don't want to sound like I'm a big backpatter or a big egotist, but we have a solid collection of records that we believe in and there's really no dogs in the bunch for me. I think we made, frankly, eight good records, and they are honest. They represent something we really wanted to put out and represent a very great snapshot of where we were as a band, each one.
Rival Sons hasn't gone too far off the reservation. Your albums don't all sound the same, but you've never attempted to do something totally outside of your DNA. You haven't hired a bunch of pop songwriters to collaborate with or something like that.
SCOTT: Yet if you listen to Darkfighter and put it right next to Before the Fire, you'd go, "This is the same band? Really? Wow." Or if you put Feral Roots right next to the self-titled EP, you'd go, "For real, that's a very different band." But if you start at Before the Fire and go down the lineage and get to Darkfighter, I think it all makes sense. And for a band like us, we try to not repeat ourselves. We really try to make a different record every time. I would hope every artist really wants to do that. The AC/DCs of the world are very rare and I'm a huge fan but we're different. We have a lot of different musical tastes in this group and you can hear that, we have a lot of different leanings and a lot of choices we want to make and we're an evolving group of artists individually and collectively.
I don't think I had even made it through the first two songs when I texted a friend and said, "I think I'm listening to the rock album of the year." The album comes out of the gate so strong, I know sequencing is important. Did you know that "Mirrors" was going to be the first song on the album when you wrote it? Was it written to introduce the rest of the album?
SCOTT: I wrote that riff and thought, "This is going to be the riff that starts the record." That doesn't mean it's going to be because nothing was written yet and I hadn't even made a song out of it yet. My vision and the way I envision records and riffs and songs and the arc of stuff, I get my own ideas, surely and then Jay and I will put our heads together at the end, but most of the time my intuitions are reasonably close or right on.
I envisioned that song opening the record pretty early on and then let go of it completely and made a record and made a group of songs and then at the end kind of came back and went, "I still think that's what I want people to hear initially." That was before there was a big organ intro, which I came up with the idea after we had the whole record and then the song done. I went, "This is how this record needs to open up." It's different. It's that old feeling of kind of like a clearing. More than anything, it's just the opener and the closure. I can generally hear those, like, "How is the story going to open? And where are we trying to get to? And now what is the story in the middle? Where are all these twists and turns going?"
With vinyl being a big thing, does that change your feelings at all with sequencing, knowing that you have two first songs, one on side A and one on side B?
SCOTT: Yes, of course. It's a full reset. To me, side B is a proper second chapter where you might have to get up and use the restroom, get something to drink. A lot of people might want to smoke a bowl. Whatever. You're going to do your form of a reset, just take a breather. And usually there's a big breath between the two sides. Side A, I wanted to make sure that you got carried away in a very positive way as it ends with "Bright Light", and then it was a reset with that big drum fill to "Rapture" on side B putting you in a new head space.
I love that vinyl is so prevalent but it's an expensive hobby.
SCOTT: I don't buy a million records. I buy records that I know I'm going to listen to. I buy records that are particular to wanting to hear them on vinyl. I buy a lot of jazz. Of course, I'm just actually getting back around to rounding out my Bowie collection. I've got to round out some of my Zeppelin collection because I didn't go initially buy all those because I know all those records and I'm not going to put those on as quick. What I'm putting on my record player is Baden Powell, Brazilian jazz, Jorge Ben, Billie Holiday, Thelonious Monk, even Miles Davis and Sonny Rollins. I'm buying jazz and deeper world music that I know I'm going to listen to at home.
But I have a lot of rock and roll too and I will occasionally start filling that out more and more as I buy tons of garage stuff, like Sandells and Strawberry Alarm Clock and those kinds of bands.
Rival Sons has a modern sound, but a vintage sound as well. How do you accomplish that? Is it the instruments you're playing? Is it the way that you're recording? Or is it the investment and emotions in the songwriting that makes me think the album sounds like both a '70s band and a 2023 band?
SCOTT: I think "yes." I think everything you said could be the reason. I think you're going to hear that from some of the equipment that we use, some of the techniques we use to record, some of the ways that we write. And likewise, there's a myriad of modern techniques we're using to record, modern ways we're writing, modern equipment being used. I'm always looking for new stuff, interesting, cutting edge stuff that could have never been made in the '70s. That sound is so new. At the same time, I use old stuff that I just think was perfected when they came up with it. These old guitars just sound better than new guitars. These fuzz effects are just better than other ones. They're old. They nailed it right when they first did it. These amps or whatever, some of these old microphones and some of these techniques. I just like the way it sounds.
We've done the best thing we can to blend these worlds. That's how I want you to feel. I want you to feel like "I don't know what world I'm in. It feels like from one verse to the pre-chorus that I just left 1971 and I'm in 2027. I can't pick up on it, but that's cool because that's a very Rival Son's thing."
There's a ton of these new wave of classic rock bands out now. I saw you last year with Greta Van Fleet and there's other bands like that. You're weren't the first band doing that classic rock sound but you started in 2009 and now there's the Greta Van Fleets, The Dirty Honeys, the Goodbye Junes. Do you feel like you were ahead of the game?
SCOTT: I think it's an absolute fact. We paved the way for these bands. People paved the way for us, too. But I think it's very easy to directly make that correlation and go "Rival Sons opened a lot of fucking doors for these bands."
These guys have become friends. We've all become friends and we've taken a lot of them on tour. We didn't even have a chance to take the kids in Greta Van fleet on tour because they stepped in front of the line and they've actually taken us on tour. It's all good. I don't think it's up for any debate. I know firsthand that most of these guys were listening to our third record, fourth and fifth records when making their first records and we influenced them. Certainly the boys in Greta told us they were listening to Great Western Valkyrie when they were making their first record. It was big for them to go to the record store and buy that record and spin it and get inspired and make music. That's cool. I'm honored by all that. I think it's really nice.
For me, one of the greatest things in life is to find a new record and become inspired and find artists that I really love. Certainly the artists that paved the way for our band, we are so grateful and it's so bitching. But to be that for somebody else, that's a great honor. All these bands, they came up behind us and are doing great. There are a lot of great musicians out there right now.
You've toured around the globe, you've opened for some of the biggest bands in the world. Is there anything left on that bucket list?
SCOTT: Yeah, there's a lot left on the bucket list. We're always trying to get a bigger audience. It's a goal. You always want to reach people and you want to make this thing happen, this movement happen. When we have bigger audiences, it allows us more freedom, maybe more artistic freedom and more room to spread out and the opportunity to do bigger things with the art, the dreams of different kinds of shows we want to put on. To serve a bigger, better, more incredible experience for people.
When we play shows I feel very connected to the audience. I feel the audience feels very connected to us. They're very much a part of a show. I would like to continue to grow that, to feel how that feels as it gets bigger and bigger and we are able to do more and more of just how we want to present it to people. There's still a lot bigger show we'd like to present to people than we're able to do at the level we're at. And I have a family and I'd like to secure things in that way. But I think artistically we're happy we're on the right path.
We've never made any decisions based on A&R guys and record labels or management. The records you're getting are exactly the records we want to present. The art and the records and the shows are very much just what we come up with and what we want to give to you. I want to continue that. And I can't say if there's another record or two records or three records or records forever or no more records. I can't say. I don't know. I know that I'm working a record I believe in as much as any record I've ever made in my life. And the next one I'm putting out, I feel the same way about. And I'm going to play it with all the fervor and all the vim that I have in my heart and present it to people.
Lightbringer is coming out before the end of the year, is that right?
SCOTT: It's coming out in mid October.
Was the plan to do two separate records or was there ever a talk of doing it as a double record?
SCOTT: It was really one record that was made. When we set them all up and had all the tracks finished, we thought, "This is the arc that we see with the songs. This is the story that's being told." And that story ended up running closer to an hour, an hour-and-fifteen minutes, and it just felt too long. It felt like Avatar. I felt like it was a lot for people to take in all at one time. These aren't light songs. Some of these songs are pretty heavy and have layers to them. It seemed a lot easier to present it in the two parts that were easier bites and then you can digest each collection more fully.
I appreciate that. I appreciate a tight 39-minute album like Darkfighter. I also appreciate that I have time to digest that but also that I don't have to wait a year or two for a follow up.
SCOTT: The next one is 35 minutes, which is perfect. 32 minutes, half an hour. That's a great record. All those records that we love from the '70s, they're like 30, 35 minutes. That's what's on vinyl. That's what still sounds good on vinyl because as you get to the middle tracks near the center ring, vinyl degrades. The middle ring will start to get a little crispy and start to get a little blurry and fuzzy. You don't want that. So you can really put 30 minutes on an album that sounds really good. Beyond that, you start to stretch it. Ours is like 39 minutes total. That's the max cap. That's as far as we could stretch it. And my mastering agent, Pete Lyman, he's just fantastic and has done almost every one of our records. He's an aficionado and the guy that you got to talk to about this. He's militant. "You don't want to do that. This is as far as it's going to go." And we tell him, "This is going to be about 40 minutes" and he's like, "That's it. We don't want to do any more."
When I saw you on the Greta Van Fleet tour, I was struck by how the young audience treated this as an event. It wasn't a black t-shirt and jeans crowd. It was very fashionable, like the kids dressed up for the show.
SCOTT: It sounded like a Beatles show, even when we came out. It really is a great testament to the Greta fans. That's a really cool thing that they're doing. I'm certain that the band didn't even set that in motion. The TikTok fans and all the Greta Van Fleet army, those people are doing crazy fun stuff, and those shows are like nothing else that we've ever played. That's a real particular audience, and we love that. They are a great audience.
You're a bit of a fashion guy as well. How many suits do you take out on the road with you?
SCOTT: On this tour? I take different stuff every time in different amounts. Both me and Jay get suits made, and I'll get things made just for a tour. So I think on this one, I have one, two, three, four suits that I took on this run and then I have different ways to mix them up in different pieces. I can change up the jackets that aren't suits, and wear biker jackets and stuff like that. That's what I brought out here and as it continues. I'll add stuff and remove stuff.
Who's the most surprising contact you have in your phone, somebody you've traded numbers with that might blow my mind?
SCOTT: I've got a bunch of those. Here's a couple I'll throw out – I've got Bubbles from the Trailer Park Boys. He's a good friend. I also regularly keep in touch with Randy Bachman from Bachman Turner Overdrive. Isn't that great?