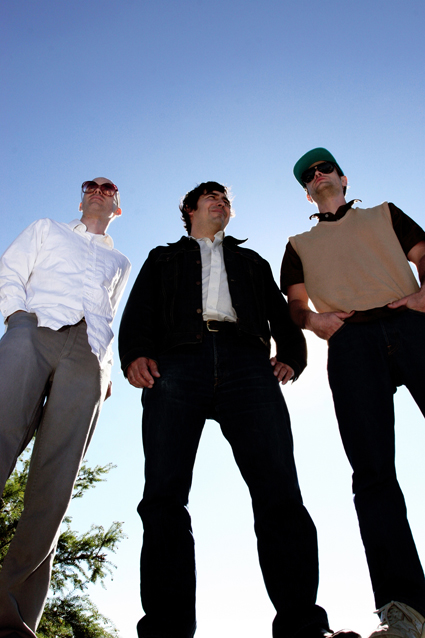 21 June 2007
Photo by Ryan Kitson
Recently I spoke with chief songwriter/front-man DEE KESLER (right) and drummer/multi-instrumentalist BRIAN (CHAVO) FRASER (left) of San Francisco's THEE MORE SHALLOWS, one of today's brightest young bands. Below are excerpts from our discussion.
Click here to read the second half of the interview.
How many dates did you guys do overseas and how many in the U.S.?
FRASER: We did about twenty-five dates in Europe and are doing about thirty in the U.S.
In broad strokes how do the audiences differ?
KESLER: Belgian audiences are ridiculously attentive and then equally appreciative after you finish each song. They were by far the best audience we've run across on a national basis. We also did well in France. In the U.S. it's always a surprise. We're guaranteed to get a handful of people who have found us through their own research, maybe not even been marketed to, that are just really dedicated music listeners.
We spend a lot of time in the van trying to figure out who they are. They are very serious, very earnest and really really appreciative. Wherever we go we get those people. But then whoever surrounds them in the night is just really variable.
Any U.S. cities stand out?
KESLER: Chicago was really great and Boston was wonderful. And Brooklyn was really nice.
Who are some of your biggest influences?
FRASER: Some of the bands that all three of us can agree on include our ANTICON label mates WHY? .
KESLER: "Elephant Eyelash" is an amazing record. Just so much energy and amazing lyrics. If you're into lyrics he's one of the best lyrical voices I've heard.
FRASER: DEERHOOF's Friend Opportunity is a great record. (See interview by BT blogger JOHN DAVIDSON – part one – part two.)
KESLER: In terms of influences, before we record we talk more about tempos, beats, instrumentation, certain colors and whether it will be abrasive, smoother or wet or dry. I listened to a lot of Krautrock before making the new record (Book of Bad Breaks, released in April). A lot of Motorik beats and driving beats. A lot of NEU! and definitely FAUST and CAN.
On the new record we wanted more of a propulsive beat to carry it through but then you get these washes of sounds that come in over it that are kind of incongruous. So it seems like a collage but has this constant insistent thing behind it.
I think the first twenty minutes of your new record is plain brilliant. It's just that good. Tell me how you went about constructing the record?
KESLER: It was pretty planned out. But we had a lot of conversations about not taking our time to develop things very methodically but to have them happen fast. We knew when we wanted things to happen. But they would have to make sense within the overall narrative.
We talked about having faith with what sounds good and going with it. In a digital medium you can keep everything. It's totally paralyzing. I have friends who say, I have twenty-thousand different plug-ins and I can make my guitar sound like a bell or a bird and I'm like you just have to pick one and go with it or else you'll never make anything.
But also there was a lot of talk about let's push some buttons and make some noises and stop playing and let some feedback happen and see what it sounds like. If we don't like it we can erase it but if it sounds good we could leave that.
We'd say there needs to be an explosion here, there needs to be a reversal. There needs to be something that turns on its ear here. But what that's gonna be and how it's gonna be made is kind of up to the equipment and up to trial and error — mostly error — and letting error stand when it sounds good.
It's very important that the songs relate to one another and move into one another in a way that makes sense. The parts when there's no singing and it's not a song per se are just as important as the actual songs.
What are your three fave TMS songs?
KESLER: "Where are You Now?" off the first record. "Monkey Versus Shark" off the EP. It's hard to pick a third but one that people have been liking and hating is "Chrome Caps." I just love that weird sound palette and JASON (GONZALES) just made it in this really counterintuitive way. I tend to do a lot of the compositions and that's the one track where I literally played one bell on. This is the first time that I've ever said, okay this is perfect. I'm not going to touch it.
FRASER: I really like "He Hate Me" from the first record. I had nothing to do with that one but really liked the narrative to it. I also really like "Knight School."
The drumming is fantastic on that!
KESLER: He and I worked our asses off on that. Brian had kept making this thing where the beat would start ahead of where you'd think it'd start. That's probably the best work he's ever done on a record.
FRASER: I really like "Perfect Map." And the song I'm most proud of at least so far as the drumming goes is "Ava Grave."
What do the graves in the song refer to?
FRASER: In Brighton, Sean asked if it was about ethnic cleansing.
KESLER: I think it might be. I have no idea. The way I generally do it is a four bar verse will come to me out of nowhere and then I try to figure out what it's saying. Then I'll write to the end of the song and then realize it's saying something else and I'm not quite sure. It's basically like a term paper. It has to all make sense within itself. But beyond that I don't know what it's saying. It's like a crossword puzzle.
It has its own inner logic.
KESLER: I don't speculate. I feel like I'm as much in the dark as other people.
Click here to read the second half of the interview.
Thee More Shallows MySpace page
My review of Book of Bad Breaks
My review of A History of Sport Fishing