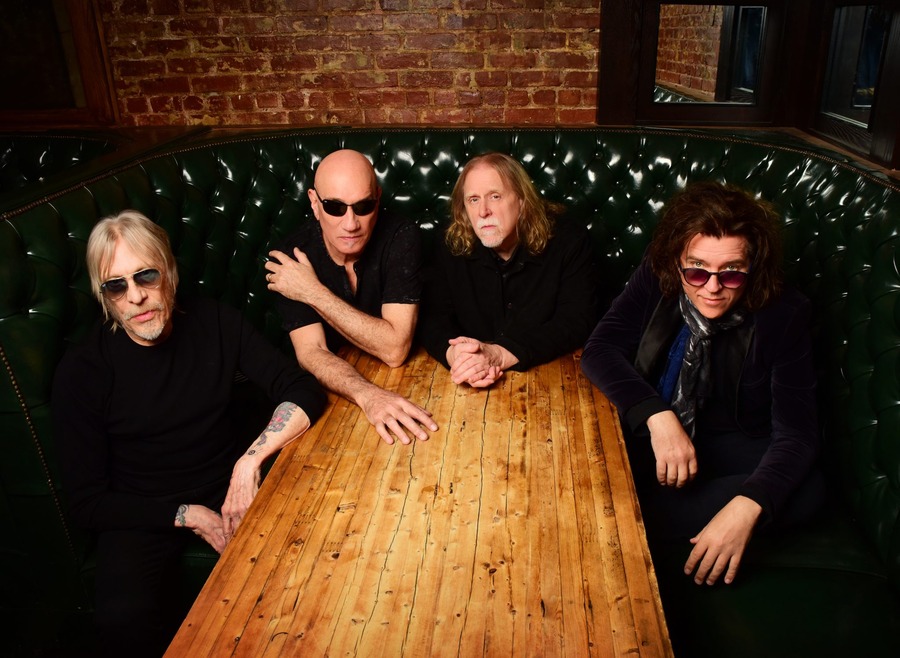 13 July 2023
For a band that burns many road miles, Gov't Mule found itself in an unusual position during the Covid lockdown that started in 2020. Unable to tour, Warren Haynes and the band began writing music for what was intended to be Mule's 12th studio album and not only did they finish that album (2021's Heavy Load Blues) but they concurrently wrote and recorded Peace … Like a River which was released earlier this summer. While Heavy Load Blues sounds like it's title, Peace … Live a River finds the band performing their familiar classic rock-meets-jam band blues-influenced numbers, as much Deep Purple as Allman Brothers in the dozen tracks that make up the record.
With touring life returning to normal, Gov't Mule has a summer's worth of tour dates booked and will be focusing on the final run of Dark Side of the Mule dates (July 22 – August 20) before getting back to regular sets.
On the opening night of the band's June tour in Oregon, Haynes joined me via Zoom from the backstage dressing room to talk about how he discovered music as a kid, the reason a band with a deep catalog continues to write music, and how guest vocalists were chosen for _Peace … Like a River_>.
You've got me by a little more than ten years. So I want to know, what was it like growing up and being able to hear albums by Led Zeppelin and Pink Floyd and The Doors and The Beatles coming out for the first time?
WARREN: Well, I had two older brothers. One is three years older and one is five years older and they both have amazing taste in music. So when I was growing up, there were all these great albums at my disposal. They both collected vinyl and one of my brothers went on to open up his own record store, which he still continues to this day. Since they had such great taste, they would kind of force feed me the best stuff.
So I was exposed to a lot of great music at the very beginning. When I was really young, we were listening to mostly soul music. We were hearing The Beatles and The Stones, but we were mostly hearing The Four Tops and The Temptations and Otis Redding and Wilson Pickett and Sam and Dave and Aretha Franklin and Stevie Wonder and that kind of stuff.
And then my oldest brother brought Sly and the Family Stone into the equation and I loved that. And then it wouldn't be too long until we were hearing Hendrix and Cream and Johnny Winter and that was the stuff that made me want to pick up a guitar.
When I first heard Dark Side of the Moon, I was probably 13 or something like that. There was a bass player in my hometown that had the record and turned me on to it. And I knew even at that young age that there was something going on beyond most of the music that I was listening to.
But I was also fortunate that between my two brothers, they included so many genres of music. My oldest brother listened to a lot of jazz, a lot of Sonny Rollins and Cannonball Adderley and Miles Davis and John Coltrane. But he also listened to Howin' Wolf and Elmore James and Muddy Waters. And my other brother listened to B.B. King and Albert King, but was also listening to Bob Dylan and Joe Cocker and Traffic. From a young age, I got a sense of what it's like to like a lot of different types of music.
I always wonder what it would have been like to buy a Led Zeppelin record brand new and hear a Led Zeppelin record for the first time.
WARREN: It was incredible. I remember when the live Led Zeppelin record came out and a friend of mine who was DJing on the local college radio station had just gotten the Song Remains the Same and he asked, "Have you heard the live version of 'Dazed and Confused'"? I said "No." And he said, "We have to hear it." And of course, we were a little under the influence and listened to that for the first time and I just had never heard anything like it. But, I was already, at a young age, going through a phase where I listened to a lot of pretty heavy music.
One of my brothers had Black Sabbath albums, and I would hear that stuff because we were buying singles and they were $0.77 apiece for two songs. When I got enough money to buy my own album, I asked my oldest brother what I should buy and he told me to buy Alice Cooper Killer and Jethro Tull Aqualung. So those are the first two albums that I purchased with my own money.
And you probably still listen to them to this day because of that sentimental connection, right?
WARREN: They both are embedded in my brain, for sure.
The first time I heard your new album, I wanted to give myself the time and space to listen to the whole thing rather than a song here and there. And, what I discovered is that it's a really solid album from start to end. Even the songs that make up side D of the vinyl version are as strong as the opening songs.
WARREN: Well, thank you. It's very important to us to put together a sequence that we want people to experience the record in. And I love the way it starts and the way it finishes. A lot of people ask why we worry about that so much. Nobody's going to listen to it that way. Well, some people do and a lot of our fans do. And we should at least give them that opportunity.
When I close my eyes while listening to the album, I am just imagining hanging out in my backyard, maybe with something on the grill and something cold in my hand. It's a very summer-sounding, outdoors album to me. Were you intended to release it in the summer or is that just how the schedule happened?
WARREN: I think it was just the best overall choice based on when we could tour. But I do agree that it's a good summer-feeling record. It's also a good record to drive your car to.
You're at a point in your career where you don't need to record new music. You've got a deep catalog and could go out and play shows and not have to stick to the same set every night given all the albums you've already put out. Do you put out new music because you've still got something to say and/or have a burning desire to create something new?
WARREN: Yeah, I know in the case of a lot of artists and bands, especially from the classic rock era, so to speak, their fans aren't as open to their new stuff as they are to the stuff that they grew up with. Luckily, with Gov't Mule, our fans seem to really embrace new music and are really looking forward to the new music. But for me, I would feel like I have to do it regardless, just because as long as I'm inspired to keep writing and performing, I'm going to want to do new material.
I do love the fact that we can choose from twelve studio albums worth of stuff, and our set list varies on a nightly basis, so whatever show you come to, you don't really know what you're going to get.
This year, we'll be doing a lot of new material, but we'll also be doing stuff from each period of our career. And that's one of the things that keeps it fun for us and for the audience as well, because I don't think people are going to want to keep coming back and coming back if you're playing the same 15 songs night after night.
I saw The Who last year, and midway through the set, they introduced a new song and 25% of the audience got up and went to get beer and go to the bathroom.
WARREN: Yeah, and that's unfortunate, but I understand it as well. I remember Paul Simon said a long time ago in an interview that the music that we love in our most formative years is the music that will stay with us. And that's usually when we're 13, 14, 15, 16 years old. That music, whether it remains your favorite or not, it's still in your brain. And, for me, it started even earlier, because, thanks to my two older brothers, music was in our house all the time, all day, every day.
So, as an example, my oldest brother had the first Allman Brothers record in 1969. I was nine-years-old but I was listening to it because they were listening to it and I loved it.
Did I read correctly that this summer run of Dark Side of the Mule dates will be the last time you specifically do a set of Pink Floyd songs as part of your show?
WARREN: Yes. We had kind of decided that we weren't going to do it anymore. And then somebody reminded us that this is the 50th anniversary of Dark Side of the Moon. And we thought, "Okay, let's do it one final time." It's a blast. We love doing it, but it never was intended to be something that we did a lot. It started out as something to do on Halloween in 2008 because every Halloween we do a special thematic show where we give ourselves permission to do another band or artist material.
We've done albums like Who's Next?, Led Zeppelin, Houses of the Holy. We've done 90 minutes of Hendrix. We've done 2 hours of Neil Young. We've done Black Sabbath Paranoid. We've done all sorts of stuff.
We decided in 2008 to do a Pink Floyd show. And the audience really latched onto it and kind of demanded for us to do it more. So we released the recording, which we weren't intending to do, and it just kind of turned into a thing organically, which is probably the best way.
It's so interesting to me how well your style of music works playing that music. It sounds so natural and good and almost like you wrote it.
WARREN: Well, for us, we're kind of finding a balance between interpreting it our way and paying homage to the original versions. So on a song by song basis, we kind of reanalyze that concept. Some of them we take a little further toward the way we would do it, and some of them we kind of leave alone. But we have so much reverence for that music that we don't want to take it too far away.
There are absolutely days where I will proclaim that "Shine On You Crazy Diamond" is the best song ever written.
WARREN: If I had to choose, it would definitely be a contender. It's a fantastic song.
Jason Bonham is doing a lot of these dates with you and doing his Led Zeppelin Evening. That's going to be a great night of music for those who get to see it.
WARREN: It's fantastic. He has a really great band. And then we do a set of Gov't Mule songs that kind of transitions into Dark Side. For people that don't know, Dark Side of the Mule is not just Dark Side of the Moon, it's other Pink Floyd stuff, too. And we don't play every song from Dark Side. We play stuff from Wish You Were Here and Animals and even some of the early stuff sometimes.
How difficult is it for you to tour these days due to the cost of everything going up?
WARREN: When people complain and bitch about inflation, the music business got hit really hard. Hotels are more expensive. Buses are more expensive, fuel is more expensive. And sometimes we'll travel eight or 10 hours after the show. We have two buses and two semi trucks. That's a lot of fuel for the cost to be doubled as a major expense. And we try to not pass that expense along to the ticket buyer. So it is a challenge, but there are ways of dealing with it. But it is a complaint for sure.
Would you say you're road dogs more than a studio band?
WARREN: Well, I really enjoy making studio records. If I had to choose, I would choose live performance, but thankfully, I don't have to choose. What we're trying to capture in the studio is what we know we can do on stage. And it's thankfully due to having an audience that not only gives you this amazing energy, but encourages us to kind of go off the cliff a little bit. Our crowd loves it when we experiment, when we improvise, when we don't know where we're going to wind up. We're fortunate to have an audience that loves that, and we're not scared of making mistakes because our audience kind of embraces that. So it's a wonderful thing.
You professionally record all your live shows and make them available for fans to purchase almost right after the show is done.
WARREN: From the very beginning, 1994, when we started Gov't Mule, we allowed tapers to come in and record the shows as long as they didn't make any money off of them. We encourage them to tape and trade the tapes. And I guess around 2004 we started a thing called Mule Tracks, which is our recording of the shows, which are very high quality and we make them available to the public. So even our worst nights are available along with our best nights. But we're kind of used to that after all these years.
And that's got to be a decent source of income for you.
WARREN: Yeah, the downloads and the streaming are quite a source of income for us. We're into millions of downloads through the years, and the only reason it's successful is because we do a different show every night. If it was the same show night after night after night, nobody would have any reason to want it. We take a lot of time and effort to make sure that they sound really good.
You recorded two albums at the same time. Did lockdown give you the luxury of time to record those albums or were you on schedule to record them anyway?
WARREN: I mean, we were due to make a record. We probably wouldn't have done two records but starting with the fact that lockdown gave me all this time to write music, I had more time to write than I've had in a really long time. I accumulated a lot of material that I wanted to go immediately into the studio and record. And since the whole lockdown thing was such a challenge for us because we couldn't travel, we couldn't tour, we couldn't perform on stage, so spending a lot of time in the studio was the way of maintaining some sort of creative process and keeping from going crazy.
You had a lot of guests on the record. Had you already handpicked those people to be on the record or did you feel like maybe the songs needed a little something extra and reached out to your friends to help?
WARREN: When I was writing the songs, I wasn't thinking about guests until we got into rehearsing and arranging. Once we got into the studio and we started hearing the stuff back, I got to thinking, "Oh, it would be cool to have so and so join us on this."
In the case of Billy Gibbons for "Shake Our Way Out," that song has a lot of ZZ Top influence, so it was kind of an obvious choice. And he and I have worked together a lot. He appears on one of our other records called By a Thread. We stay in touch. So I thought it would be really nice to have his presence on the album.
Billy Bob Thornton and I have been friends for a long time, but never done anything in the studio until now but I felt like I had written a song that I wanted to hear the verses talked or spoken instead of sung and he just has one of those great narrator voices, and so I reached out to him to be part of it.
Celisse, I've only discovered in the past few years, and I really love her playing and singing. I was looking for a female gospel voice to kind of counteract my voice, on "Just Across the River," and she was perfect for that.
With Ivan Neville and Ruthie Foster, they had both worked on my Man in Motion record, which is a solo record I did a few years back. I love the way our voices blend together, but I also love their voices as lead vocalists. So I had kind of thought about Sly and The Family Stone, which takes us back to early influences, how on those records one person would sing one line, and then another person would sing a different line, and then Sly would sing a line. I thought it would be kind of cool to take that approach for that song and they just really brought it to another level.
Do you keep up on what's going on in music? Do you try to check out new artists?
WARREN: Well, I try to. I'm usually behind. I'm never listening to something as soon as it comes out unless somebody tells me to check something out. But I do try to stay open minded about as much new music as possible. And unlike some previous decades, I think there's a lot of cool stuff going on now so I'm trying to make myself aware of it and not to be influenced by it, so to speak, but be influenced by where it comes from, what inspired it. When I hear Celisse, I think she obviously listens to some modern music, but she's also listened to Sister Rosetta Tharp and Aretha Franklin and all the great soul and gospel singers that came before but is blending it together in a fresh, new sort of way. And that's what I like to hear as somebody that has one foot in the past and one in the future.
Gov't Mule 2023 Tour Dates
July 22 – Atlantic City, NJ – Hard Rock Live at Etess Arena *
July 23 – Patchogue, NY – Great South Bay Music Festival ~*
July 25 – Pittsburgh, PA – Stage AE *#
July 26 – Columbus, OH – KEMBA Live! *!
July 28 – Saratoga Springs, NY – Saratoga Performing Arts Center *!
July 29 – Bethel, NY – Bethel Woods Center for the Arts %
July 30 – Darien Center, NY – Darien Lake Amphitheater %
August 2 – Clarkston, MI – Pine Knob Music Theatre *
August 3 – Noblesville, IN – Ruoff Music Center *
August 4 – Tinley Park, IL – Hollywood Casino Amphitheatre *
August 5 – Council Bluffs, IA – Stir Concert Cove – Harrah's Council Bluffs *
August 7 – Morrison, CO – Red Rocks Amphitheatre *
August 9 – Dallas, TX – Dos Equis Pavilion *
August 11 – Charlotte, NC – PNC Music Pavilion *
August 12 – Atlanta, GA – Cadence Bank Amphitheatre at Chastain Park *
August 13 – Cincinnati, OH – PNC Pavilion at Riverbend Music Center %
August 15 – Bridgeport, CT – Hartford HealthCare Amphitheater *
August 17 – Gilford, NH – Bank of New Hampshire Pavilion *
August 18 – Boston, MA – Leader Bank Pavilion *
August 19 – Holmdel, NJ – PNC Bank Arts Center *
August 20 – Vienna, VA – Wolf Trap *
September 16 – Fredericton, Canada – Harvest Music Festival ~
September 21-23 – Lewisburg, WV – Healing Appalachia ~
October 6 – West Palm Beach, FL – iTHINK Financial Amphitheatre %
October 7 – Tampa, FL – MidFlorida Credit Union Amphitheatre %
October 8 – Orange Beach, AL – The Amphitheater at The Wharf %
October 15 – Columbus, GA – RushSouth Fest ~
December 29 – Philadelphia, PA – The Met
December 30 – New York, NY – Beacon Theatre
December 31 – New York, NY – Beacon Theatre
~ festival appearance
+ with The Avett Brothers
% Outlaw Music Festival dates
Dark Side of the Mule dates
! Gov't Mule only/No Jason Bonham's Led Zeppelin Evening