27 February 2012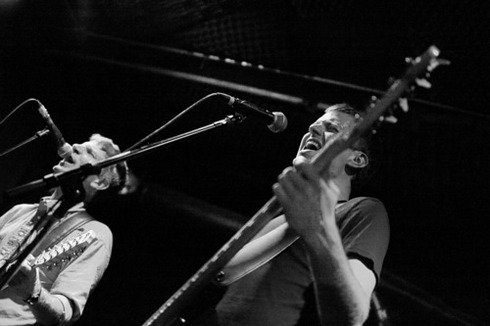 I recently was turned on to some great Texas power pop from a review I read in Issue 69. Listening to the sharpened jangle pop of The Blurries was a revelation. It made me feel like a kid again as I remembered some early power pop that blew my lid off. "Little Marie" may be one of the best power pop tunes I've heard in decades. The band's guitarist, Joey Shanks, kindly agreed to an interview, and it is my pleasure to present this Q&A with him.
Let's talk a bit about what came before, as in Limes and Slider Pines, and how you came to form The Blurries. How many years did you do the Tennessee-Texas commute?
JOEY SHANKS: I've been in Texas for awhile. The Limes was my first real band I formed with a good friend when I first moved to Dallas. We were a watered down alt/rock band. We had a revolving door of drummers. I think we had more drummers than good songs. Like a lot of young bands, we wanted to be a big deal and wasted a lot of time second guessing each other on how to do that. After a failed western tour, I quit and moved back to Memphis.
When I couldn't get anything going there, I returned to Texas and started Slider Pines with Bill and Andy. We never knew what we wanted to sound like. As a result, we were undercooked. Rather than tear the band apart, the three of us started forming our idea for the Blurries at rehearsals and after shows where we were confronted with how boring we were.
When you watch people walk out of your shows over and over again, you either quit or change. Everything we like about the Blurries is born from what we were doing wrong as Slider Pines. Even now, we use that band name (which is god-awful) as a reverse rally cry for doing things better, or just differently.
Can you tell me a bit about your friends in Old Snack?
JOEY SHANKS: We've been fans of Aaron White, the Old Snack songwriter/frontman, for awhile. He had a band a few years ago called Current Leaves along with Grady Don Sandlin (who is the drumming half of the great art/blues duo RTB2) that we all liked. We've been following what Aaron does ever since.
Old Snack is a rowdy, garage pop three piece. It's a perfect format for Aaron's smart pop songwriting. Don't let his sense of humor fool you. He writes really great stuff and gets a lot done in a very short amount of time. If it were easy doing what he does, everybody would do it.
Do you all have day jobs and do this in your off hours, or are you pursuing music full time? You all are fantastic musicians, and I could totally see you going for the musical brass ring.
JOEY SHANKS: Ha! You're too nice. Thanks.
This band is something we do in our off hours, but we certainly daydream. None of us is waiting for lightning to strike, but we wouldn't work so hard on the music and live show if we didn't hope for more. My dreams are simpler now- getting a song placed in a commercial seems like the new brass ring to me. Having a bigger artist cover one of our songs and bring it to a larger audience would also be a way to jumpstart our career, in my opinion.
Please describe the creative songwriting process.
JOEY SHANKS: I write the songs and bring them to Andy and Bill. We get the bed of drums, bass, and 12-string going, and then Andy and I flesh out the other parts. Since we haven't had our current lineup while building songs, Matt and Kevin haven't been a part of this yet. It'll be interesting to see how we change with them involved.
I see you're playing the *Denton Festival *in March with a number of big names. Is this your first festival? It could be great exposure for you.
JOEY SHANKS: Yes, it's our first festival. It should be fun to play, but, really, I'm looking forward to hearing all the bands. It's a really solid lineup.
Have any of you played SXSW, or have any desire to play there?
JOEY SHANKS: I think most of us have been down there in one way or another, but we've never played as the Blurries at SXSW. We didn't submit an application this year, but I'm sure we will next year. We'll be in Austin shortly after SXSW, though, playing with another great Texas three piece, our friends, Leatherbag.
How about gigs outside of TX?
JOEY SHANKS: None yet. Our main goal for the rest of the year is to get out of town as much as possible to support the album.
Do you wield the 12 string, or is it Matt? You incorporate it beautifully into the mix, and I can hear it on "Pulling Teeth", which evokes one of my favorite 80's bands, The Rain Parade.
JOEY SHANKS: I play the 12-string. Every song on the record has a 12 on it, although I'm not sure our songs are as jangly as we seem on paper. I might have too much residual alt/rock flowing through my veins.
Matt joined as we were finishing the album. He played on "For The Night" and did the solo for "Pulling Teeth", but most of the lead work on the album is Andy with me chipping in here and there.
"Emergency Third Rail Power Trip" is a great record. I can hear "You Are My Friend" in Andy's wirey lead line on "Pulling Teeth". It really compliments my 12-string part, and helps the song get close to that Rain Parade vibe.
"Wintertime Blues" is first order chamber pop mashed with medieval folk. It's kind of like what The Beach Boys would have sounded like if Fairport Convention or Midlake backed them up. It's strikingly different than your fast moving pop tunes. Can we expect more in this vein? You do it so well.
JOEY SHANKS: "Wintertime Blues" and "Paper Cuts" were the last songs we tracked. Those were written specifically to help the flow of the album- to break up all the fast paced numbers. Both songs are very vocal heavy, which is where we want to go with our next batch of songs. I'd like more vocals in the future snappy pop stuff too. It's time consuming to write that way, and a real pain to execute live, but I love doing it.
"Jumping Up and Down on the Ice" has those cool, treated vocals. How do you achieve that effect?
JOEY SHANKS: That is the sound of a Leslie 330 cabinet. Casey DiIorio, our producer, made that happen. We tracked it effected, rather than treat it after the fact.
Singing with an odd signal chain can be very forgiving for a singer- the effect does the work for you. Once Casey got the sound, it didn't take long to sing, as opposed to most of the other songs, where I would sing for days.
Any favorite covers you like to trot out? Because I could totally hear you cranking out "Shake Some Action" , "Teenarama" or any of the Paisley Underground material and making it your own.
JOEY SHANKS: We play a few covers now. Andy built a version of The Byrds's "So You Want To Be A Rock and Roll Star" that is insanely fast. I think it clocks in at under 2 minutes. We tinker with some Bowie, Big Star, and even a Bill Withers tune, too.
Old Snack covers The Flamin' Groovies' "Please Please Girl" really well, so we stay away from that out of respect. I'd love to cover quite a bit of material from the Paisley Underground era, or really anything from any of the Nuggets box-sets. For the record, every 4th of July, we do a mean cover of Neil Diamond's "America".
I hear there's at least one Let's Active fan in the band; I used to be in their fan club. Mitch is still active as a producer; would you ever consider working with him? I think you'd be a good match.
JOEY SHANKS: I'm the Mitch Easter fan in the group. I didn't know he had a fan club. He definitely deserves one! I go back and listen to "Cypress" frequently. I think that album has aged really well.
As for working with Mitch Easter? Are you kidding? Where do we sign up? I would gladly do his laundry for a year if he would even consider it. As great as a guitarist and songwriter as he is, he's just as brilliant producing. Pavement's "Brighten The Corners" is a great sounding record. He's definitely a hero of mine.
"Paper Cuts" is obviously a labor of love, made for the sheer joy of it and not caring if it catches fire (though it really should). Was that the intent?
JOEY SHANKS: We intended for everyone to love it! It's hard for me to imagine it catching fire with the state of popular music today. Hopefully, people will find us and follow what we do in the future. We like it, so that's the way we measure success. Choosing to measure it any other way is pretty depressing.
Photo taken by Jim Riddle.