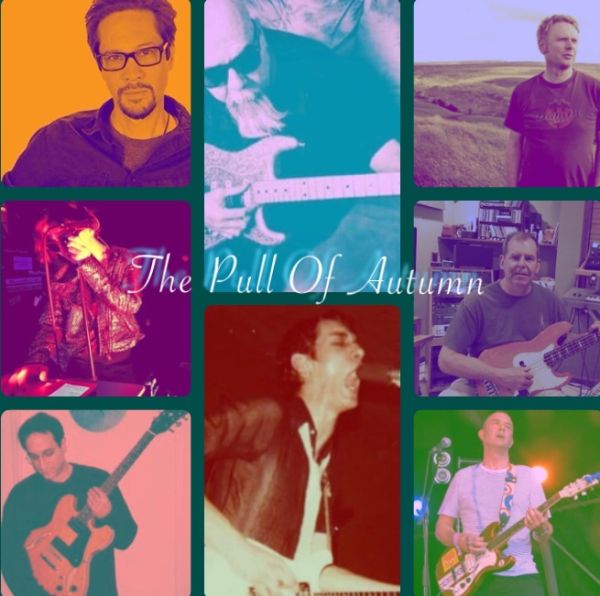 26 June 2019
The Pull of Autumn – collage courtesy of The Pull of Autumn
Boston-based art rock collective The Pull of Autumn has announced their second album, Afterglow, to be released in late July via Boston's RBM Records. This 15-track offering follows up their debut eponymous album, released in 2018 on the same label.
The painting featured on the cover artwork was created by James Johnston, founder of Gallon Drunk and also a former member of Nick Cave and the Bad Seeds and recording and touring artist with PJ Harvey, Lydia Lunch, Ulan Bator, Barry Adamson, and Faust.
Ahead of this release,The Pull of Autumn present "Not Coming Down", which is essentially a collaboration between Daniel Darrow from Johanna's House of Glamour and Luke 'Skyscraper' James, frontman of British new wave pioneers (and I.R.S. recording artist) Fashion.
This track is such a gem – like the sonic lovechild of The Cars and Talking Heads with a contagiously frenetic Bowie-esque backdrop. This sound would not be out of place in any decade from the '80s until now. A genuine and welcome earworm!
The atmospheric track swirls with a flurry of extended and heightened lines that sound like symphonic strings, as well as a grittier rock guitar bottom. The drum beat and shaken percussion are subdued, but determinedly marching forward as Luke 'Skyscraper' James cuts through the thick ambiance with a heavily enunciated, sing-talking vocal tone.
A 'super group' of sorts, The Pull of Autumn also involves numerous other notable musicians from the Boston/Rhode Island music scene and beyond: Fred Abong, founding member of Belly with Tanya Donelly and early member of Throwing Muses; James Rao (Orange Cake Mix); Stewart Anderson (Boyracer); Apolonia (Seasurfer); Richard Vincent Adams (Hood, The Declining Winter); Bruce MacLeod (Johanna's House of Glamour, Underwater Kites), British singer Mina Hunt, Jeanne Batting (Spindle Shanks), pianist Maria Kuznetsova, and Matthew Darrow (The Woods Decay and Fall).
Afterglow represents a progression from the collective's debut offering. The recordings are far more fleshed-out, the tracks more varied and with many more musicians on board. This one twists and turns into a lot of different sounds and voices, with all contributors bringing their voices and vision to the music.
"This album is really exciting to me as so many other musicians have reached out to contribute to the new music. All of the artists on board have been playing and releasing music in their respective bands for some time now. Luke Skyscraper James is a brilliant songwriter and I'm glad to have him on board. This album to me is just an amazing moment in my life as a musician. I love all of these tunes," says Daniel Darrow.
"Afterglow has given me the experience of creating with other like-minded artists too. Just folks who love creating and have Little regard for popular acceptance on any level. These musicians create out of love of the love of making music. Take Stewart Anderson of Boyracer as an example. He's been playing and releasing music from Boyracer and other bands for over 20 years, all in the spirit the musicians share."
"The Pull of Autumn has moved forward with trying to incorporate even more genres into our music. One of my goals as a musician is to blur the line from genres and style into just music. I think we have grown in our ability to surprise the listener. There are several curveballs on this album."
On July 24, Afterglow will be released via online stores and streaming platforms, and will be available for pre-order via Bandcamp.
TRACK LIST
1. Injure the Swallow
2. Trouble Time
3. Distance
4. They Went Up
5. Haunted by the Rain feat. Hood
6. Not Coming Down
7. The Stars or The Jungle feat. Underwater Kites
8. Crack the Red feat. Boyracer
9. Sitting by the Window feat. Underwater Kites
10. Sacred Ground
11. Equinox feat. Fred Abong
12. Colder House feat. Hood
13. Stained Glass Windows feat. Orange Cake Mix
14. Hey America!
15. Wallow feat. Apolonia
Also check out their debut album:
And video for "Vanishing Spell" feat. Fred Abong, off that same album:
The Pull of Autumn
Bancamp
SoundCloud
Facebook
RBM Records
Website
Facebook
Twitter
Discogs