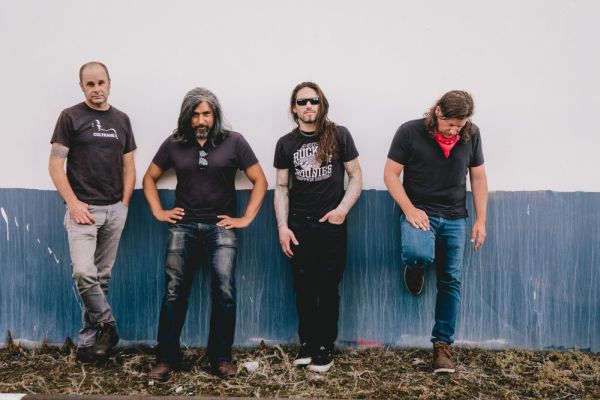 29 September 2020
OurDeadFathers – Photo Credit: Jake Hansen/TrulyBogus
OurDeadFathers is many things at once: A multi-dimensional moniker for a band and their dearly departed parents; a blunt theological reference; and a sweeping nod to a collective past. Most of all, it is a reminder about life.
The Seattle-located group is composed of regular bandmates mixed with guest stars, including Christopher Michael Meyer (vocals, guitar) Randall W. Payne (drums), Dan Infecto (bass), SE Sharma (guitar, vocals), and Robert Lee Mitchell (keyboards).
Their new album, OurDeadFathers ll, comes out on October 9th after the most culturally tumultuous summer of memory, and seems designed to quench a longing for rooting, finding meaning beneath the hot sands of everyday chaos in this savage season. The LP follows up debut album Picture the Moon and works as a healing balm during our chaotic and troubled times.
OurDeadFathers ll was produced by Sharma with the band, recording at Seattle's RLM Studios. The full length combines both the free jams of more harmonious underground psych-rock with the tough, focused center of an '80s stadium anthem. The organic elegance of the band's song-craft is richly evident through the LP.
The main aesthetic concept of the band's new album is the purposeful and connected cycle of life. Meyer reveals, "This is the framing of a completed cycle… a cycle that is my life's felt purpose and one form of [a] personal power generator [that] I rely on to give me a positive sense of self. That I contribute something to this existence that makes people feel connected. The creation of music that is enjoyable to a listener and carries a message that finds a mutual connection for the listener."
Big Takeover is pleased to host the premiere of passionate, but ruminative album opener "On Windowsill," a song that poignantly describes arriving at those fleeting moments of life's random beauty experienced by every individual; the glory of everything from a sunny day to a flower, or a singing bird, or the ringing of a bell.
The song flows like a meandering stream at twilight-time, driven by Western noir guitar reverberations and heartfelt vocals, and flecked by a jazz-imbued rhythmic pace.This ode to ontological freedom possesses a bittersweet power in its dark, but melodic threnody…
Website
Facebook
Twitter
YouTube
Spotify