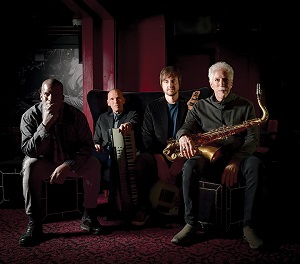 21 July 2022
Photo Credit: Roberto Cifarelli
Over four decades into their existence, veteran jazz fusion combo Yellowjackets deserves to release a track called "Resilience." Originally formed in 1977 to back blues/jazz guitarist Robben Ford on his first solo album, the quartet spun off into its own thing with its self-titled debut in 1981, and hasn't slowed down since. Currently comprised of keyboardist/founding member Russell Ferrante, thirty-two years-tenured saxophonist Bob Mintzer, veteran drummer Will Kennedy, whose two stints add up to twenty-four years, and bassist Dane Alderson, the latest in a line of low end marvels, Yellowjackets continues its established tradition of accessible melodies, keenly crafted arrangements, stunning musicianship and improvisational flair with its upcoming album Parallel Motion.
After a pair of collaborative records, including 2020's Jackets XL with Köln's acclaimed WDR Big Band, the group decided to get back to basics for its twenty-fifth album (and seventh for Mack Avenue). Entirely composed and performed by the quartet, with the exception of guest vocalist/lyricist Jean Baylor's appearance on "If You Believe," Parallel Motion maintains the standards of quality set back when the band started. As Mintzer notes in the press release, the new work "represents the commitment to stay together and keep moving forward. It's really about this four-cornered square that functions no matter what. With each record, all four of us are on the hunt for new ways to put the notes together. The music keeps growing. The focus is this band. A clear, identifiable sound. Four equal parts."
A perfect snapshot of the album's intent, the Mintzer-penned "Resilience" features the band's usual blend of catchy riffs, offset harmonies and foot-tapping rhythm, proving the band as strong as it's ever been. Check out the Big Takeover premiere below. The song releases to all DSP's tomorrow, while Parallel Motion comes out on August 26.