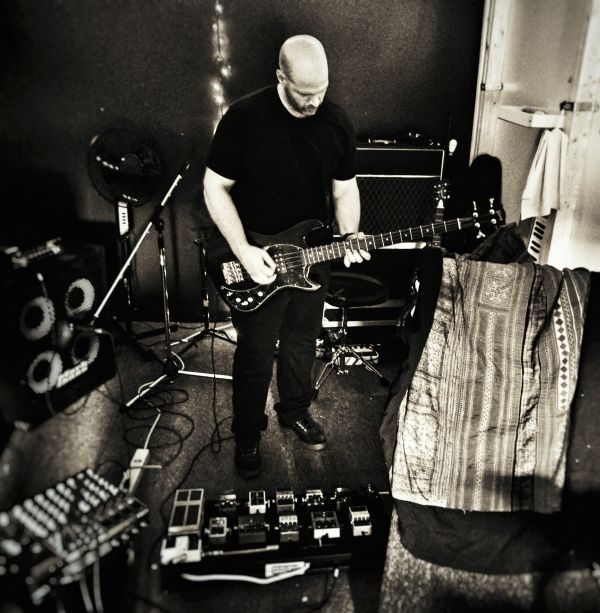 6 January 2021
REPO – Photo Credit: Tom Jarvis
Montreal-based instrumental shoegaze entity REPO is the solo experimental side project of musician Richard Bunze, who is also the bassist in cosmic Krautrock band Room Control and the guitarist in New Wave rock outfit The Ember Glows.
The music of REPO consists of guitars, bass, and minimalist synth drones to create widescreen cinematic soundscapes. The sound is influenced by material by such luminaries as Slowdive, The Cure, Interpol, and Depeche Mode, while also tipping the hat to the synthwave '80s of the Blade Runner soundtrack.
Bunze recently released his 6-song debut EP, The Lines In Between, via independent shoegaze/post-punk label Velouria Recordz.
Big Takeover is pleased to host the premiere of the relaxing video for Bunze's calming second single, "Canyon."
"Canyon" is a sprawling, cinematic, and texture-filled number that centers around a reverb-drenched bass line and a multitude of improvised ethereal guitar atmospheres.
The video clip unhurriedly moves through various canyon-like views, from green hills and valleys to snow-covered moutnaintops and deep crevasses, and dry desert craters, all imbued with the healing touch of nature
Bunze reveals, "Mental pictures of a place or locations always come to mind when I'm creating music. The main bass line for this track immediately made me visualize majestic, wide open natural spaces, much like the name suggests."
"Inspired by influences as we are, for this track I suppose I was drawing from the spirit of the more melancholic and cinematic side of Daniel Lanois, and certain elements of Neil Young, circa 'Dead Man OST' era. And amazing to be once again working with videographer Guillaume Vallée, who did an incredible job at providing the song with a mesmerizing and very creative visual aesthetic."
Video artist Vallée comments, "For this video, I wanted to work with still images of canyons. I found the track ''Canyon'' inspiring and quite trippy and soft, like some sort of a wandering walk across mystic lands. We enter each picture slowly until we reach its limit. To get this visual aesthetic, I used S-VHS to obtain this specific analog grain. A much needed safe audiovisual trip."
Bandcamp
Facebook
Instagram
YouTube
Velouria Recordz Website
Guillaume Vallée Website