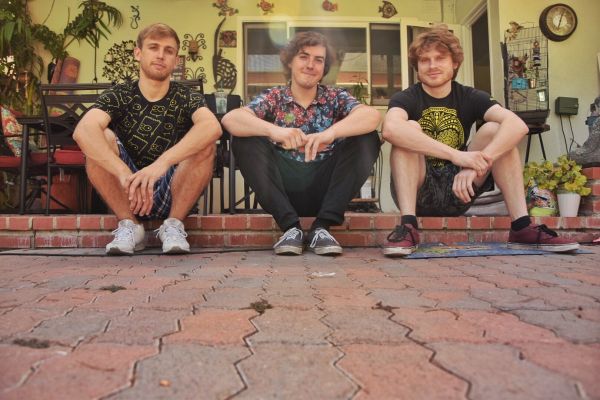 18 February 2019
Raised On TV – Photo courtesy of Raised On TV
Raised On TV began where every rock band should: in the garage. In 2015, brothers Keaton Rogers and Kacey Greenwood started banging out melodic, fuzzed-out tunes with their high school buddy Ryan Weiss. They soon realized they had some seriously good songs, so it was time to get serious. One EP, one full-length, and more than a few DIY tours later, they are ready to release their second LP titled Season 2.
The first single, "Caroline," is a driving, distorted number. Its loose, yet locked-in verses recall the best of Teenage Fanclub and lift off into a rock-solid power pop chorus that will bounce around your mind and take its own sweet time to leave. The guys knew they had a gem on their hands when they emerged from the aforementioned garage to find Ryan's mom humming the song – and that's a tough audience!
The band knew they needed to up their production game for Season 2, so they reached out to Grammy-nominated engineer Mark Needham. He's produced tracks for Fleetwood Mac, Imagine Dragons, and Bloc Party, and is the guy who mixed the Killers' double-platinum Mr. Brightside in all of 40 minutes. He liked what he heard and brought Raised On TV into Hollywood's Elephant In The Room studio.
The Big Takeover is pleased to host the premiere of the video for "Caroline", which was directed by Keaton and Kacey's actress sister, Victoria Greenwood, alongside Keaton.
In the video, Raised on TV performs in front of surreal Technicolor projections for some classic '60s psychedelic visuals. Throughout the clip, the guys find themselves in black-and-white, and decidedly less dreamy, situations – teaching school, working at a music store, doing the chores. We all need fantasy, but we have to remember that every day is still extraordinary.
It was a Green Day / Blink-182 show that convinced Keaton and Kacey to make the jump from acting in commercials and getting bit parts in movies to writing and rocking 3-minute bursts of high-energy pop. You can hear some Blink-182 and Green Day in there, alongside some Weezer and, dare we say, a bit of the Beatles, but Keaton's voice and melodies are distinctly his own.
Keaton (guitar, vocals) spills some details about the track, explaining, ""Caroline" is first single off our 2nd full length album, Season 2 (which is not yet released.) It marks a big transitional period for the band, where things began to get more serious. We weren't just friends messing around in the garage anymore, we we're really trying to focus in and make something special. The song is named after the lead guitarist's girlfriend, and the song is about learning how to wake yourself up when life begins to feel like a dream. To put it another way, sometimes the most important things in our lives can get out of focus by the nature of being so close to them. It was written in an effort to not lose sight of the special things right in front of your face, in this case, a relationship."
Website
Facebook
Twitter
Instagram