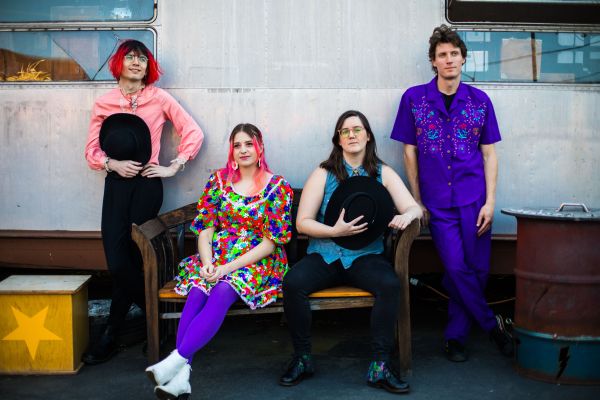 19 October 2020
Sundae Crush – Photo Credit: Jeffrey P. Martin
Seattle-based indie pop/rock band Sundae Crush play music that radiates like a vibrant rainbow over a dusky, strange Western plain, sounding sweet, but not without a focused passion. Their debut album A Real Sensation arrives on Black Friday, November 27th of this year.
The LP is being released through the forward-thinking Donut Sounds Record Co., also in Seattle, and it's no surprise that the full length is chock full of songs smashing "the modern ideas of romance which can be toxic and unhealthy," as Jena Pyle (guitar, flute, lead vocals, tambourine) describes. Igniting the flame for Pyle's frenetic, incandescent anthems are Emily Harris (guitar, vocals), Daniel Shapiro (drums, vocals), and Izaac Mellow (bass, vocals).
Big Takeover is doggone pleased to host the premiere of a fun animated video for the single "Good Boy."
The amusingly copacetic clip was animated by Jake Huffcutt in a throwback to '70s-style cartoon drawings. In keeping with the song's themes of relationships, and in this case, how the male is perceived by the female, viewers ride along with a casual dog-dude via skateboard as he chills out with his rat-boy pal, sparking up, zoning out, and playing video games. Oh, and rocking out on electric guitar as well!
They then head outside to scope out the cool chicks – well, in this case, kitties, skateboarding after her, tagging building, and running from the cops. Yep, all a day in the life of a slacker dog-boy who doesn't take anything too seriously – and who cuts 'n' runs at the first sign of trouble…
Each band member has chimes in with details about the song and video, with Pyle commenting, "A fun ode to low standards for men to not accept accountability for their actions. It's called boundaries, baby."
"I love the energy of playing this live. At the drops it was always so fun seeing people dancing. A rare Seattle sight. It was fun to get a friend, like Claire Morales when we were in Texas, and put them on the slide whistle when we toured. I love Adrienne's sax so much in this song too."
Harris states,""Good Boy" is one of my favorite songs to play live. It has such a good little shuffle, a really fun and effective guitar part, and the second stop always gets the crowd a little riled up. It's also just so interesting sonically—there's something a little weird about the chords in the chorus, but I think it adds to the tension that gets relieved some when we go back into the verses. It's an interesting song and I still smile when I hear it."
Mellow concurs, "What began as a bass riff I believe we titled "bebop jam," "Good Boy" was fully realized in all of its psychedelic glory as a surf-y jaunt through many phases of catchy melodies, delivering disdain for allegedly "good" boys. With sax and organ solos, unexpected breaks, and warm harmonies, the track provides a vintage-tinged tune that's sure to stay stuck in your head. Jake Huffcutt absolutely nailed it with this music video, too, and we're really excited for people to experience "Good Boy"'s magic."
Shapiro digs in even deeper into the song's meaning, saying, ""Good Boy" is a song for these times. Upon first listening one may become defensive, "but I actually am a good boy!" – but after listening, and introspecting, you realize it isn't an indictment on boys, or men, but rather the tendency to project a false image of yourself to your partner, and hoodwink them into believing you are one way (i.e. "good") when you are really another. "you tell me all the things i want to hear / but when it starts to count you disappear"
"Being in a relationship and showing yourself, flaws and all, to another is scary, and requires work, commitment, and maturity – all of which are anathema to the good boy. Perhaps we'd all be better off if we recognized the good boy lurking within us, and worked to shed these traits that, at best, isolate us, and at worst end up hurting those we're closest to. Finally, and most notably, this song is a delectable and certifiable jam. enjoy!"
Website
Facebook
Twitter
Instagram
YouTube
Bandcamp
Spotify