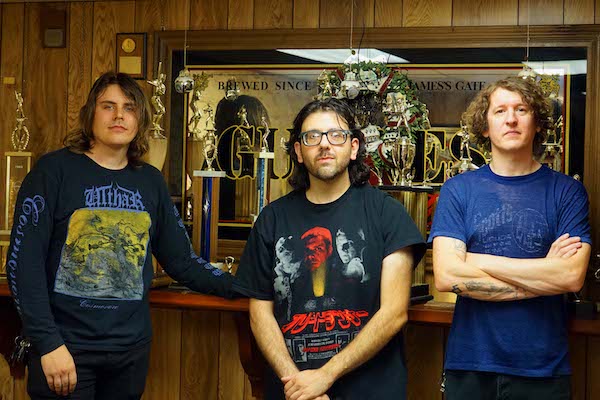 24 January 2022
Another Heaven – Photo Credit: Monica Coleslaw
Minneapolis-based sludgegaze band Another Heaven recently released an album of pummeling, metal-adjacent shoegaze and are now exclusively premiering a new short concert film on the Big Takeover to commemorate the occasion.
Titled "Permanently Closed," the video finds the band performing tracks from their two releases on the MPLS LTD record label (2019's FOR EVER SIX TIMES and last year's The Sorrowful Cries of Birds with Singed Feather) in an empty bar — a fitting backdrop for the "release show" of Sorrowful Cries, which was written and recorded in quarantine. 
About the film, the band had this to say: "We wanted to shoot some footage of us playing for people who bought the album but couldn't see us live — which ended up being most of the people who like us, either for personal health reasons or due to the fact that we can't safely tour. So we contacted the owners and were granted access to Lee's Liquor Lounge (which is a bar that has been closed for a few years now), brought in a whole bunch of A/V gear and performed the same set that we played at the few shows we played in 2021.
The band continued: "It was extremely hot and kind of eerie — the bar was basically vacated with all the original furniture, gear, personal effects, etc. just left there — but it seemed to fit the vibe. [We're] glad that Monica Coleslaw and Andrew Ranallo were there to document the show and how weird that basement was."
The film mirrors the atmosphere of the record, contrasting the band's heavy brand of Hum-inspired shoegaze with dark ambient interludes and murky home video footage. Check it out if you need a dose of simulated live music today.
Another Heaven's latest release, The Sorrowful Cries of Birds with Singed Feathers, is available now on Bandcamp. Go to the band's website for more information.