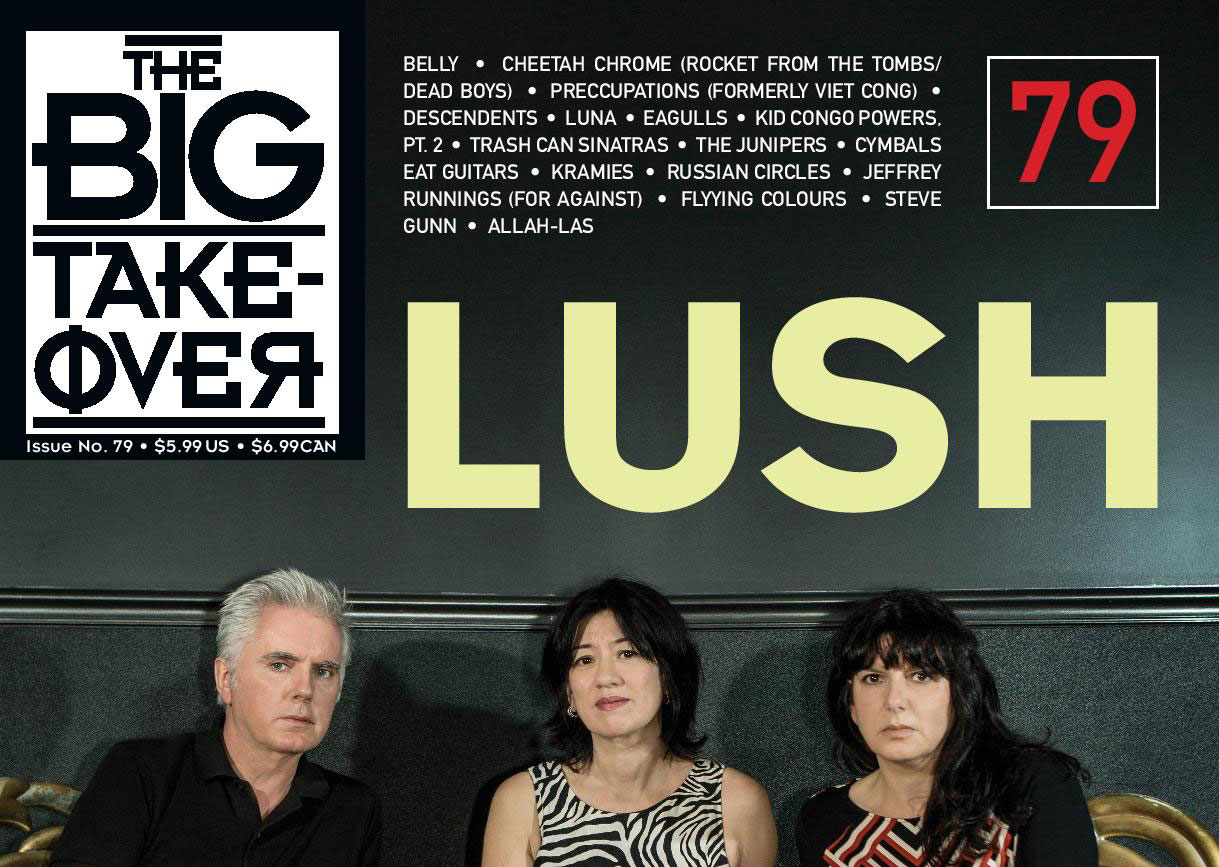 10 December 2016
Good news! Big Takeover #79 Fall 2016 issue with Lush on the cover has been completed and is shipping now! And there's still time for the perfect holiday (or birthday, or other) gift: Big Takeover magazine subscriptions and back issues (like the big enchilada, complete set 1980-2015)! Plus six children's sizes for our T-Shirts (to go with several Mens' and Womens' sizes) in three colors, as well as our Big Takeover Beer Cozies and (signed if you like) Color 30th Anniversary Festival Posters!
Once again the big news is that Big Takeover #79 Fall 2016 issue is on its way to stores and mailboxes! The issue stars reunited female/male London shoegaze/dreampop/indie rock stars Lush on the cover, and featuring fabulous history interviews with Cheetah Chrome of legendary proto-punks Rocket From the Tombs and original punks The Dead Boys, also reunited'90s legends Belly, and Luna, plus still going strong Descendents and part two of veteran Gun Club, Cramps, and Nick Cave & the Bad Seeds guitarist and solo artist Kid Congo Powers, as well as equally interesting sit-downs with Ben Folds, Preoccupations (formerly Viet Cong), and Eagulls. And there're shorter chats with Trash Can Sinatras, The Junipers, Cymbals Eat Guitars, Kramies, Russian Circles, Jeffrey Runnings of For Against, Flyying Colours, Steve Gunn, and Allah-La's, and more! A full description of its contents is just below!
Remember, we only come out twice a year, every Spring and Fall, so you don't want to miss one of our jam-packed 150-page issues!
IMPORTANT: If you are a subscriber and you need to update your address, please tell us. Send updates to me at jrabid@bigtakeover.com
And since the issue is currently being shipped to subscribers and stores, now is an excellent time to go to our secure online store to order it if you would like to receive it in the mail (you can also buy any or all of our 78 back issues there over 36 years, too), or subscribe if you've been meaning to, or renew your subscription if it has run out.
And just a reminder that there's still time for the perfect Holiday (or whatever) gift: Big Takeover magazine subscriptions and back issues!
And speaking of which, for more great such gifts, here's a reminder about our t-shirts, CDs, and our other fun stuff like Big Takeover beer cozies and signed posters--might be just the thing!
That's right: Big Takeover issues, subscriptions, back issues, t-shirts in three colors, black, white, and burgundy red in thirteen sizes (including our new children's sizes, 2T, 3T, 4T, and 6MO, 12MO, and 18MO baby onesies!!!!! The coolest X-mas gift ever for the kids!), and our accessories (BT beer cozies for only $5 and 12 X 18 color BT Anniversary Festival Posters for $4, which I will sign if you want me to!), as well as our related CDs (including the limited edition Springhouse CD album, From Now to OK), also make the perfect birthday, birthday, X-mas (or Hanukkah, or other holiday) gifts! Especially in this time when we are all trying to economize.
This means our t-shirts still come in three colors (black, white, and dark red) and are only $14 for adult men, $13 for women, and $10 for kids's shirts and baby onesies, even including postage!).
Also, all but two of our back issues are still available (if your friends like a specific band we've featured; and there's always the mega-deluxe gift, the complete set of all of our 79 issues to date, including the two that are out of print!--see the back issues page and you will see that offer.)
And we are also offering used, good-quality CD copies of the three out of print SPRINGHOUSE CDs from 1991-1993 as well as sealed, limited edition art-package copies of Springhouse's 2008 third LP From Now to OK (see why it got an 86 in Paste!), as well as CDs by EVEN WORSE, LAST BURNING EMBERS, DOUG GILLARD, NON-LINEAR THINKERS and EDP!
If you want to subscribe or renew or give the gift that keeps on giving, just go to our Subscribe "page":http://shop.bigtakeover.com/collections/subscriptions and feel free to indicate which issue you'd like to start with (or have your friends start with), issue 78 (Savages cover), the current 79 (Lush cover), or the Spring issue 80 (Taylor Swift cover--ha, just kidding. Just wanted to make sure you were still reading). It's only $20 for four issues (save 23% off the newsstand price including average sales tax), or $32 for overseas, or $26 for Canada. Or, for those in the U.S. you can send us a check made out to "Big Takeover" for $20 to the following address:
The Big Takeover
1713 8th Ave. Suite 3-2 Box 2
Brooklyn, NY 11215
Or if you want to order just issue 79, you can send us a check (or make PayPal payment to jrabid@bigtakeover.com) for $6 to that address or order it.
Here, again, is what's in the issue:
Interviews: Lush (cover) * Belly * Cheetah Chrome (Rocket From the Tombs/Dead Boys) * Preoccupations (formerly Viet Cong) * Descendents * Luna * Eagulls * Kid Congo Powers, pt. 2 * Trash Can Sinatras * The Junipers * Cymbals Eat Guitars * Kramies * Russian Circles * Jeffrey Runnings (For Against) * Flyying Colours * Steve Gunn * Allah-Las
Editorials: Rabid: "Donald Trump??? Were We Out of Our Minds???" * Sommer: "Bobby Graham: The Timeless Beat Master of the Beat Age" * Kelson: "The Penultimate Track on an Album—Where the Dead Are Buried!"
Live Reviews: Alvvays * Avengers * Channel 3 * Kristin Hersh * Joy Formidable * Lake Ruth * Lil' Smokies * Lush * Bob Mould * Pointed Sticks * Posies * Rogue Wave * Haroula Rose * Soft Science * T.S.O.L. * Sam Vicari
CD/Vinyl Reviews: Rikk Agnew * Lou Barlow * Beach Boys * Big Star * Björk * Billy Bragg & Joe Henry * Glenn Branca * Brothers in Yarn * William S. Burroughs * Cheap Star * Damned * Miles Davis * Dead Horse One * Desario * Dot Dash * EZTV * Fast Camels * Few Bits * Furious Seasons * Erroll Garner * Goat * Jimi Hendrix * Isley Brothers * Bert Jansch * Junipers * Kinks * Kris Kristofferson * La Historia * Look Park * Lovely Intangibles * Minor Victories * Monkees * Van Morrison * Motörhead * Nada Surf * New Model Army * 999 * Conor Oberst * Paranoid Style * Lee "Scratch" Perry * Persian Leaps * Martin Phillipps * Pixies * Prophet Hens * Elvis Presley * Otis Redding * Lou Reed * R.E.M. * Rifles * Ruts DC * Sansyou * Small Square/Velvet Crush * Stone Roses * Teenage Fanclub * Deniz Tek * Valery Trails * Scott Walker * Wedding Present * Weyes Blood * Neil Young * Elliott Smith Tribute
Lastly, thanks to our Patreon sponsors, who make our magazine and weekly radio "Big Takeover Show" at realpunkradio.com (all archived at bigtakeover.com/radio) viable, without whom we'd have to stop one or both! If you'd like to join them and help support and sponsor us, it is easily done at that Patreon site, or you can always send a check to Big Takeover to our address as a kind donation. We're very grateful!
Hope you all buy it now it's out! And/or hope you subscribe, as that is still by far the best way to support the print magazines you love if you want them to keep going. It means a lot to them!
And hope you can share the gift of reading with your friends! If we can help you, let us know!
Cheers!
Jack R