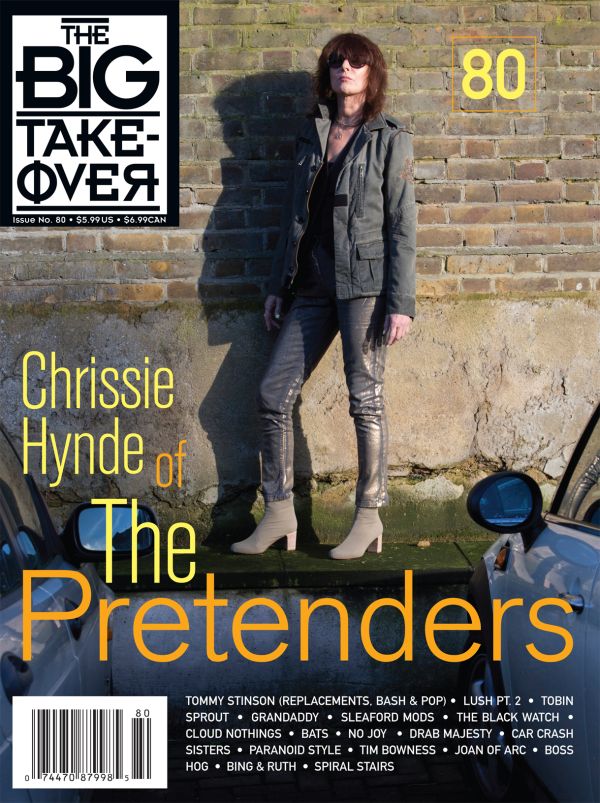 29 May 2017
Once again the big news is that Big Takeover #80 Spring 2017 issue was completed in Brooklyn, NY and Oakland, CA this month! The issue stars The Pretenders' Chrissie Hynde on the cover, and features fabulous history interviews with Tommy Stinson of legendary garage rockers The Replacements and his own band Bash & Pop, also reunited '90s shoegaze legends Lush Part II (R.I.P.), and long-running L.A. indie rock-popsters the black watch, plus still-going former Guided By Voices stalwart and solo artist Tobin Sprout, precocious veteran Dylan Baldi of Cloud Nothings, Nottingham punk-rap sensations Sleaford Mods , and Jason Lytle, guitarist and singer for the also reunited Grandaddy, as well as equally interesting, shorter sit-downs with The Bats, Paranoid Style, rejuvenated Boss Hog, Joan of Arc, Montreal dreampoppers No Joy, Mexican shoegazers Car Crash Sisters, Drab Majesty, Bing & Ruth, Tim Bowness, and solo artist Spiral Stairs also from Pavement, and more! A full description of its contents is just below!
It has indeed begun shipping, so you should see it quite soon! Remember, we only come out twice a year, every Spring and Fall, so you don't want to miss one of our jam-packed 150-page issues!
(If you are a subscriber, keep checking your mailbox as it can arrive any day in the next week or two! Any questions with the mailing, feel free to send me a note at jrabid@bigtakeover.com)
And since the issue is now heading to subscribers and stores, , now is an excellent time to go to our secure online store to preorder the magazine if you would like to receive it in the mail (you can also buy any or all of our 79 back issues there, over 37 years worth, too!), or subscribe if you've been meaning to, or renew your subscription if it has run out.
Just a reminder that there's still time for the perfect birthday, holiday, and/or celebratory whatever gift: Big Takeover magazine subscriptions and back issues!
Speaking of which, for more great such gifts, here's a reminder about our t-shirts, CDs, and our other fun stuff like Big Takeover beer cozies and signed posters-- They might be just the thing!
That's right: Big Takeover issues, subscriptions, back issues, t-shirts in three colors, black, white, and burgundy red in thirteen sizes (including our new children's sizes, 2T, 3T, 4T, and 6MO, 12MO, and 18MO baby onesies!!!!! The coolest birthday, or other, gift ever for the kids!), and our accessories (BT beer cozies for only $5 and 12 X 18 color BT Anniversary Festival Posters for $4, which I will sign if you want me to!), as well as our related CDs (including the limited edition Springhouse CD album, From Now to OK), also make the perfect birthday or early Christmas, or Hanukkah, or other holiday gifts! Especially in this time when we are all trying to economize.
This means our t-shirts still come in three colors (black, white, and dark red) and are only $14 for adult men, $13 for women, and $10 for kids's shirts and baby onesies, even including postage!.
Also, all but two of our back issues are still available (if your friends like a specific band we've featured; and there's always the mega-deluxe gift, the complete set of all of our 80 issues to date, including the two that are out of print!--see the back issues page and you will see that offer.)
And we are also offering used, good-quality CD copies of the three out of print SPRINGHOUSE CDs from 1991-1993, as well as sealed, limited edition art-package copies of Springhouse's 2008 third LP From Now to OK (see why it got an 86 in Paste!), as well as CDs by EVEN WORSE, LAST BURNING EMBERS, DOUG GILLARD, NON-LINEAR THINKERS, and EDP!
If you want to subscribe or renew or give the gift that keeps on giving, just go to our subscribe page (and feel free to indicate which issue you'd like to start with (or have your friends start with), issue 79 (Lush cover), the current 80 (Chrissie Hynde cover), or the Fall issue 81 (Katy Perry cover--ha, just kidding. Just wanted to make sure you were still reading). It's only $20 for four issues (save 23% off the newsstand price including average sales tax), or $32 for overseas, or $26 for Canada. Or, for those in the U.S., you can send us a check made out to "Big Takeover" for $20 to the following address:
The Big Takeover
1713 8th Ave. Suite 3-2 Box 2
Brooklyn, NY 11215
Or if you want to order just issue 80, you can send us a check (or make PayPal payment to jrabid@bigtakeover.com) for $6 to that address or order it.
Here is what's in the issue:
Interviews: The Pretenders' Chrissie Hynde (cover) * Tommy Stinson (Replacements, Bash & Pop) * Lush Pt. 2 * the black watch * Tobin Sprout (ex-Guided by Voices) * Cloud Nothings * Sleaford Mods * Grandaddy * The Bats * Paranoid Style * Boss Hog * Joan of Arc * Car Crash Sisters * No Joy * Drab Majesty * Bing & Ruth * Tim Bowness * Spiral Stairs (Pavement)
Editorials: Rabid: "Turn Out the Lights on the Age of Reason II, and Hail to the Liar in Chief" * Sommer: " Did The Beatles Prohibit American Rock From Reaching Its Truly Insane and Original Potential?" * Kelson: "The Unlikely Heroes of Modern Indie"
Live Reviews: Agent Orange * Buzzcocks * John Doe * Greg Graffin * Guided by Voices (and The Moles) * The Scenics * Sloan * Teenage Fanclub * Deniz Tek Band * Ultimate Painting and EZTV (and Juan Wauters)* The Zombies (original lineup)
CD/Vinyl Reviews: All * Corin Ashley * *Ask * Harry Belafonte * Archie Bell & the Drells * The Beremy Jets * Big Star's Third Live * Blurt * David Bowie * Sera Cahoone * Chrome * Guy Clark * Creation * Ray Davies * Dirty Projectors * Bob Dylan * Mark Eitzel * Brian Eno * Eyelids * Fotoform * Hawkwind * Kristin Hersh * Holy Tunics * Honeychain * Honeyrude * Shirley Horn * Idaho * Jesus & Mary Chain * Kris Kristofferson * Lilys * Look Blue Go Purple * Lost Tapes * Aimee Mann * Maximo Park * Tift Merritt * Ennio Morricone * Muffs * Willie Nelson * New Pornographers * Nils * Conor Oberst * Sam Phillips * Elvis Presley * Proper Ornaments * Real Estate * Paul Revere & the Raiders * Miranda Lee Richards * Ride * Rolling Blackouts Coastal Fever * Rolling Stones * Saltland * Secret Meadow * Secret Shine * Shins * Slowdive * Tobin Sprout * Christopher Paul Stelling * T.S.O.L. * TUNS * Venn * Bob Weir * West Coast Pop Art Experimental Band * Wire * Neil Young
Lastly, thanks to our Patreon sponsors who make our magazine and weekly radio "Big Takeover Show" at realpunkradio.com (all archived at Big Takeover Radio) viable, without whom we'd have to stop one or both! If you'd like to join them and help support and sponsor us, it is easily done at that Patreon site, or you can always send a check to "Big Takeover" to our address as a kind donation. We're very grateful!
Hope you all order the new issue now as it's out now! And/or hope you subscribe, as that is still by far the best way to support the print magazines you love (Big Takeover and others) if you want them to keep going. It means a lot to them!
And hope you can share the gift of reading with your friends! If we can help you, let us know!
Cheers!
Jack R