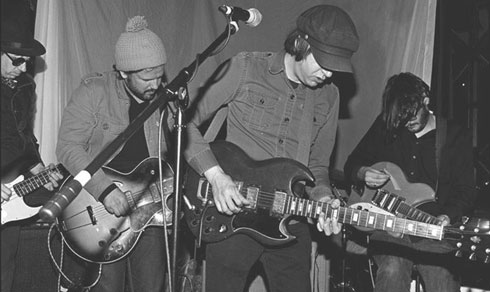 25 April 2014
I'm proud and pleased to present the exclusive Big Takeover premiere of this great video from Daydream Machine's excellent new album, Twin Idols!
I'll be playing "Spacement" on my radio show next week, and Twin Idols is among my Top 40 reviews in upcoming Big Takeover issue #74. Here's the text of that review, also exclusive to Bigtakeover.com!
'The prompt attraction in Jason Adams' Portland, OR, ensemble is how many subgenres they ingest in elongated, coherent pieces, in an era where too few attempt such intriguing mélanges. Their fuzz and reverb may procure them dreamy aesthetics, but their linear epics take time building, inveigling with every getting-louder, looping repetition, consuming space rock, mood rock, art rock, soundtrack music, neo-psychedelia (that Collin Hegna of Brian Jonestown Massacre and Peter Holmstrom of Dandy Warhols appear makes sense), glam ("Spacement" is more T-Rex than Jason Pierce), Hunky Dory Bowie, and Daydream Nation Sonic Youth (yes)—somehow like Young Galaxy covering Love & Rockets. "Gimme Shelter" and "Sympathy For the Devil" Rolling Stones and "Tin Soldier" Small Faces are older molds, too—full on with the femme soul backing vocals, including the telltale "Hoo Hoo"s! the Dandys also grafted onto "Bohemian Like You!"—plus The Velvets' "Venus in Furs." A daydream machine…without fail.'
Buy Twin Idols on vinyl, CD and digital downloads from Picture In My Ear.