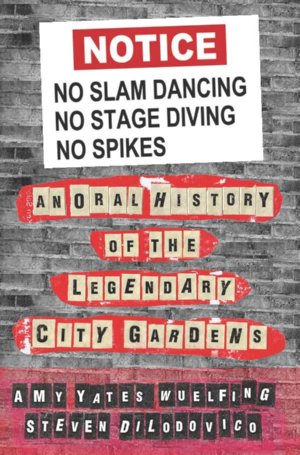 19 March 2014
No Slam Dancing, No Stage Diving, No Spikes: An Oral History of The Legendary City Gardens is the culmination of 15 years of research and interviews conducted by Amy Yates Wuelfing and Steven Dilodovico. The recent influx of available music memoirs and historical accounts may prove overwhelming for some readers but one more title certainly can't hurt.
What makes An Oral History…. deviate from the pack is its unique ability to shy from revisionist history. Though the book boasts anecdotes from well-known artists such as Jack Grisham, Jello Biafra, and Henry Rollins a reader is not bombarded with self-important, elitist attitudes boasting how they were there and you were not. In contrast, the book offers memories from artists, concertgoers, and promoters with the ultimate goal of showing how much the New Jersey venue meant to all of them.
Much shelf space has been devoted to the more popular venues, such as CBGB's but highlighting a more under the radar venue, Wuelfing succeeds at piquing a reader's interest. I especially welcomed the humbling anecdotes of some half-empty shows and how Public Enemy had a rare off night performance. Wuelfing succeeds once again by not solely focusing on the proverbial killer sets that readers think will ultimately dominate the book.
The presentation follows the familiar layout of devoting a paragraph or two to each individual reminiscing. Readers can choose to check out any anecdote they wish though each chapter focuses on a particular time period of the club.
Wherever you attended your first show there are common themes we have all experienced; tough neighborhood locations, anticipating big artists taking the stage, violence and mayhem, and the all too familiar struggles with local authorities.
An Oral History…. could be dismissed as joining the growing parade of rock n' roll nostalgia but it's an enjoyable read because the venue falls just outside the legendary club status others have devoted so much attention to. Club owner Randy Now gets his well-earned recognition!
noslamdancing.com
facebook.com/NoSlamDancing
Howard Wuelfing
Howlin' Wuelf Media
215-428-9119